Hearty & Healthy Split Pea Soup with Ham and Cornbread Croutons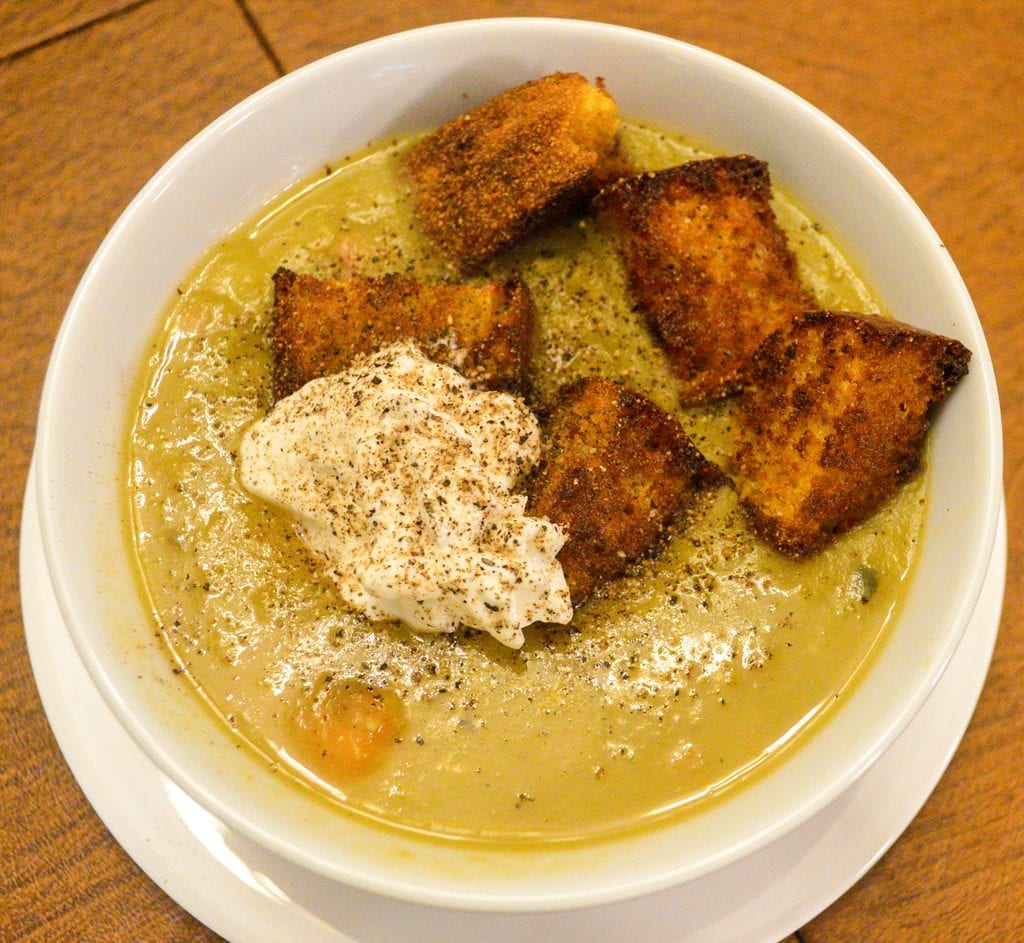 Recipe type:
Soups & Stews
2 Tablespoons olive oil
1 large yellow onion, diced
2 cloves garlic, minced
1-2 teaspoons dried oregano
2 stalks celery, diced (optional)
3 carrots, peeled & diced OR sweet potatoes peeled & cut into chunks or diced
2 medium to large russet potatoes, cut into chunks or diced
1 lb diced ham OR 2 smoked ham hocks or 1 large smoked ham shank
1 pound green or yellow dried split peas
6 cups any combination low-sodium chicken broth and water
½ - 1 cup half-n-half (optional)
Croutons
Day old cornbread cut into large cubes OR day old bauguette cut into large cubes crust on
2 Tablespoons olive oil
3 Tablespoons butter, salted or unsalted
Over medium-high heat, add olive oil. Once hot add onions & garlic and celery & carrots (if using). Stir and saute until the onion is translucent. Add oregano. Stir. Add ham, stir, and saute until the meat just begins to brown on the edges.5-7 minutes.
Add potatoes, sweet potatoes (if using) and ½ pound of split peas. If you're using ham hocks or a ham shank in place of diced ham, add to the pot. Cover with chicken stock/water. Bring to a boil, reduce to simmer, and cook uncovered for 45 minutes. Skim off the foam that rises to the top of the soup or stir the foam back into the soup Stir the pot every once in a while to prevent vegetables from sticking to the bottom of the pot.
At the end of cooking time, add the remaining split peas. Stir and continue to simmer uncovered for another 45 minutes or until all the vegetables are soft.
Remove ham hocks or shank. Stir. If the soup is too thick, add more chicken broth/water. If it's too thin, continue to simmer longer to the desired thickness. Remove meat from the hocks or shank and add back to the soup.
Leave the potatoes in chunks or mash them with a potato masher or use an immersion blender to make a creamy soup. Add half-n-half if using. Stir. Check for seasoning.
Ladle soup into deep bowls. Add croutons, sour cream or Greek yogurt, and sprinkle with ground black pepper.
For Croutons
Heat olive oil and butter in a 10" skillet over medium, medium-high heat. Once the butter begins to brown, add the cornbread cubes and brown on all sides - less than 5 minutes total. Remove from skillet and drain on paper towels.
Recipe by
At Mimi's Table
at https://atmimistable.com/split-pea-soup/