Why I Blog
I enjoy writing, cooking, and creating. I love to learn new things. I'm curious. I enjoy people and their stories.
Beyond all that, I'm fascinated by computers and the wealth of information at our fingertips.  I started blogging in 2010. It was a wonderful challenge to build and design the site, something I work to improve.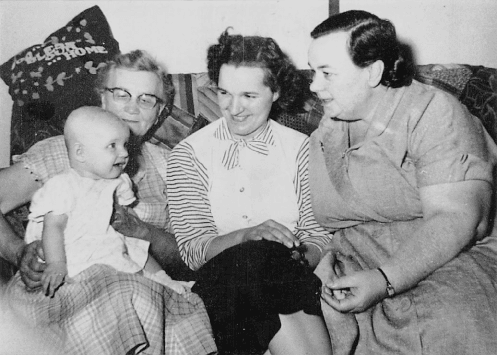 The Smith Side
A much younger Mimi, I'm sitting in my great-grandmother's lap next to my mother. My maternal grandmother completes the grouping. I learned so much from these strong, loving women. I'm a better person having them in my life.
Mom's side of the family were farmers. My grandfather was a pharmacist. He owned and operated an independent store, Smith Drugs, in Glen Park, Indiana, for 40 years. Grandpa Smith was an avid reader and collector. I worked in their drugstore starting in the fifth grade until they closed the store in the 1960's. It was a grand experience.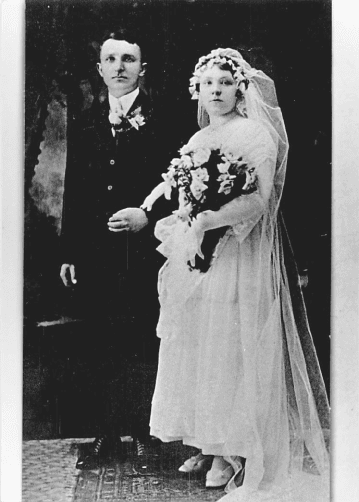 The Szewczyk Side
Another strong woman who heavily influenced me was my dad's mother, Mary Szewczyk. She and her father immigrated to the US from Poland before the start of WWI. She was a hard worker, an excellent cook with a bright and cheerful personality.
Grandma raised three children, chickens, and rabbits. They had a milk cow and a vegetable garden. She had a miniature pear tree in her backyard that was dense with the sweetest little pears you've ever tasted. Even in the depths of the Depression, they always had plenty to eat and to share with those not so fortunate.
Her father and husband came to northwest Indiana to work in the steel mills that scattered Lake Michigan just north of Gary, Indiana.
Our family pastime was playing pinochle, and both sides of the family played. Grandma Smith and my mother taught me to play when I was in the fifth grade and they needed a third player. Almost every Saturday night after the drugstore was closed, Grandma and I would run through McDonald's (Mickey D's was a lot different in the 60's. Hamburgers, fries, and milkshakes only.) Or we would buy a couple pounds of french fried lake perch from Johnson's in Lake Station. We brought the booty home and played pinochle into the wee hours. As a fifth grader, I was thrilled to be allowed to stay up way past my 9:00 bedtime.
I graduated from River Forest High School in New Chicago, Indiana, attended Butler University in Indianapolis, and then life took over.
Two marriages, two children, three dogs, five houses. My first husband and I were relocated from Indy to Minneapolis, Youngstown, and Denver all in 18 months. We returned to Indianapolis in 1985 and eventually settled down in Greenfield, Indiana.
After my second marriage, my husband, Richard, and I moved to Billings, Montana. That was an experience!
Richard owned and operated a small market AM radio station in Hardin, MT, not far from the Little Big Horn Battlefield where Gen. George Custer made his last stand. And I started a business there, too, and published a weekday newsletter "The Big Sky Briefs." I mingled with the leadership and members of the Crow and Northern Cheyenne Indian tribes, and the local ranchers and farmers.
I learned that Hardin was once the home of prisoner of war camps during WWII. Many prisoners did not return to the motherland when the war ended. Yes, there are lots of German families scattered throughout Hardin and Big Horn County.
Three grandsons and twelve years later, we moved to Noblesville, Indiana. Even though I made frequent trips back to Indianapolis, it wasn't enough once the boys arrived. Can you blame me?