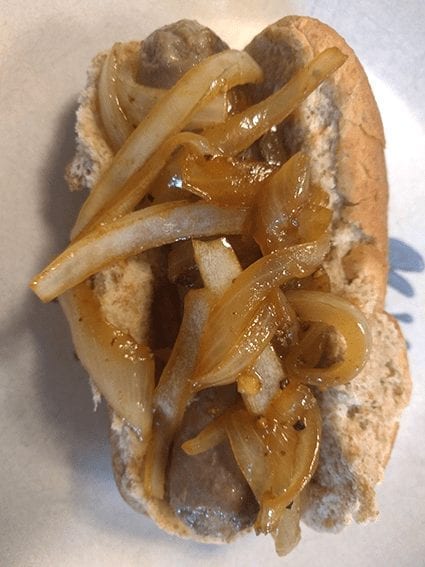 Brats & Onions
Crunchy outside. Juicy inside.
And it's quick!
YUM!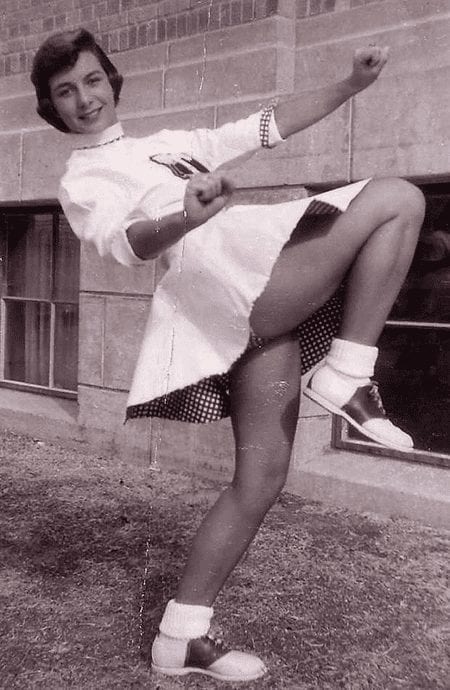 We're getting close to that time of year – FALL
Along with cooler temperatures, brightly colored leaves, pumpkins, and Indian corn, football arrives.
Which is what prompted me to share this lovely lady cheerleader. Gee, do you remember saddle shoes? Catch the gingham lining of this gal's skirt. Very classy.
I don't think it's possible to watch your favorite team battle it out on the gridiron without Bratwurst & Onions. It is the quintessential tailgating sandwich. Richard and I love them. But at our homestead, there's only two of us. We're also past the tailgating phase of our lives. No reason to fire up the grill, so I make ours in a cast iron skillet.
Preparation is quick and belies the juicy, peppery deliciousness soon to be served.  Carmelized onions, sauerkraut, mustard! Yes!!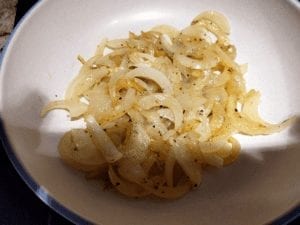 The first thing I do is carmelize a whole onion or two. Slice the onion in half, lay the cut side down on the cutting board, and slice into slivers – the opposite of cutting rings, or half rings in this case.
In a skillet over medium-high heat, add one Tablespoon unsalted butter and one Tablespoon olive oil. Add the onions. Sprinkle with a little salt, and let them saute.
Stir every once in a while with a wooden spoon to make sure they all become nicely browned.
Keep an eye on the skillet. You may have to turn the heat down a bit as the onions cook so they don't burn.
Remove your perfectly browned onions to a bowl. Set aside while you fry up the brats.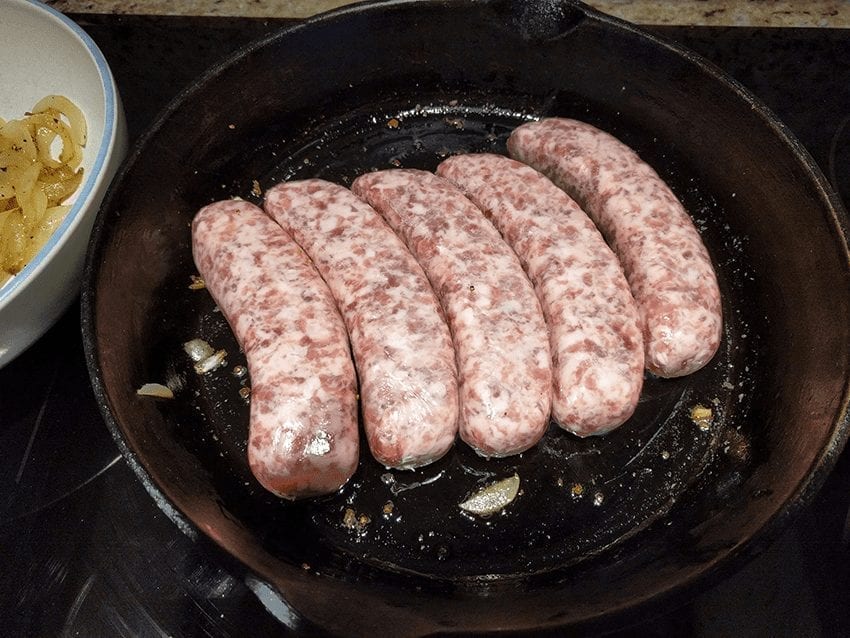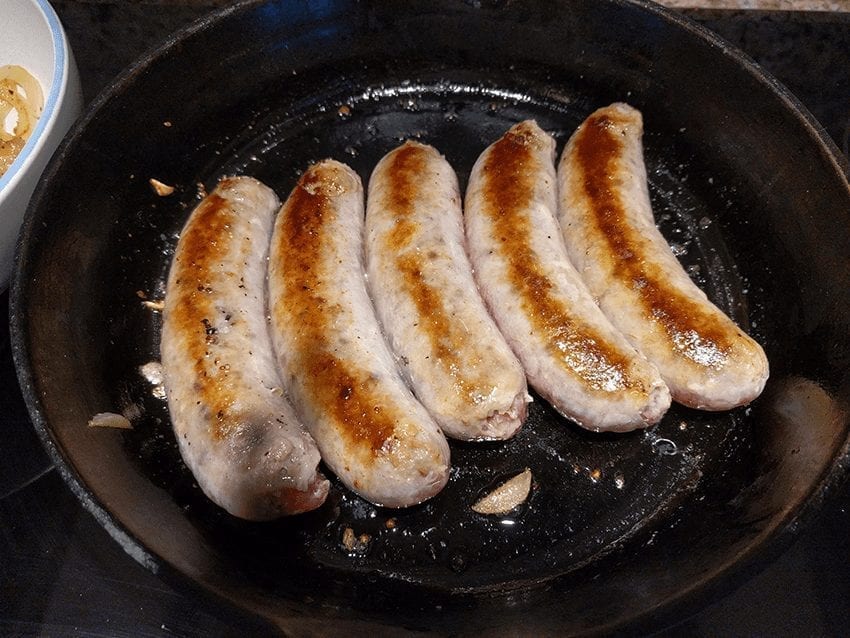 Use the same skillet to cook up the sausages so they soak up the oniony goodness.
Cook over medium heat until brown. Flip them over and brown the other side. The brats are not cooked through at this point, so cover with a lid or a piece of foil and continue to cook for another 10 minutes or so. You might even flip them halfway through cooking to keep one side from getting overly brown.
And there you have it. So basic. So juicy and delicious. Put a brat in a bun. Top with cooked onions. And whatever else you want:  sauerkraut, German-style mustard. But no ketchup – these are not hot dogs.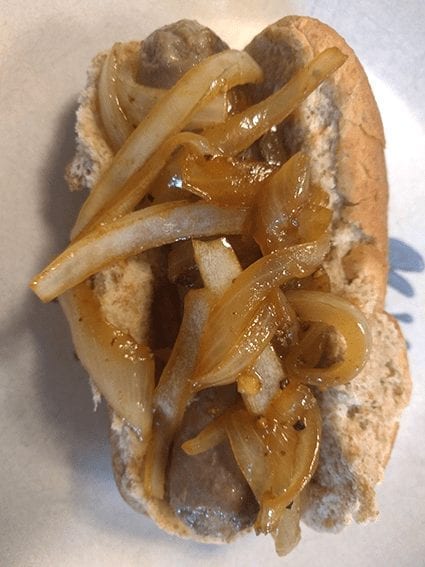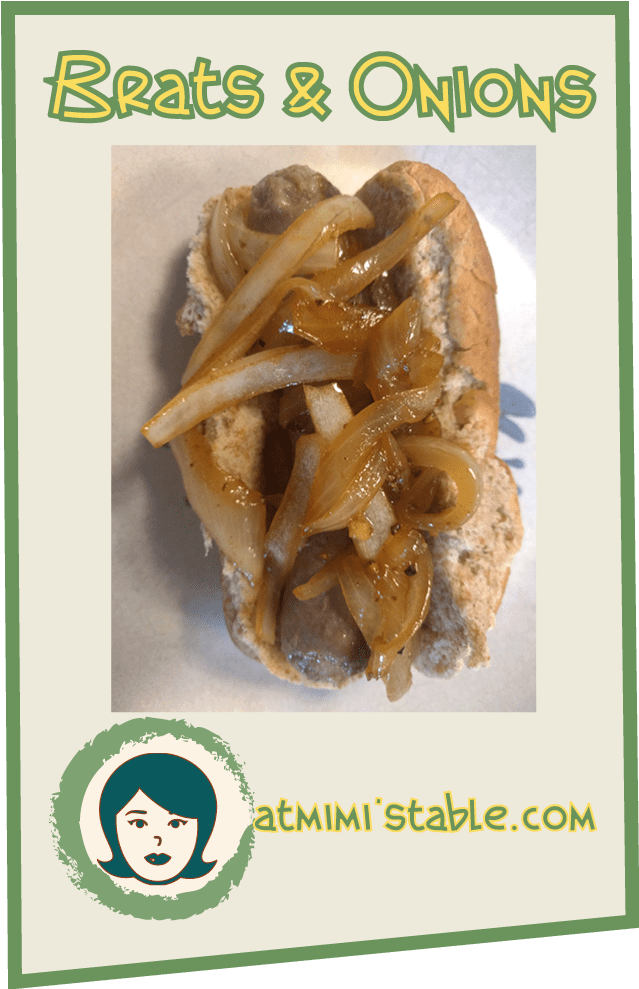 Copyright, At Mimi's Table 2013-2018, All Rights Reserved