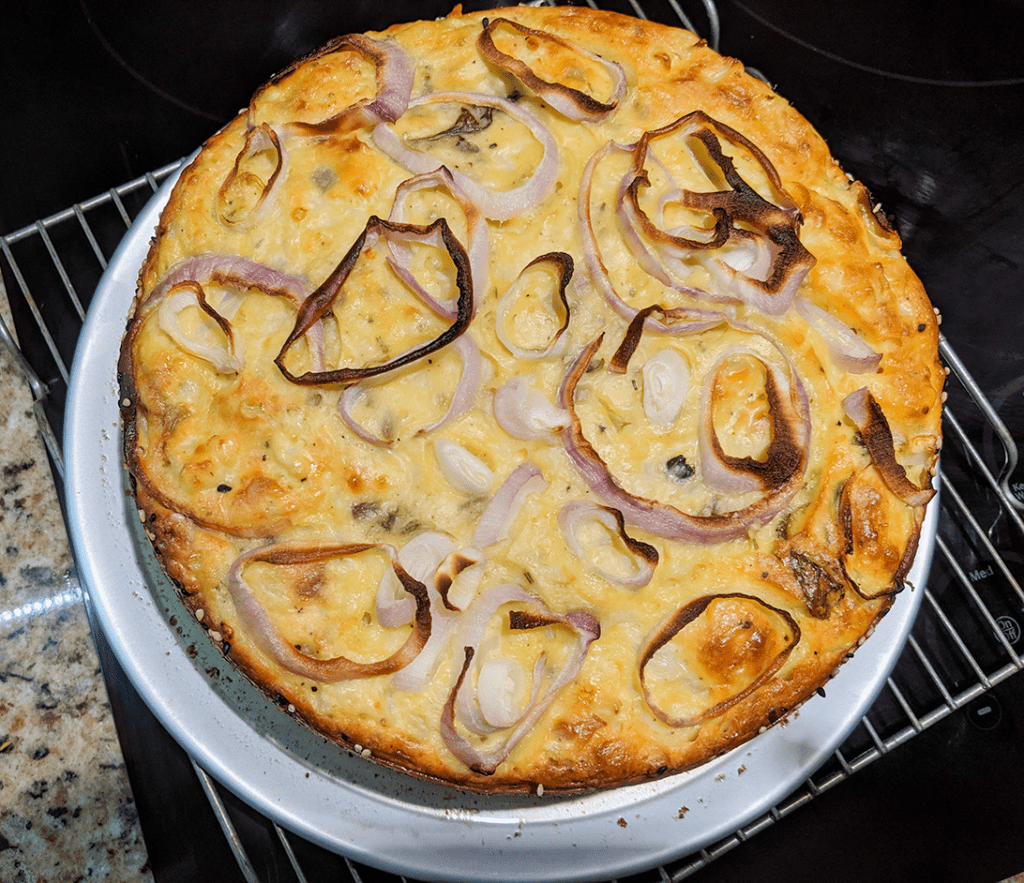 Cauliflower Cake with Pecorino and Basil is one fabulous side dish recipe. I found it while browsing one of my favorite Italian food blogs, Ciao Chow Bambina from ANNIE SAGEER. Annie's blog is an excellent source for classic and new Italian recipes, and her photography makes my mouth water. I always leave inspired after I've "window shopped" her blog. If you want to learn to make homemade pasta, her tutorial is excellent. Annie makes it look so easy! I've tried her Simple Barilotti with Peas, Ham and Cream to rave reviews – it's a simple, quick, that falls into the "comfort food" category. Lemon Zeppole with Homemade Whipped Cream, a sweet little Italian doughnut, is definitely on my bucket list.
The other night, Richard and I decided to grill a steak for dinner. Any kind of potatoes and salad are always excellent side choices, but I wanted to serve something different. A new side for us to try. We loved it! The cauliflower cake comes together quickly. And it truly has the density of a cake! It slices into wedges like a dream. Because it's just me and Richard, I heated some up in the microwave the next day for lunch – out of this world!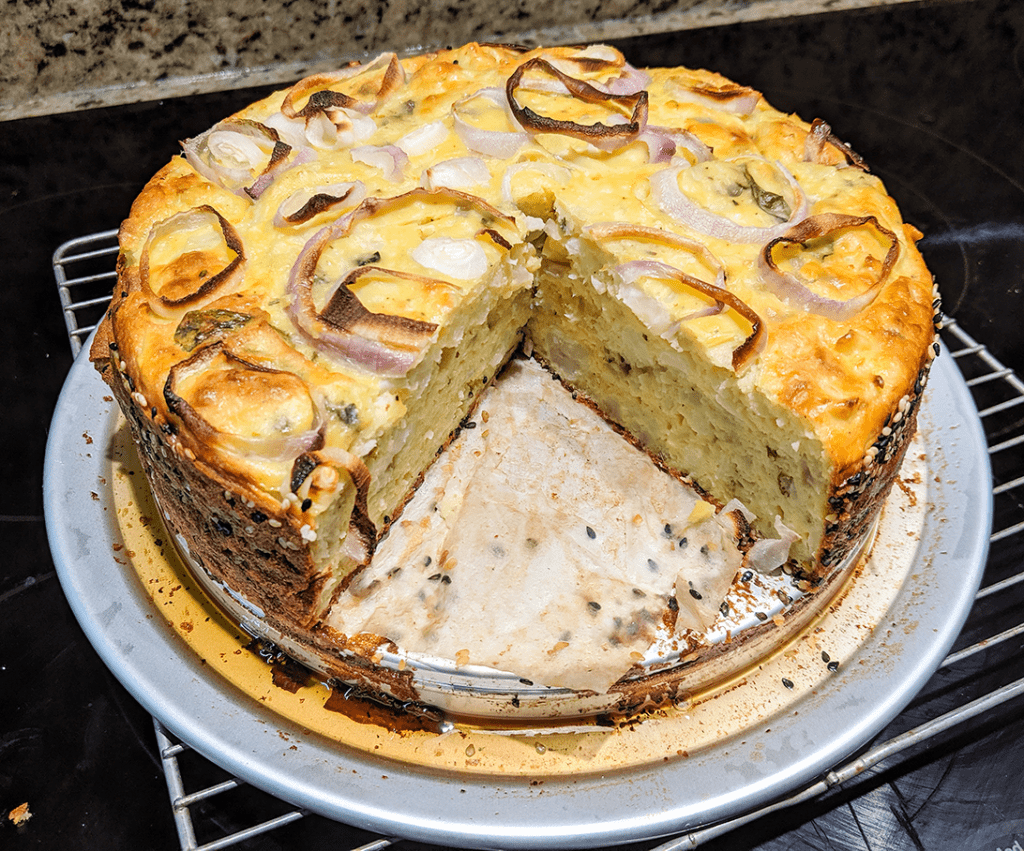 And it's SO pretty! I followed Anne's instructions to butter the inside of a springform pan and sprinkle a mixture of black and white sesame seeds along the inside of the pan. I'm not sure the sesame seeds added much to the taste, but they added a nice visual. Pecorino Romano cheese is the perfect ingredient for the cauliflower cake – it compliments the vegetable and eggs so nicely. Pecorino has a stronger flavor than parmesan, or you might use a combination of both kinds of cheese if you like that idea. Save some extra grated cheese to sprinkle on top of each slice when you serve.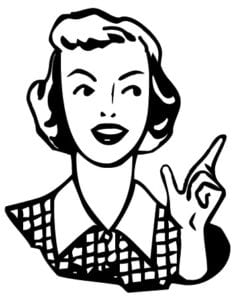 Here's a little tip. If you have frozen packages of cauliflower, you can use those instead – you'll probably need two to substitute for the medium-sized head called for in the recipe. Or you might use cauliflower rice or packaged raw florets from your grocery store's produce section. I also used an 8″ high-sided springform pan. This cake has a nice rise.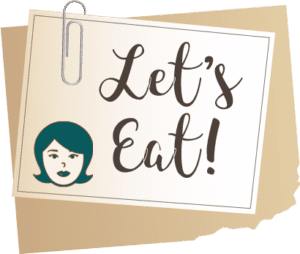 Yield: 6-8
Cauliflower Cake with Pecorino and Basil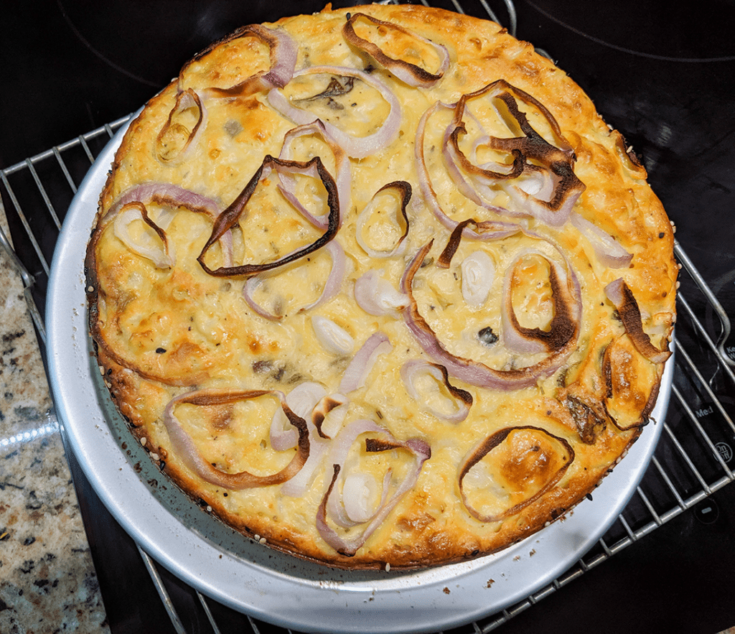 This is a fabulous, quick and easy side dish. Serve Cauliflower Cake with Pecorino and Basil as a side dish with any protein or on it's own with a salad. Slices are fabulous warmed in the microwave the next day for lunch.
Total Time
1 hour
15 minutes
Ingredients
I medium cauliflower, outer leaves removed and broken into florets
1 medium red onion, 1/3 into thin slices, the rest diced
5 Tablespoons olive oil
1/2 teaspoon dried rosemary, chopped
6 eggs
1 cup all-purpose flour
1 1/2 teaspoon baking powder
1 1/2 cups Pecorino Romano cheese, grated
2-3 teaspoons dried sweet basil OR 1/2 cup fresh basil, chopped
3 Tablespoons butter, melted
1 Tablespoon white sesame seeds
1 Tablespoon black sesame seeds
Salt & Ground Pepper
Instructions
Preheat oven to 400F degrees.
Brush the sides and bottom of an 8" springform pan with melted butter. Place an 8" circle of parchment paper in the bottom and sprinkle the sides with the white & black sesame seed mixture. Set aside.
Place cauliflower in a medium saucepan. Add 1/2 cup of water. Bring the water to a boil. Cover with a lid. Reduce heat to simmer and cook for 15 minutes until the florets are soft. Drain in a colander. Set aside.
In a medium-sized skillet over medium-high heat, add olive oil and chopped red onion. Add rosemary. Reduce heat, stir and saute for 15 minutes until the onion is soft but not burned. Set aside to cool.
Add the cooled onion mixture to a medium-sized bowl. Add eggs and whisk well until combined. Add 1 1/4 cups of grated cheese, flour, baking powder, basil, salt and pepper to the egg mixture. Stir to combine.
Slightly mash the cooked and cooled cauliflower florets. Add to the egg mixture along with the basil.. Gently stir to combine.
Pour the mixture into prepared pan. Top with sliced red onions.
Bake for 40-45 minutes until a knife inserted in the center comes out clean.
Remove from oven and allow to cool for 15 minutes.
Cut into wedges and serve sprinkled with grated Pecorino Romano.
YUM!
Notes
Cauliflower Cake with Pecorino and Basil is a fantastic leftover warmed in the microwave. Served with a big salad and some crusty bread for another meal. It's a great dish to take for lunch the next day.

Feel free to substitute frozen cauliflower florets - you'll need 2-12oz packages - follow package directions to prepare for the recipe. Or sub fresh florets or cauliflower rice from the produce department.