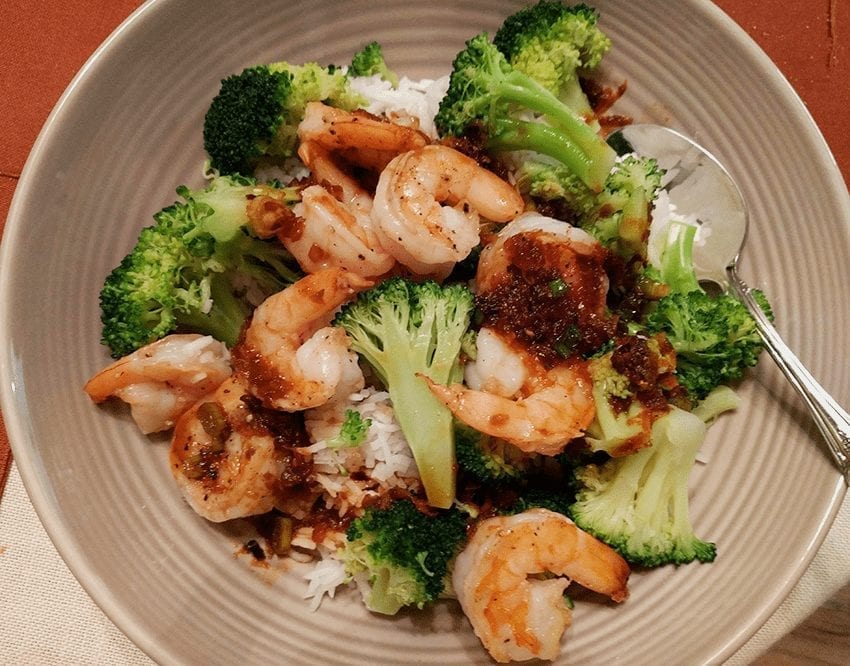 Orange Shrimp with Broccoli and Garlic is one of my favorite types of dishes. Crushed red pepper, orange zest, and garlic lend the simple sauce a bright delicious bite. And it's so quick and easy! Orange Shrimp any time of the year but is a fabulous dish when your schedule is tight and fast food is not an option. You know, like during the holidays!
I always have a pound or two of raw shrimp (21-25 count) in the freezer. It's handy for lots of quick meals like Shrimp Tacos or Shrimp Scampi or Shrimp and Grits. Frozen shrimp don't take long to defrost, either. Measure out what you need for your recipe. I use a scale for an accurate amount. Then I put them in a colander in the sink and run cool water over them until the shrimp are ready. I also use raw shrimp rather than cooked frozen ones, because raw shrimp will absorb all the lovely flavors either as they're marinated or as you cook them. Garlic and lemon are two of my favorites, but you could use coriander, red pepper flakes, cumin or curry. Seriously delicious!



 Here are a couple of things to remember when cooking raw shrimp:
Rinse shrimp after the shells and tails are removed. Remove the black vein at the top. Most frozen packed shrimp come deveined, but it's a good idea to check anyway.
Once rinsed, place shrimp on a baking sheet lined with paper toweling. Use another layer to pat dry the top. Shrimp should be dried off to get a proper sear.
Don't overcook your shrimp! It's easy to do. Place shrimp in a hot pan with a little olive oil. As soon as they become translucent, turn them over to cook the other side. Really, 2-3 minutes per side is more than enough. You want a nice crunchy bite, not a rubbery one. It's a texture thing.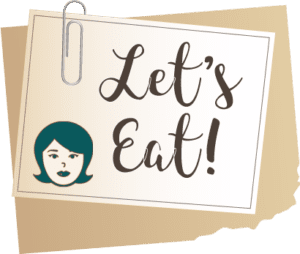 Yield: 4
Orange Shrimp with Broccoli and Garlic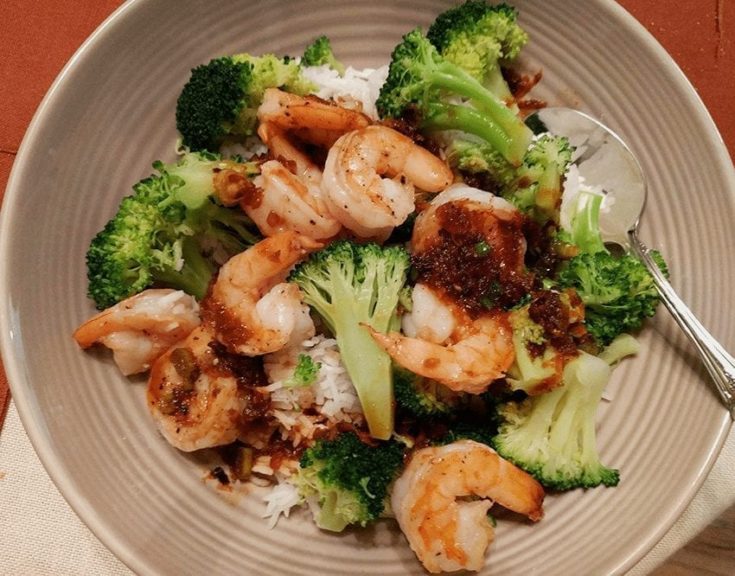 Quick and light, Orange Shrimp with Broccoli and Garlic is perfect for an easy and informal dinner with a little citrus and spice. Yummy!
Ingredients
1 1/2 pound shrimp (21-25 count) peeled, deveined, and rinsed under cool water
3-4 cups fresh broccoli, separated into florets
2-3 Tablespoons olive oil
1-2 garlic cloves, peeled and minced
1 cup orange juice, freshly squeezed
2 Tablespoons soy sauce
1 1/2 Tablespoon granulated sugar
Zest of one orange
1/2 - 1 teaspoon crushed red pepper flakes, depending on how much spice you want, or leave it out
1 teaspoon cornstarch
Sliced green onion for garnish
Sesame seeds for garnish
3 cups Jasmine rice, cooked according to package directions
Instructions
Line a sheet pan with a couple of layers of paper toweling. Place shrimp on the toweling in a single layer. Take another sheet of paper toweling and pat the shrimp dry. Sprinkle with salt and pepper. Set aside
Heat a large skillet over medium-high heat. Add 1 Tablespoon olive oil into the skillet. Add broccoli florets for 3-5 minutes until broccoli is tender. Remove broccoli from the skillet into a bowl or plate and set aside.
Use the same skillet and heat over medium-high heat. Add 1 Tablespoon olive oil. Add minced garlic and let sizzle for 30 seconds or until garlic becomes fragrant. Add red pepper flakes, if using. Place shrimp in the skillet in a single layer. (You may have to cook in 2 batches.)
As soon as the shrimp becomes translucent, flip over the cook the other side. Total cooking time is 2-3 minutes per side, at most. Remove cooked shrimp and garlic, pepper flakes to bowl/plate with the broccoli.
Return the skillet to the stove. Add orange juice, sugar, and soy sauce. Bring to a boil and reduce until slightly thickened.
Mix 1 teaspoon cornstarch with 2 teaspoons cold water. Add to skillet and continue to cook for 1-2 minutes until the sauce becomes shiny. Add orange zest.
Pour finished sauce over shrimp and broccoli. Garnish with sliced green onions and sprinkle with sesame seeds. Serve over cooked hot rice.