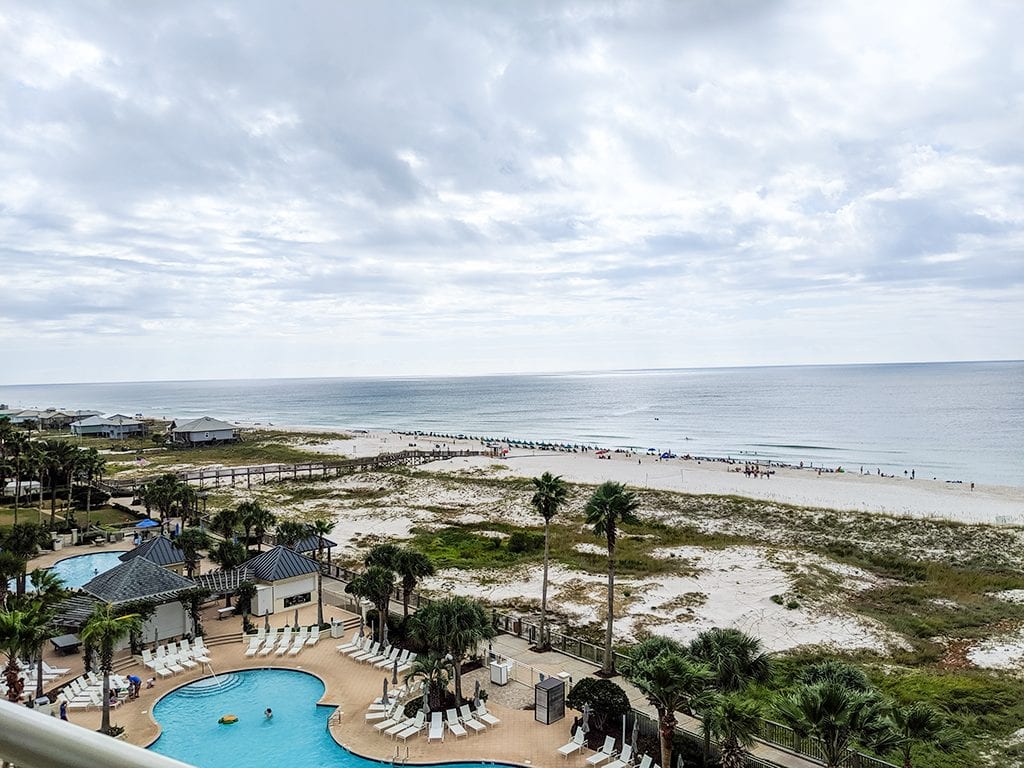 Ahh – Fall Break in Alabama! Yep, time for a week-long getaway with the family! Schools in my neck of the woods take an entire week off – yeah! – and that gave us plenty of time for an adventure. I've never been to Gulf Shores. It was my daughter's family's second visit there and when they made plans to return in October, they made sure I'd be coming along. They're very generous children.
Time for one last summertime hurrah before winter arrives. As I write this, a cold front is bearing down from Canada bringing well below freezing temperatures and, yes, 2-3 inches of snow. Ugh!
Last year we spent Fall Break at Disney World. A lovely getaway even if it was the hottest mid-October in Orlando's history. Honestly, Disney anything is not my thing, but well worth it to take my youngest grandson on the Slinky Dog Dash, even after a 2-hour wait in 95-degree heat. He still talks about what a great time he had with his Mimi. Sigh . . .
Anyway, that's another story. And I'm here to talk about Gulf Shores. A little overcast during our visit, but the temperatures were pleasantly warm. The breeze coming off the gulf, the sound of the waves breaking on the shore, and watching dolphins breach the waves. This kind of vaca is much more my speed.
Gulf Shores boasts "sugar sand beaches" and they are just that – clean, soft and warm.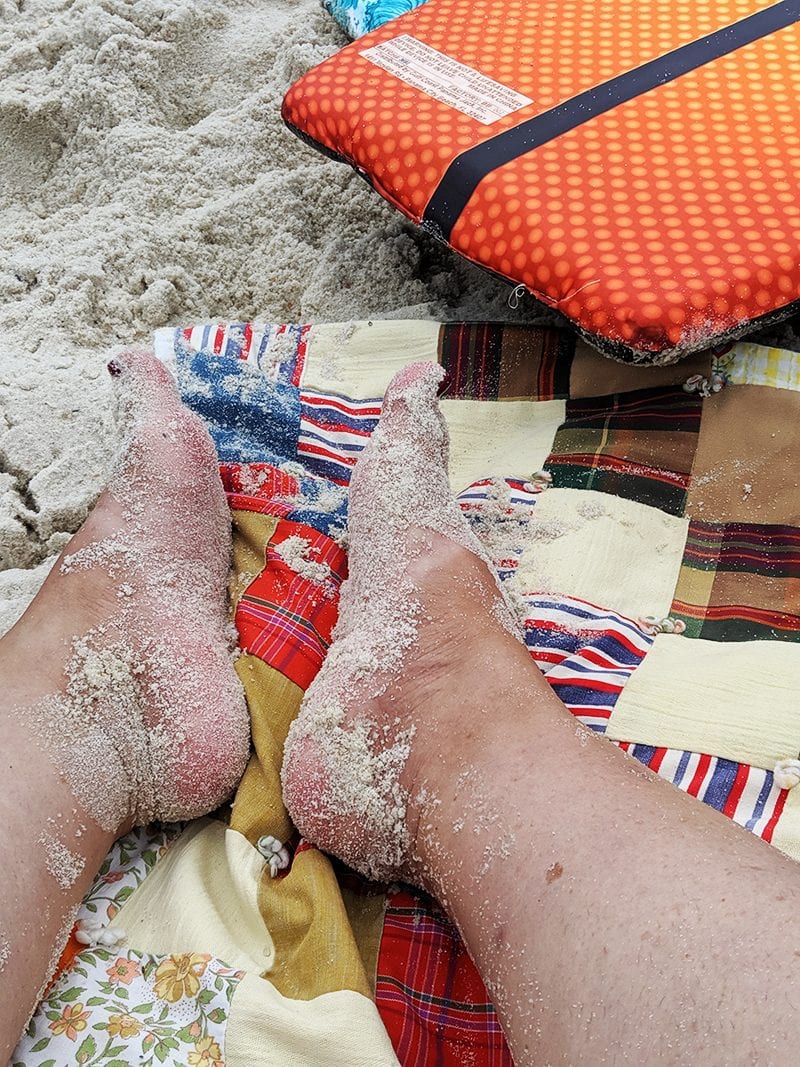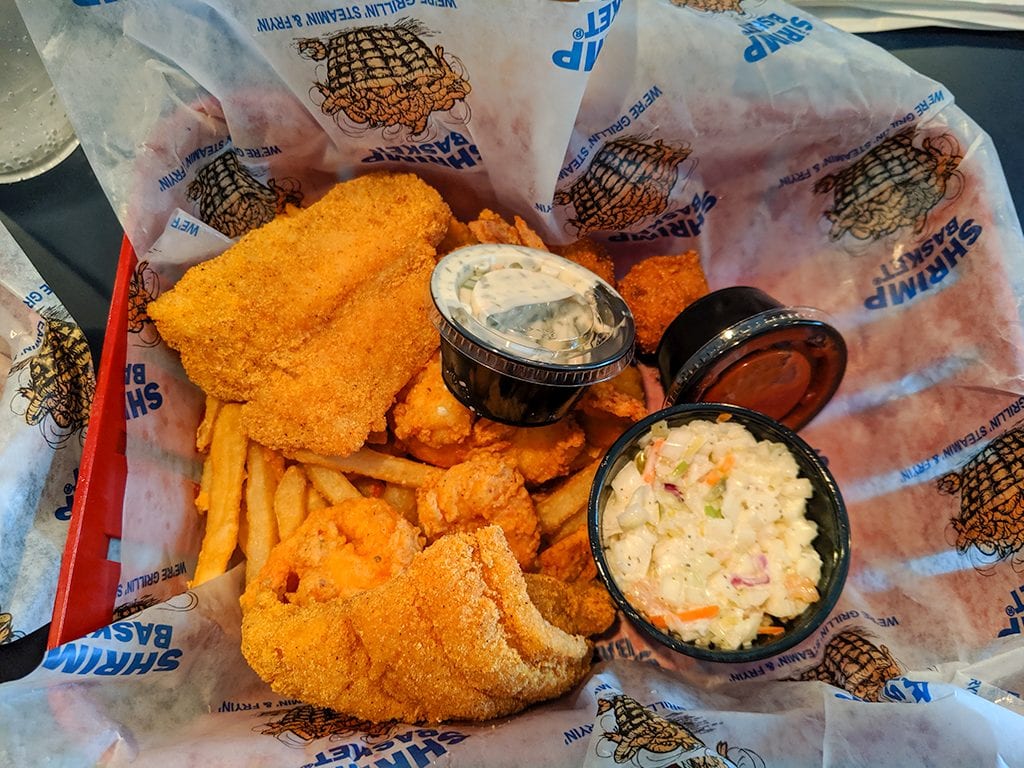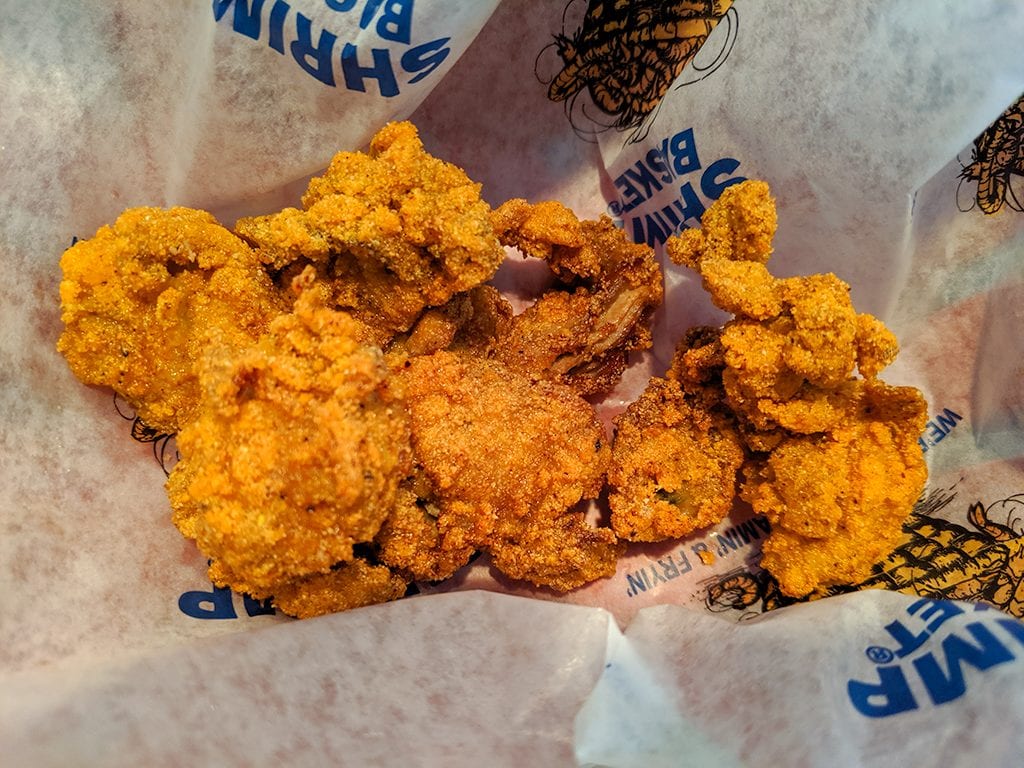 Arrival in Foley
After a 12-hour drive straight through, we were all in need of a reward. Of course, if you're going to visit the Gulf, you're going to eat seafood! The kids went to the Shrimp Basket during their last visit and raved about the food. So, that's where we stopped for dinner. Fries buried under a couple of pieces of white fish, shrimp, shrimp slaw, and hush puppies. Wow! This is a no-nonsense eatery – raw oysters on the half shell, any variety of steamed, grilled or deep-fried seafood. And the staff and service were just great.
When I was pregnant with my firstborn, Jessica, my father made the mistake of bringing me fried oysters. I craved them my entire pregnancy. He brought me a large box of frozen breaded oysters because fresh ones weren't easy to find in northwest Indiana. To pay homage to Dad and Jessica, I had to order a side to complete my meal. YUM! In mid-October, Foley hosts the Annual Shrimp Festival. The streets and parking lots were slammed with happy festival-goers. We opted for the Shrimp Basket instead, but you might keep the festival in mind if you're headed that way.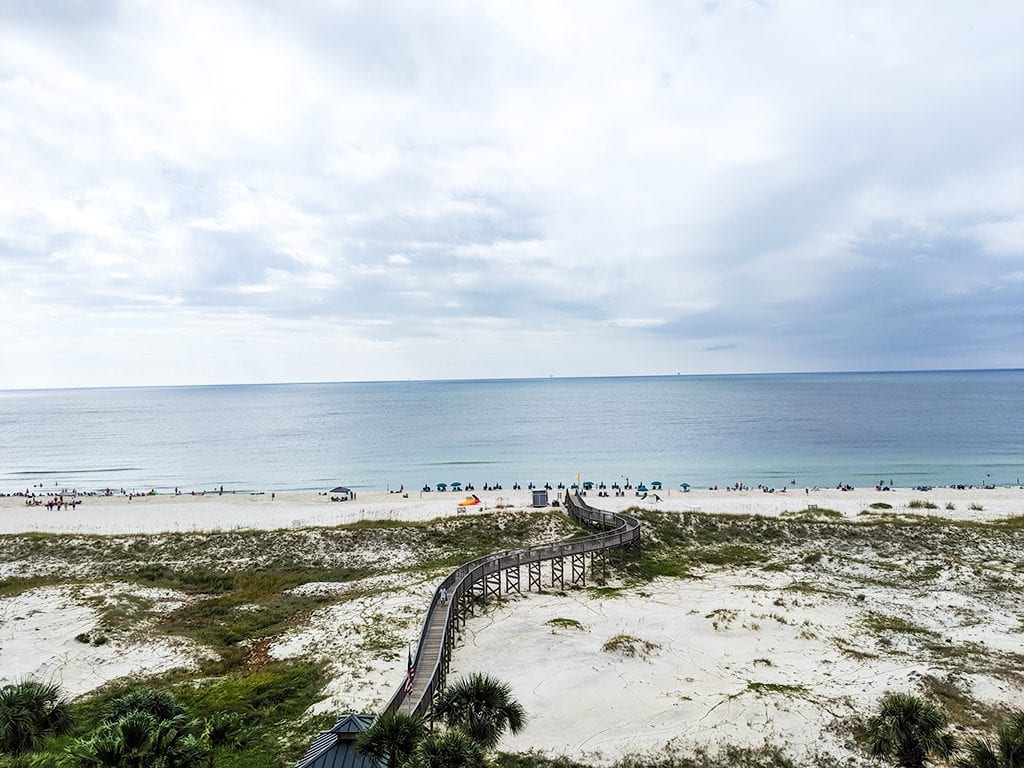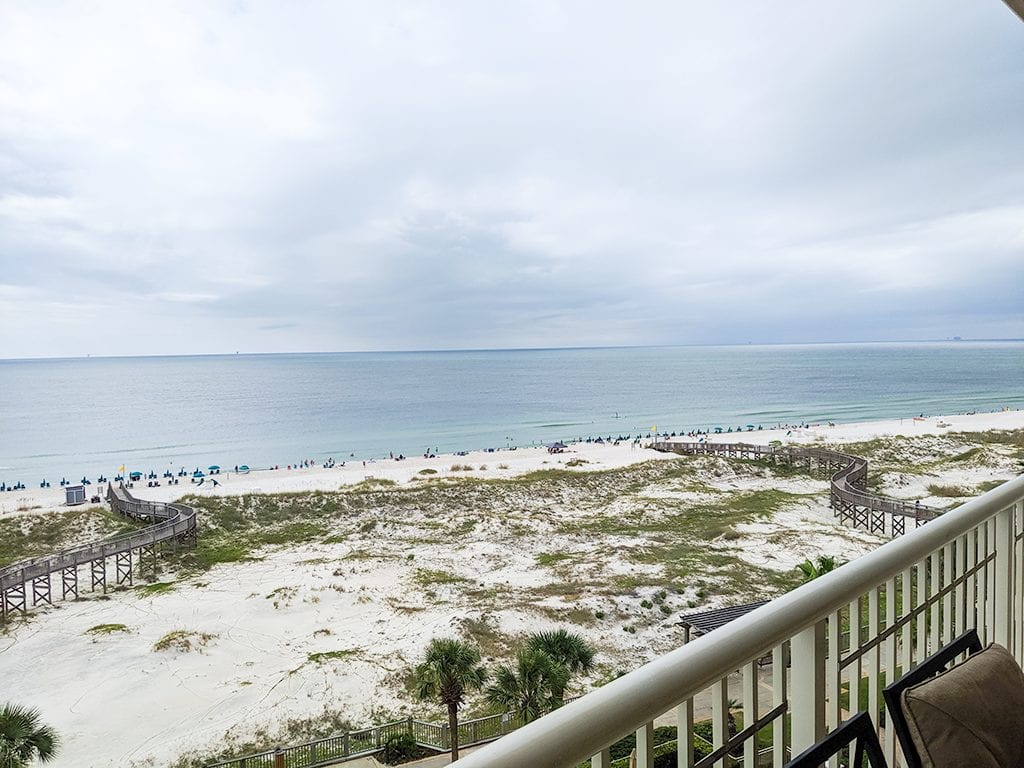 Here are a couple of views of the beach from our 7th floor condo. Very lovely!
Where We Stayed
The Beach Club Catalina is a 13-story condo building, one of four that makes up the complex. Our room was on the 7th floor and we enjoyed beautiful views of the beach and gulf from a spacious wrap-around balcony and from the living area's floor to ceiling sliding windows.
The Beach Club is on the Fort Morgan Peninsula halfway between Foley and Fort Morgan along AL-180. My room was on the opposite side of the unit. I had a little balcony and could see Mobile Bay on the horizon. I had my own bedroom and attached bath – perfect for Mimi-time relaxation. I didn't take pics of the inside of our condo, but if you're curious, here's the website.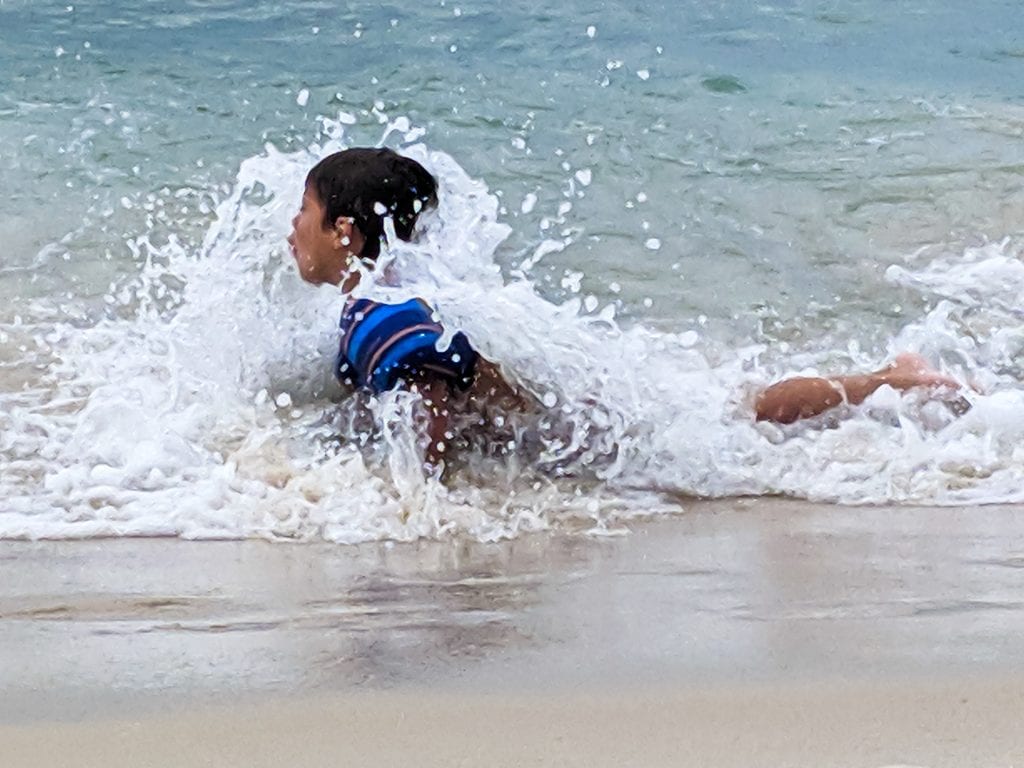 My middle grandson and his mother were snorkeling and having a blast. These boys loved the beach!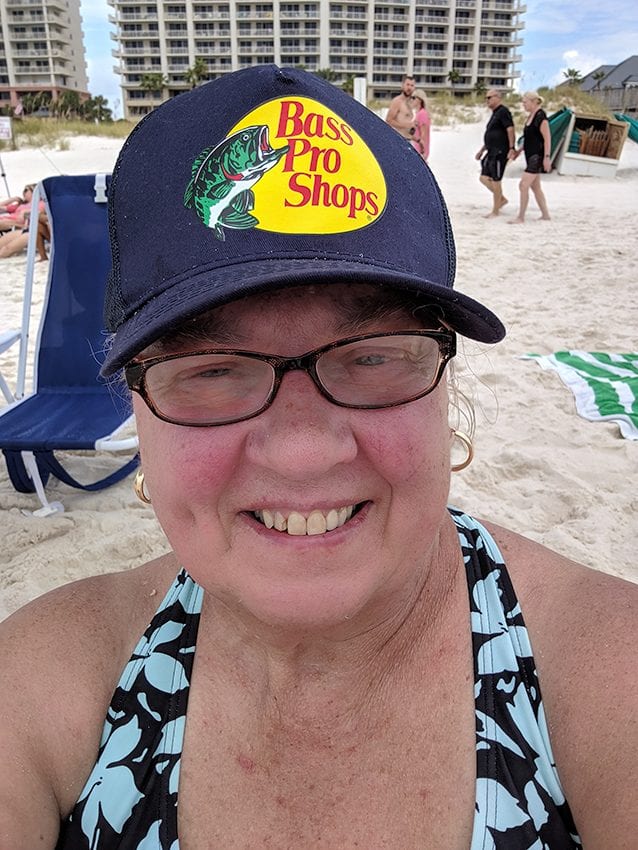 Here's my testimony. Yes, I was there, Yes, I was on the beach, too. I'm embarrassed to admit I was not ready for the waves. A little stronger than I was prepared for. One of the boys loaned me his styrofoam board floating thing and that helped steady me going further offshore to enjoy the sway of the water without getting knocked over and drowning. Standing up on the shore and walking was a challenge. I think I need to work out more . . .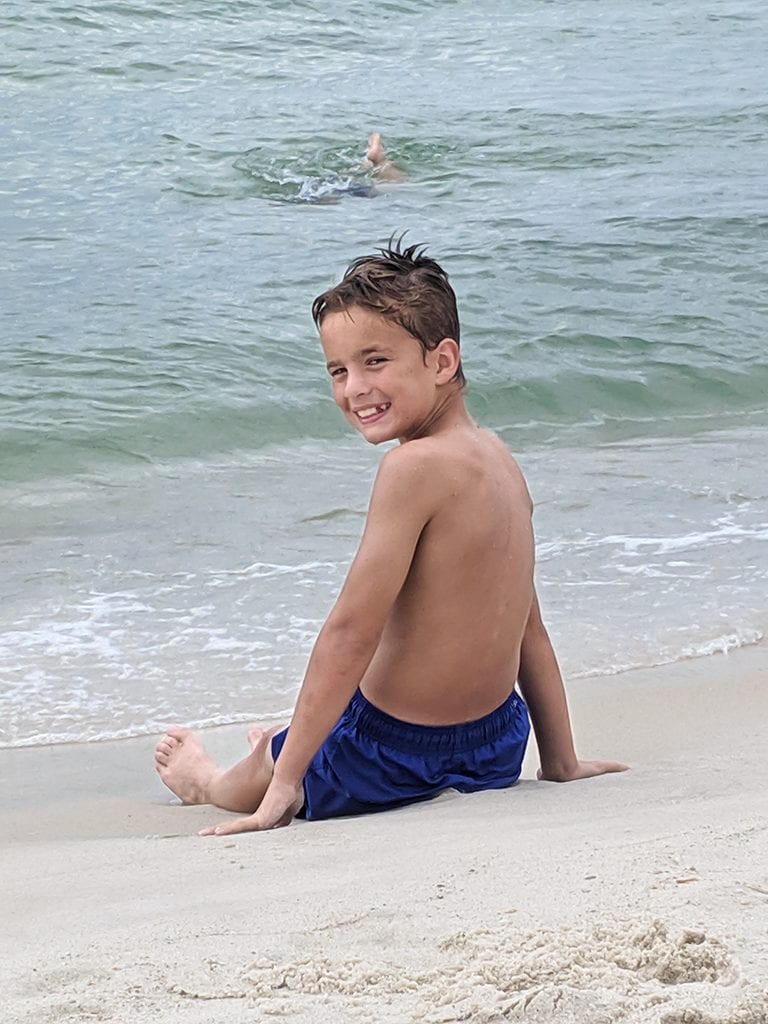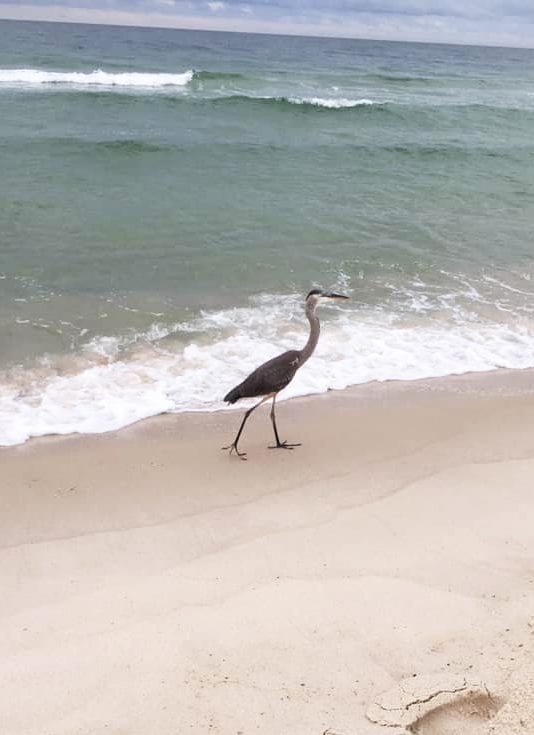 Visiting Mobile
There's so much to see in the Gulf Shores/Mobile area so we took a day away from the beach to explore. My son-in-law researched several historic sites and selected three for us to visit.
First was the USS Alabama "The Mighty A – Heroine of the Pacific." Launched in 1942, the Alabama was the fourth and last of the South Dakota class of battleships. She was decommissioned in 1947.
There are lots of levels to this ship and Brock, Jessica & the boys took it all in. Hard to believe the Alabama was home to 2,500 sailors.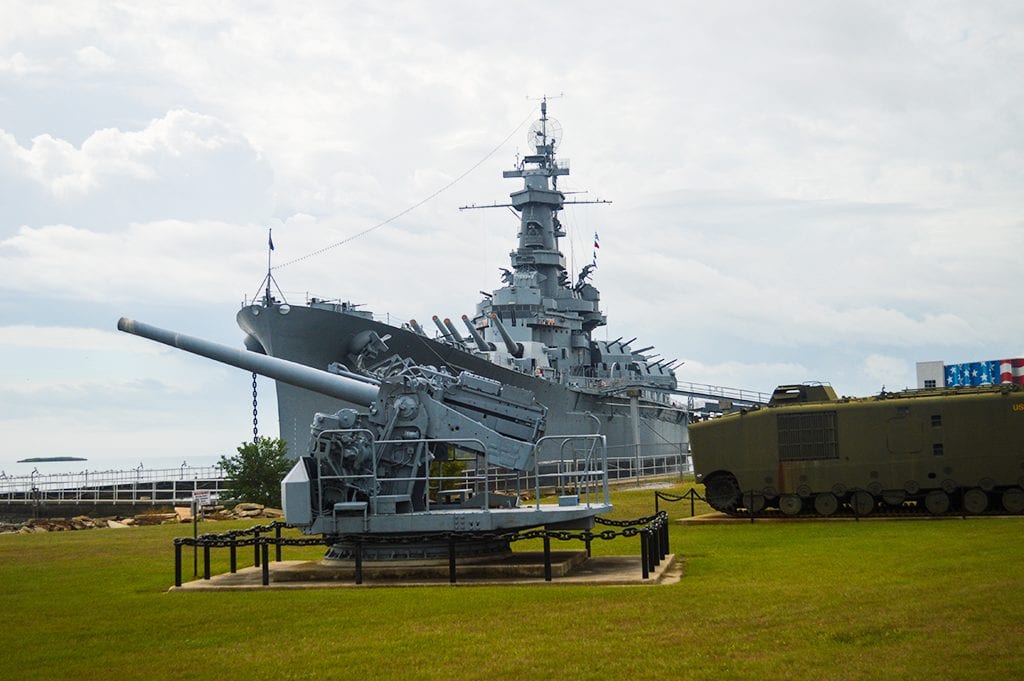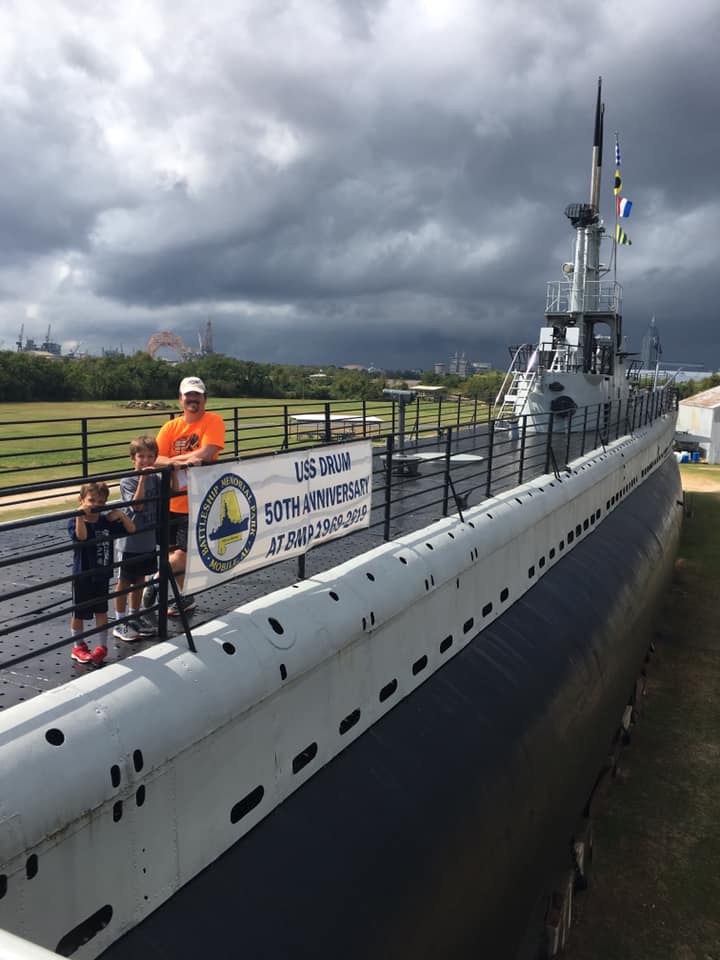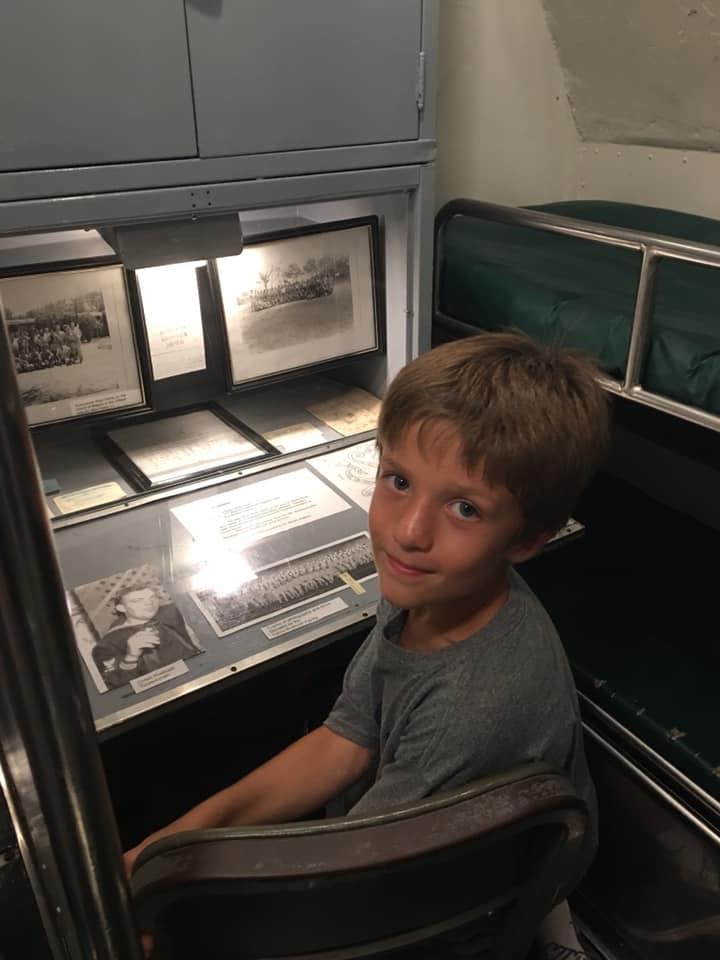 The USS Drum was a submarine that was launched in 1941 and decommissioned in 1946 after 13 war patrols. The Drum and her 72-man crew patrolled the Pacific during WWII. One of the ship's crew was a dog named Stateside. I'm surprised and happy the crew enjoyed a dog's company during their missions – it must have been a comfort. I regret I can't find a picture online of Stateside. It would have been fun to see what he looked like. Joshua, my middle grandson, was the most curious of the three boys. He and his dad loved exploring both the USS Alabama and the Drum.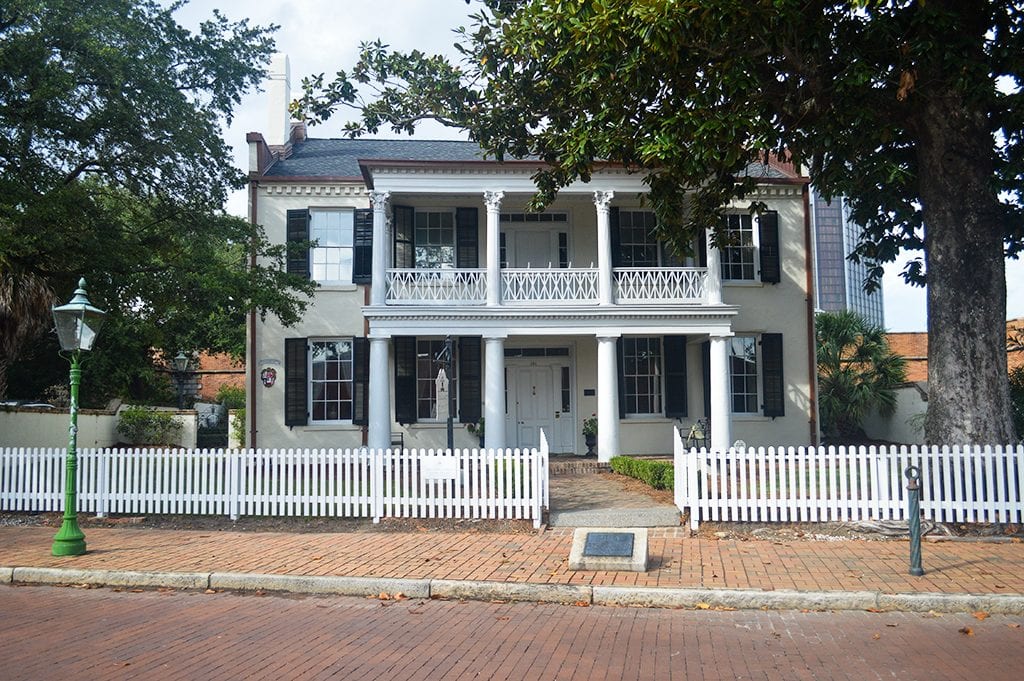 Here's the Condé-Charlotte Museum, the Gateway to Mobile's History.  This historic home was built in 1850 on top of the foundation of Mobile's first courthouse and jail that dates back to the 1820's.
The museum is filled with period furnishings and antiques that reflect Mobile's history under five flags: French, English, Spanish, Confederate and American.
The ladies who took us on a tour were just the sweetest, most friendly, and accommodating women. They answered a lot of questions and were proud to show off the special treasures housed at the museum.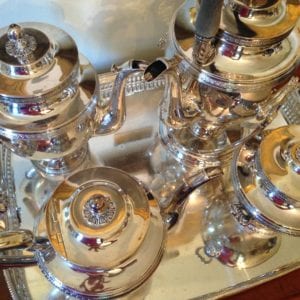 Of particular note is the Chaudron Silver Tea Service. Made by French silversmith Jean-Simon Chaudron in the early 1800's. The ladies said it is probably the most valuable antique in the museum's collection. It's made entirely of coin silver that boasts a 1% alloy content as compared to sterling silver we're familiar with that has a 7-8% alloy content.
The Cathedral-Bascilica of the Immaculate Conception
Our visit to this basilica was a highlight for me. In college, I took an art history class and we studied European cathedrals and the wide variety of artwork they contained. Ever since that time, I've been impressed with the quality of sculptures, paintings, and especially stained glass windows housed in those cathedrals. I appreciate the imagination of artisans and the skilled labor that helped to construct such beautiful buildings.
The Basilica of the Immaculate Conception in Mobile is the oldest congregation of any faith in Alabama and the Mississippi Valley established in 1702 by the French. The city moved the church to its current location in 1712.
The church is in the process of refurbishing the church's stained glass windows. The windows were installed between 1890 and 1910 by the Franz Mayer Company in Munich, Germany.
Here are a few pictures of the inside.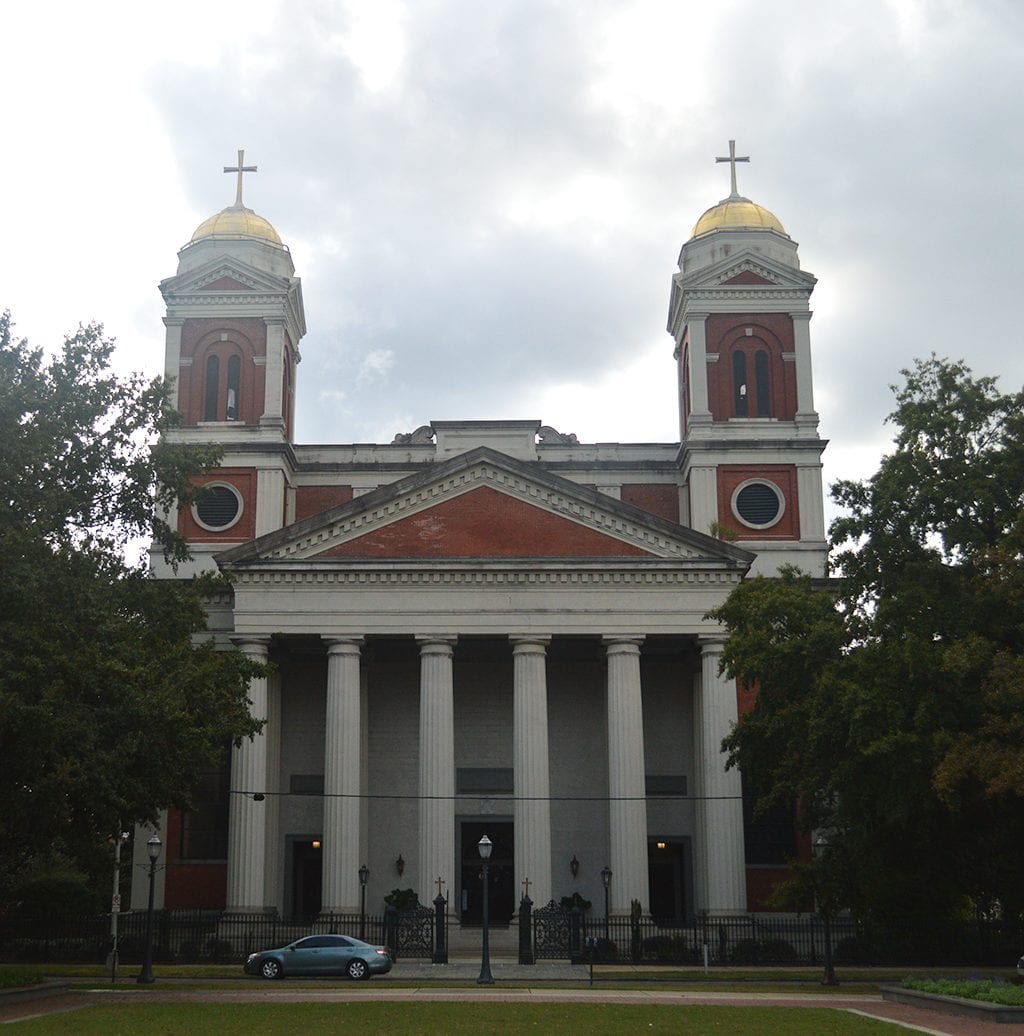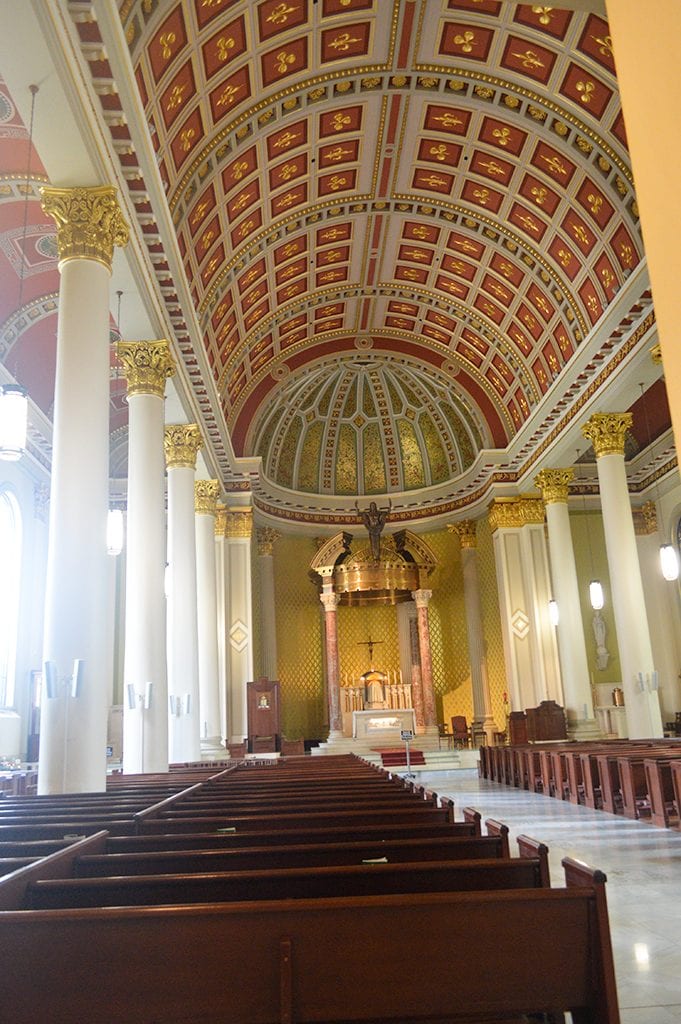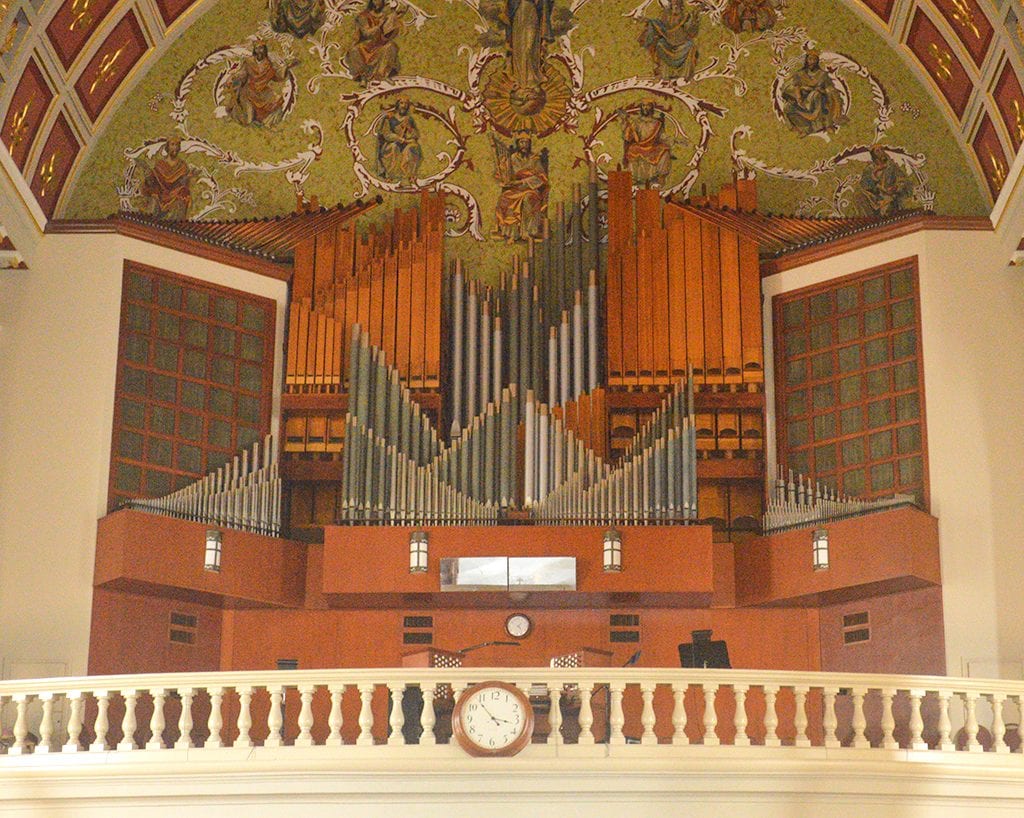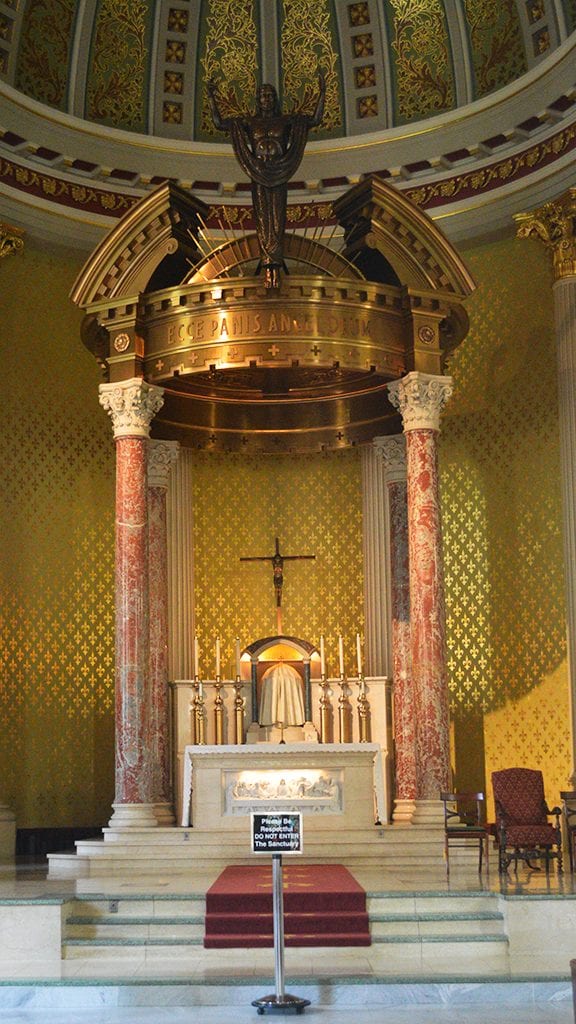 I should have paid more attention to getting a full picture of the ceiling above the beautiful pipe organ. In the center is Mary surrounded by the twelve apostles.
The vaulted ceilings are covered in fleur de lis that represents the French heritage of the Catholic church established in Mobile.
Below are a few stained-glass window pictures.



Let's Eat in Mobile!
Again, seafood was our choice. And it was our Quinten's birthday! We headed to Wentzell's Oyster House in downtown Mobile. The flagship restaurant was founded in 1938 by J. Oliver Wentzell on Dauphin Street.
I couldn't decide what to order, so I went for the J.O. Fried Platter, more affectionately referred to by me as the "Tour of the Gulf Platter!" Yep, it was only five bucks more than what everyone else ordered and came with two sides – greens and cheese grits were my choice. Why not? Yep, premium white fish, oysters, shrimp, stuffed crab, scallops and hush puppies. I took half back to the condo to enjoy later.
We told the waiter about Q's birthday and, for free, they brought him the biggest piece of chocolate-fudge cake smothered with ice cream, whipped cream, and cherries! We all got a taste of that one.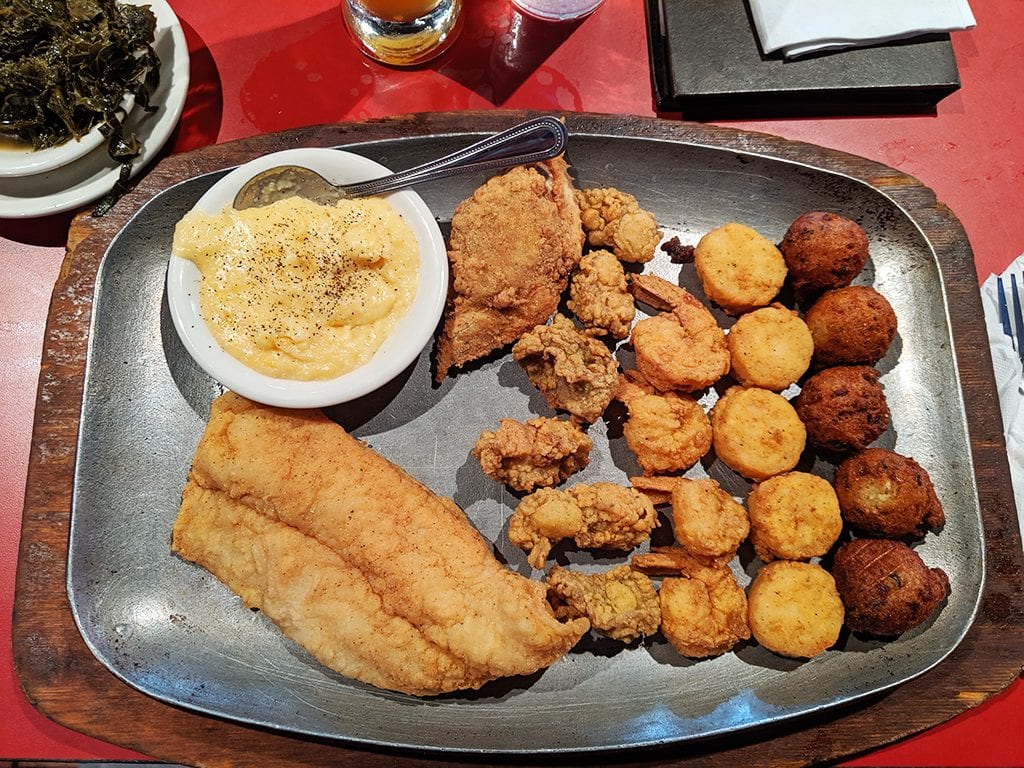 Wentzell's downtown location is informal and family-friendly. The staff and our waiter couldn't have been nicer. It's said that Oprah Winfrey eats there on occasion and Wentzell's West Indies Salad is her favorite. Jumbo lump crabmeat marinated in oil & vinegar for 24 hours and served with chopped onion and saltines. We shared a round before our meals arrived. And if you love oysters, Wentzell's has seven freshly shucked options to choose from.
Back at the Condo
By now it's Wednesday. We're all doing our own thing. Brock is taking the boys to a playground to run off some energy. Jessica and I are headed for the outlet mall in Foley – HOORAY!
The rest of the week, we swam at the beach and pools, relaxed in the hot tub, explored local surroundings, drank wine, ate and simply enjoyed being together. I mean, that's what it's all about, right?
There's lots of activity on the beach during the daytime, but there's lots after dark, too. From our perch, we watched other vacationers with flashlights roaming the edges of the shoreline. This family rarely misses an opportunity for an adventure. And, honestly, they wanted to know what was so intriguing everyone on the beach. Jessica & Brock took the boys armed with flashlights to check out the nightlife, both human and creature oriented. Jessica was very proud to find this little white sand crab.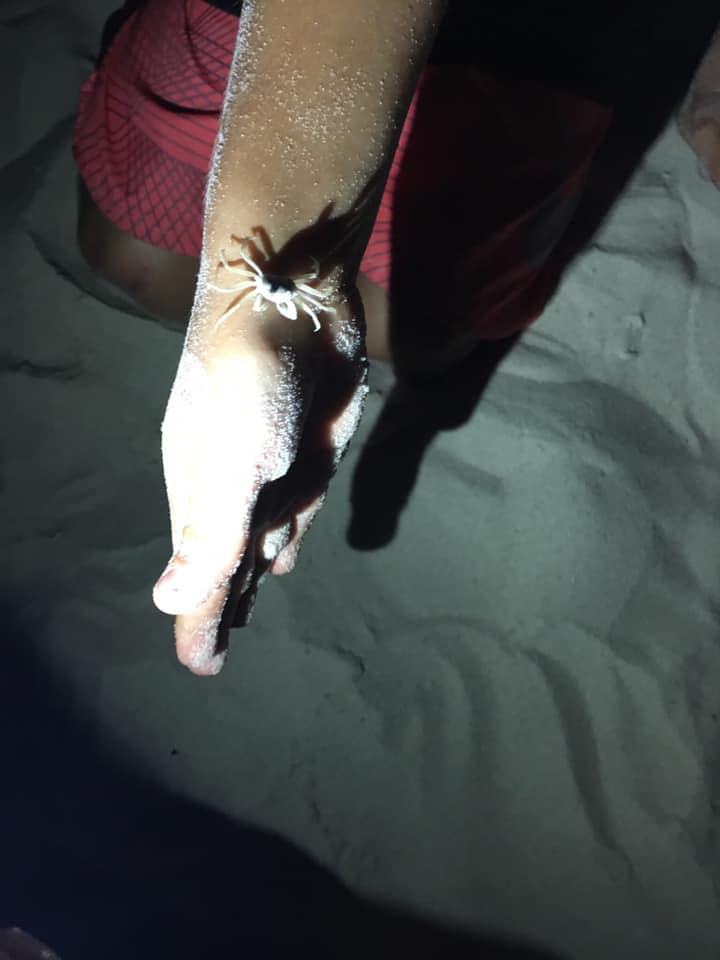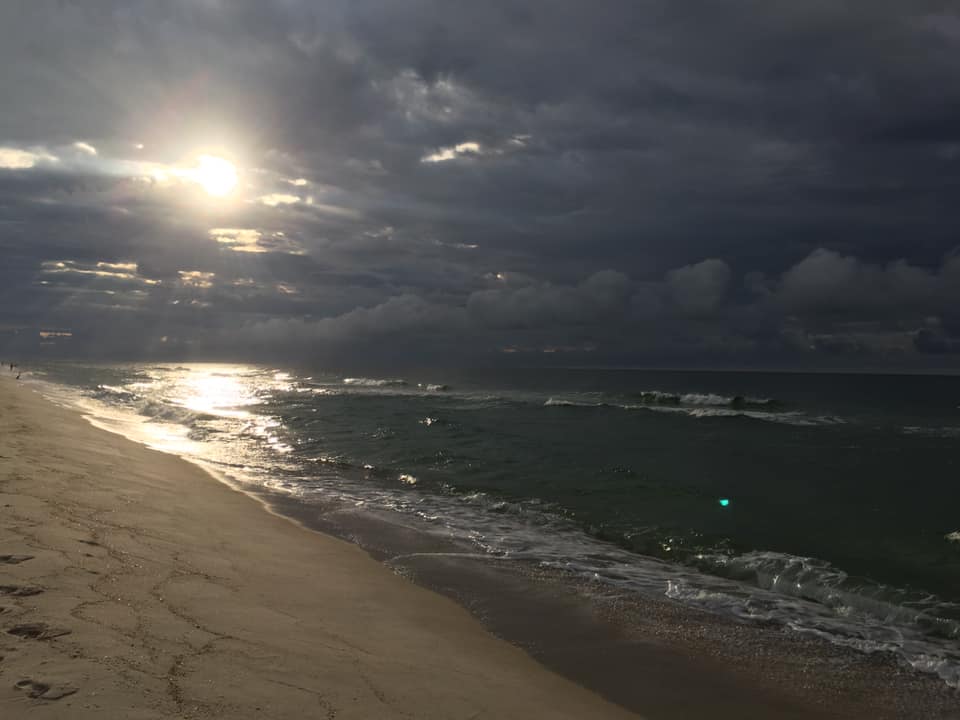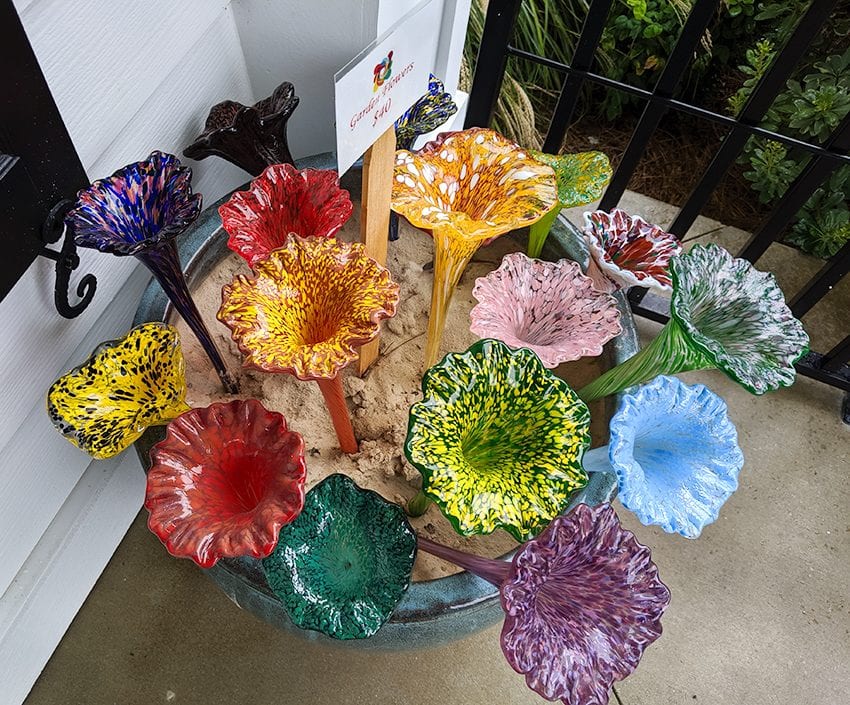 We had a rainy and windy afternoon later in the week. Brock took us on a great side trip to Orange Beach where we had a fabulous visit to the Coastal Arts Center. I loved these blown glass flowers!
"Nestled on four acres facing beautiful Wolf Bay we offer a waterfront art experience for everyone as well as a stunning destination wedding location. Peruse the gorgeous fine arts gallery featuring Gulf Coast artists, blow your own glass in our Hot Shop, or make your own clay creations in our Clay Studio. Original art for sale."
Headed Home – One Last Adventure
Montgomery, Alabama
We arrived mid-afternoon in Montgomery. I was struck by how quiet it was. I mean, there was no one walking on the streets. Little sign of afternoon shopping or dining. It was a little eerie. But, the downtown section we visited is dotted with lots and lots of churches. I imagine we were one day early. If it was Sunday, I bet we'd be hard-pressed to find a parking space. And clean, it's so clean and well kept. Alabamans should be proud!
We visited the Rosa Parks Museum at Troy University and we had an opportunity with the boys to reflect on the Civil Rights Movement of the 1960's.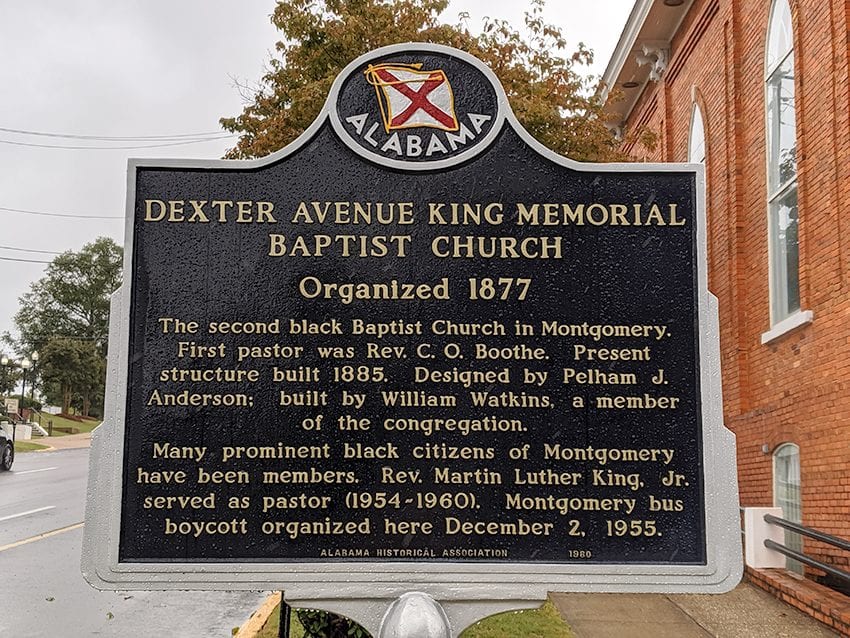 Dexter Avenue King Memorial Baptist Church where Dr. Martin Luther King served as pastor.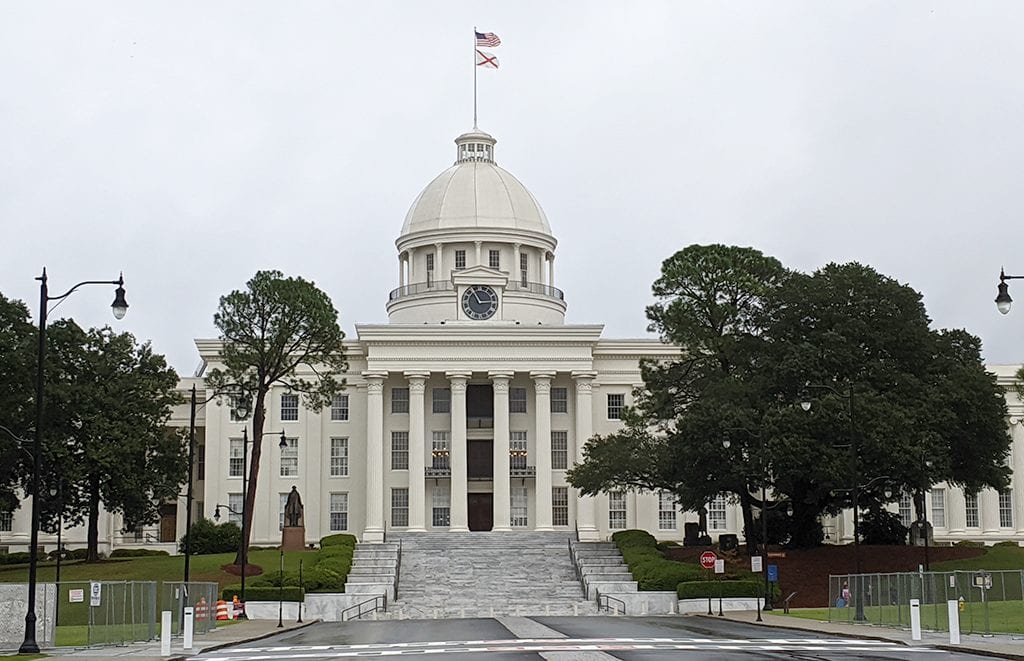 Alabama State Capitol Building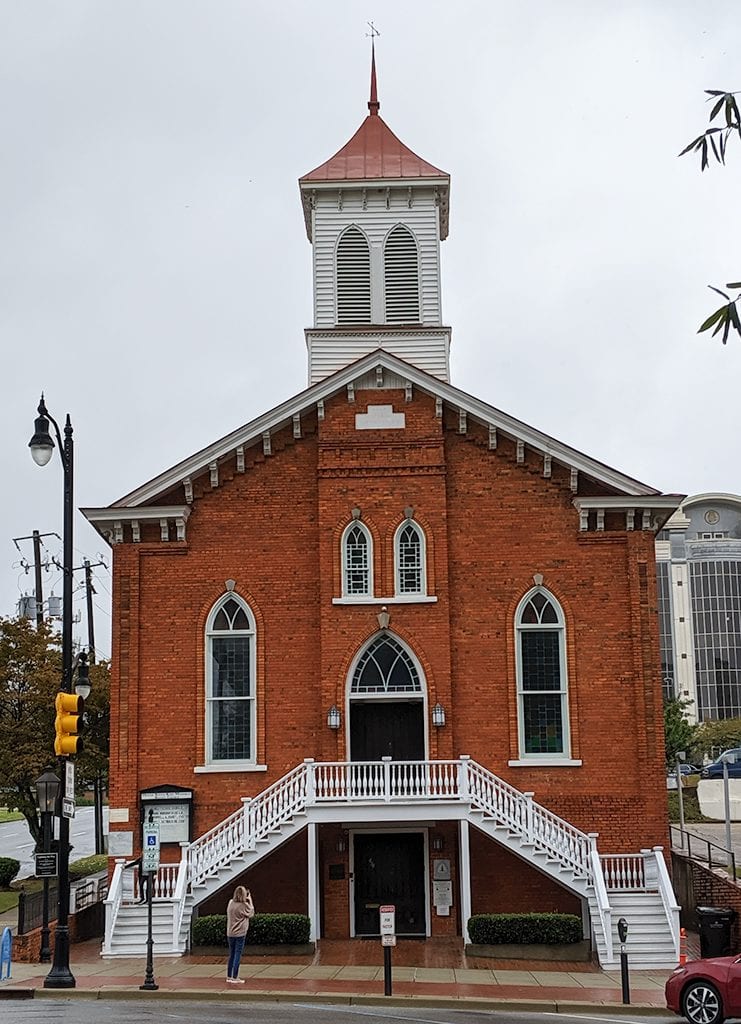 On our way home Saturday, we barely missed a tropical storm headed just east of our condo. We did witness, however, the whipped up waves on the gulf and happy at that moment our trip was coming to an end.
What a great vacation! Thanks, children, for letting me tag along!! I had so much fun!!! Love you – Mimi
Have you ever visited Gulf Shores? What are some of your favorite memories?