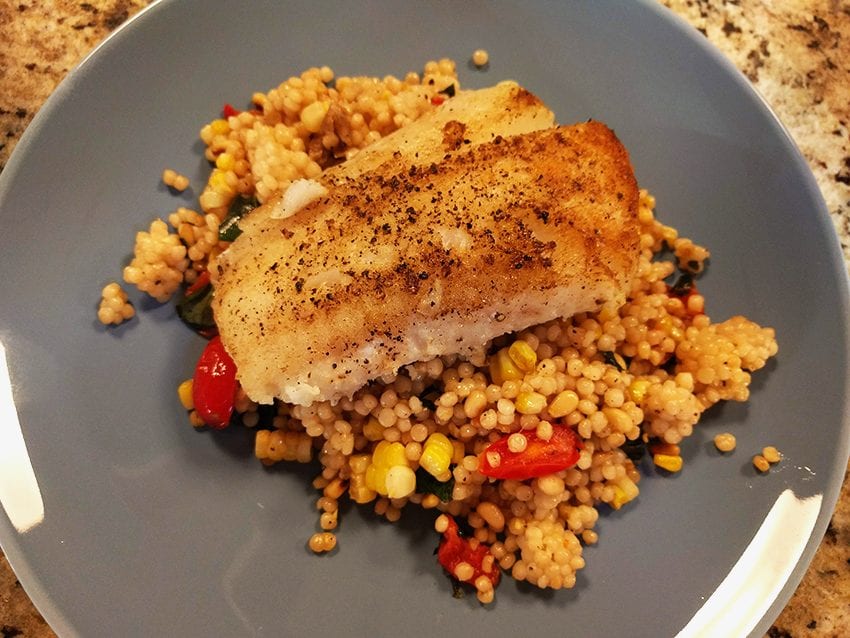 Bursting with fresh flavors from a summer garden, Pan-Seared Cod Filet with tomatoes, corn, and basil-infused Israeli couscous will become a fabulous, flavorful favorite in your quick fix menu rotation.
Fresh seafood, like these cod filets, is quick and easy to prepare. Almost any thick, white, flaky fish filet will cook in the blink of an eye. I've found cod filets to be very budget-friendly. Flavorful and meaty, this cod filet is the centerpiece of the dish, nestled on top of a bed of Israeli couscous mixed with a variety of fresh and healthy summer vegetables and herbs. Lots of clean flavors.
Have you ever used Israeli couscous? It is substantially larger than regular couscous. I love its chewy, pearly mouth feel. In fact, some packers actually call it "pearl" couscous. Israeli couscous cooks quicker than rice, about 10 minutes from start to finish. I like to cook mine in chicken stock, but water or beef stock would work, too.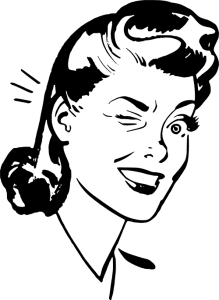 Israeli Couscous, Giant Couscous, Pearl Couscous
Israeli couscous came onto the culinary scene in the 1950s. It's actually pasta – don't mistake it for quinoa – made with semolina and water. Israeli couscous was introduced by then Prime Minister David Ben Gurion to feed the influx of immigrants coming to Israel. It comes in regular form and you can find whole-wheat versions as well or tri-colored where tomato and peas lend color to the finished product. And couscous can be served cold or at room temperature, like in a salad, or warm just like any starchy side.  Master Class Articles "What Is Israeli Couscous?"
I use Israeli couscous in another recipe Shrimp and Scallop Stew with Israeli Pilaf.
A great recipe from Martha Stewart's kitchen. I like to use Bob's Red Mill brand that comes as traditional and tri-color. But any commercially available Israeli couscous will do. Common Mediterranean couscous looks almost like polenta or coarsely ground cornmeal, so you'll easily notice the difference.

A Tip for Searing Fish Filets
I always, always blot any sort of seafood folded in between layers of paper toweling. You want the seafood patted as dry as possible in order to get it ready for a nice sear. If you don't, there's too much water in the fish and the filets will steam rather than brown. I do this with shrimp or scallops, too, whether the seafood is fresh or frozen. This step is especially important if you want to dredge, bread, and fry seafood, or else the coating won't stick to the meat and the dredge or batter will fall away as it's fried and there goes your beautiful breading burning at the bottom of the fryer. The goal here is for a well-prepared fish that will have a nice brown crust, but a moist flaky inside whether it's seared or fried – just the way you want it. So, how hot should the pan be? I've found somewhere between medium and medium-high is best – not too hot. I like to warm my cast iron skillet for 5 minutes or so to make sure the skillet is properly pre-heated.
An Ode to Basil
I love, unabashedly love, basil – probably not an ode, but it's the best I've got. Every summer I grow a big potful on my front porch. I run my fingers through the leaves just to come

away with one of the best culinary smells of summer. Some like to use oregano or rosemary or thyme – my go-to is always basil. I prefer the distinctive almost anise-like taste and smell – fresh or dried – to just about any other herb. Personally, I think thyme is over-rated. Parsley is just so, well, bland. I can't imagine making any pesto with parsley – not my thing. Of course, basil in spaghetti sauce is a must. And my mother used to roast a rump roast in an oven-baking baking bag simply seasoned with salt, pepper, and dried basil mixed with a can of tomato soup – out-of-this-world gravy to pour over mashed potatoes! Basil simply makes me happy.
I just got a motherload of fresh pine nuts delivered to me by my friend, Cindy, from Nut-tos in West Seneca, NY.? Nut-tos is a beloved roasted nut distributor in the Buffalo area. You know what I've been dreaming about – PESTO!
So, while I'm high on basil, let's look at why it's such a healthy herb. Basil is a powerful antioxidant. It's a good source of magnesium which promotes good blood flow, is high in Vitamin A for good eyesight, and has been shown to be a good anti-inflammatory. As part of an aromatherapy routine, basil is beneficial to relieve tension, melancholy, depression and mental fatigue. Gee, no wonder I'm so head-over-heels in love with basil. Maybe it's what my body craves – along with chocolate, wine, and anything in a pie crust.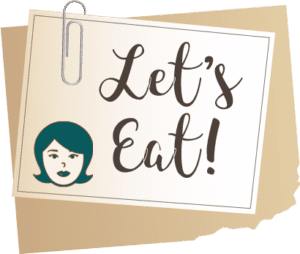 Yield: 4
Pan-Seared Cod Filet with Tomato, Corn and Basil Couscous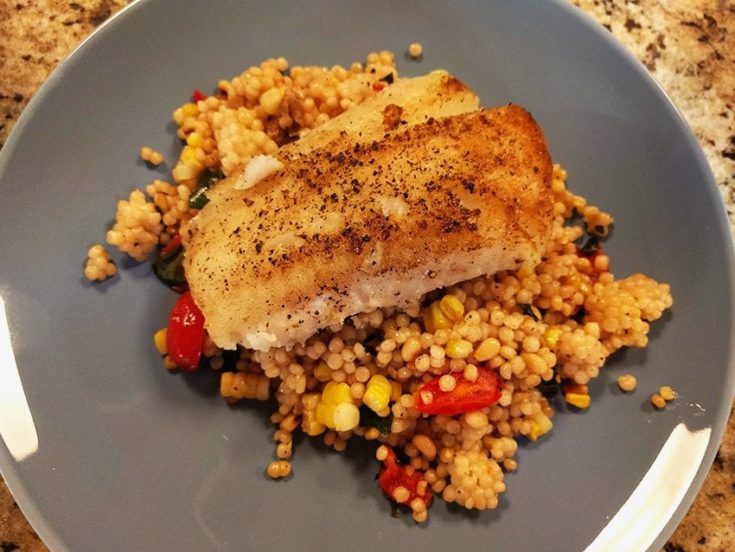 Bursting with fresh flavors from a summer garden, Pan-Seared Cod Filet with Tomatoes, Corn, and Basil-infused Israeli couscous will become a fabulous, flavorful favorite in your quick fix summer-time menu rotation. Delicious and so easy and quick to prepare!
Ingredients
2 lbs thick cod filets, fresh or frozen and thawed, cut into 4 equat portions
2 Tablespoons olive oil
2 cups Israeli couscous
21/2 cups of chicken stock or water
1 pint cherry tomatoes, cut in half
3-4 ears of fresh corn, steamed and cut from the cob; or 2 cups frozen corn
1/2 - 1 cup fresh basil, shredded into pieces or julienned
1/2 cup toasted pine nuts or toasted slivered almonds
Salt & Pepper
Instructions
Line a baking sheet with paper toweling. Place the fish on top, and use more paper toweling to pat dry the fish surface. Spray the filets lightly with cooking spray. Sprinkle with salt & pepper. Turn the fish over and repeat.
Start the couscous. In a 3-quart pot, add chicken stock or water, and couscous. Over medium-high heat, bring to a boil, then immeiately reduce to a simmer. Cover and simmer for 10 minutes. Once done, fluff with a fork, cover, and set aside.
In a 12" cast iron skillet, heat the olive oil over medium-high heat. Place the filets in the hot skillet. Sear for 5 minutes per side. Be sure not to crowd the skillet - you may have to cook in 2 batches. You want to sear the fish, not steam it. Each side should form a nice lightly-browned crust. Remove cooked filets to a plate, cover lightly with aluminum foil, and set aside.
Add pine nuts or almonds to the hot skillet. Pan toast, stirring frequently, until the nuts are lightly browned. Remove to a plate and set aside.
In the same skillet, reduce heat to medium or medium-low add the couscous, tomatoes, corn, and nuts. Toss gently until everything is well combined. Add basil and toss. Check seasoning.
To Assemble the Dish: Place one cup of the warm couscous mixture in the middle of a plate. Top with one cod filet. Sprinkle the fish with fresh lemon juice. Serve.
Notes
Cod filets come in all shapes and sizes. Prefer the thicker filet sections for this recipe. The flatter parts of the filet are excellent for making fish & chips.
Toasted garlic bread would be a great side or any tossed salad.