2019 Thanksgiving Revisited
I hope all of you enjoyed a fabulous Thanksgiving holiday! As promised, here's is a recap of our menu, our results, and a turkey story – everyone has one, I'm sure.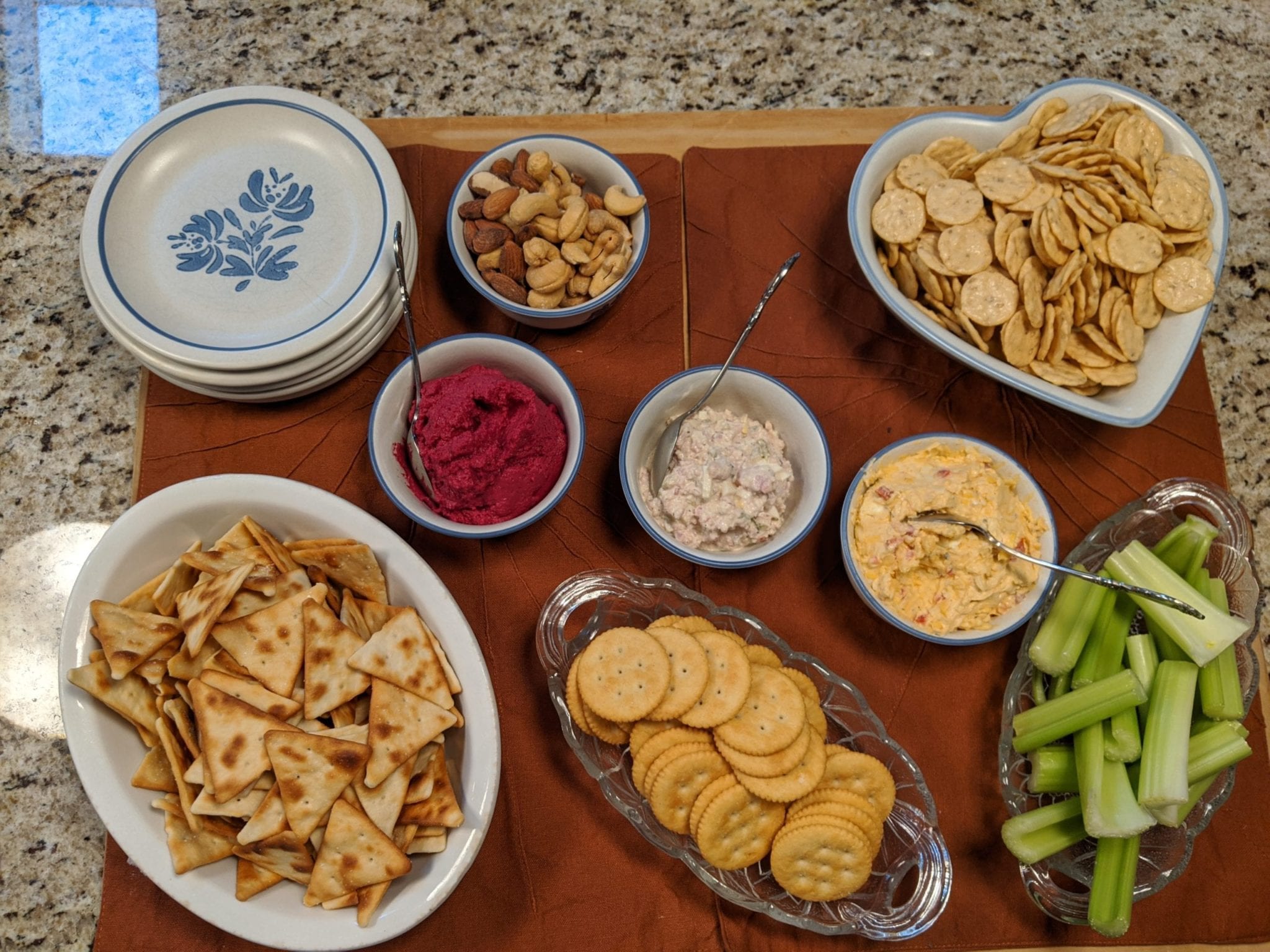 Here's the appetizer board we put together to get everyone started. No matter how I promise and plan for a 4:00 dinner, something always comes up to delay our meal. It's nice to have a few things to snack on before the meal is on the table and ready to serve. It's not a lot. Just a little nosh to keep hungry guests at bay while I'm making gravy and piling food in serving dishes.
The star of the show this year was the Roasted Beet Hummus – a recipe I found at Half Baked Harvest (bowl upper left). Brock, my son-in-law, and I are the only beet lovers in this family, but everyone thought this hummus was outstanding. It's bright to look at and brightly flavored. I mean, you barely know you're eating beets. I didn't follow the recipe to the letter, however. The grocery had small fresh beets in a bundle of three, so instead of two, I used three. I didn't have almond butter on hand and the recipe calls for only a couple of tablespoonsful – not enough to justify the cost of almond butter. So, I threw in 1/4 cup of roasted pine nuts instead. Also, it calls for two cups of chickpeas. Well, two 15oz. cans of garbanzos drained and rinsed is about 2 1/2 cups so all of them went into the food processor. Tahini is a must for hummus recipes and I keep a small jar in my pantry. Either make a lot of hummus and use up the tahini or try this recipe for Crunchy Asian Noodle Salad or both!
The center bowl is filled with Ham Salad Spread, a recipe I've made for ages and is quickly assembled in a food processor with ham chunks, hard-boiled eggs, diced red onion, sweet pickle relish, and then mixed together with mayo – YUM! And the third bowl is filled with Pimento Cheese Spread from The Pioneer Woman.
All three spreads are perfect on crackers or slathered into the hollow of a piece of celery. We had pita chips, Ritz crackers, and these little rice crackers I found at Trader Joe's. The rice crackers are perfect because they're small – no heavy loading – light and very crispy. There's a lot of them in a bag, too.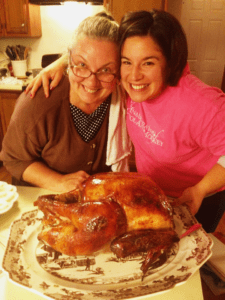 In all the years I've roasted turkeys, I've never had one that was completely frozen on Thanksgiving morning – NEVER – until Thursday last week. Yep, woke up, took the bird from the garage refrigerator, and the darn thing was a solid block. How did that happen?? Jessica and I put it in the refrigerator the Friday afternoon before. What on earth??
I started the cool water-bath thaw method until I read on the Butterball website that it would take nine hours to thaw. Oh NO! It's Thanksgiving morning, for cryin' out loud! I'm grateful my son, Joseph, was resting on the family room couch after working an overnight shift and overheard my panicked telephone call to my daughter. Jessica said Kroger had fresh turkeys for sale on Wednesday, so she suggested I start there. Joseph rallied and drove me to the grocery where we found fresh Butterballs for 69¢/pound. Hallelujah! There in the cooler was a 19-pounder with my name on it.
I was back in business. All I had to do was heat the oven, slather butter between the skin and flesh. salt & pepper, and off we went. I did stuff the bird's cavity with a quartered orange, lemon, onion, and garlic cloves. The house smelled phenomenal, just like it should on Thanksgiving. And it was the moistest turkey I've ever roasted.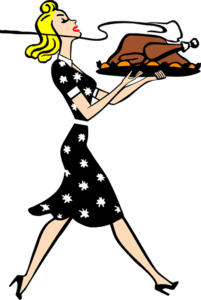 I've come to the conclusion that buying a fresh bird a day or two in advance is not such a bad idea. First of all, you don't have a 20-lb bird taking up precious refrigerator real estate for days and days. And it's a guarantee that the turkey, while cold, will be thawed and ready to roast Thanksgiving morning. Lesson learned.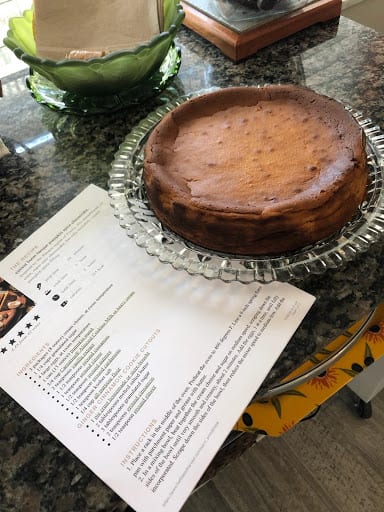 This cheesecake was another lovely surprise.
Burnt Basque Pumpkin Spice Cheesecake
, a scrumptious recipe from Half Baked Harvest.
What makes this cheesecake so special? Well, it's delicious for one thing. It's so easy and quick to put together, and is a guaranteed "no-brainer" recipe with a satisfying mouthfeel sure to please guests. It's a great substitute for traditional pumpkin pie.
You can bake it the night before, cool to room temperature, and stash the cheesecake in the refrigerator the night before to chill.
Tieghan Gerard uses dairy-free almond cooking milk. There is no crust and only 1/4 cup of all-purpose flour in the batter which can be switched out with gluten-free flour. So it's perfect to serve to those with dairy and/or gluten food allergies or sensitivities. If you don't have to worry about that, you can substitute heavy cream or evaporated milk in equal amounts for the almond cooking milk.
Additions I didn't mention in my 2019 Thanksgiving menu post:
Here in the Midwest, lots of families serve homemade egg noodles drenched in more turkey gravy as a side dish. This was my first year to try that. Why not? Noodles, mashed potatoes, stuffing, hot homemade rolls – what's one more carbohydrate? And, yes, we did have the obligatory green vegetable – Brussel sprouts.
I made a cherry pie because my grandsons love cherry pie, and an apple crisp because a local produce market had the largest and most fragrant apples in their shop the day I visited. Yes, we had three desserts.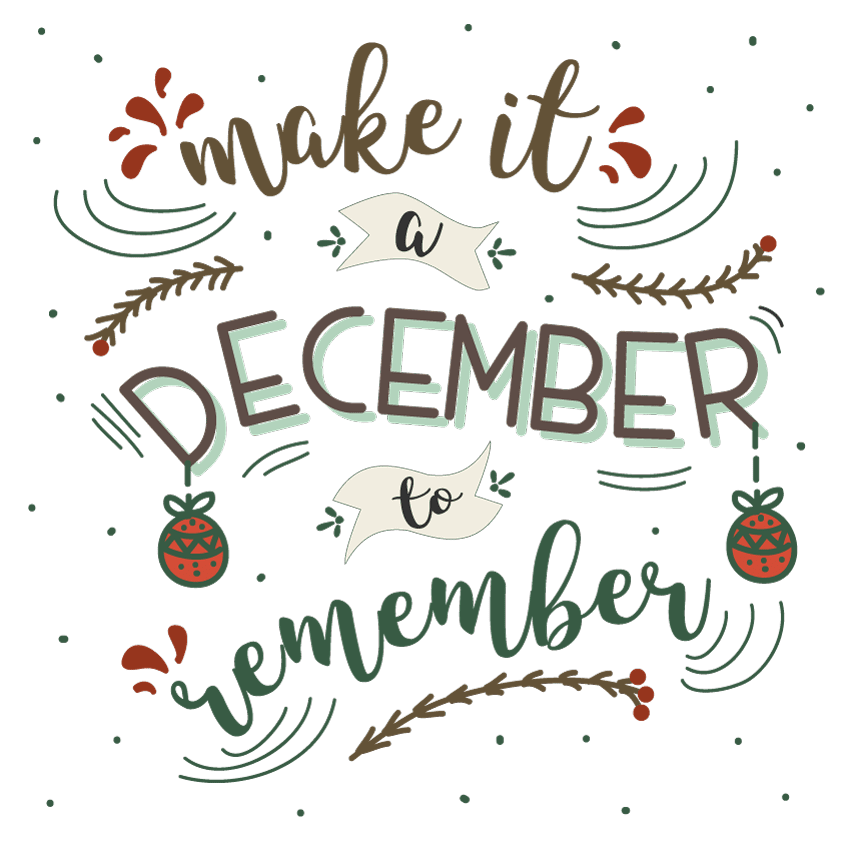 Any of these recipes would be excellent choices at Christmas, too. The beet hummus would be a cheerful and tasty addition to any appetizer or charcuterie board.
If you're invited to a holiday party or open house and need a pitch-in item, try the pumpkin cheesecake. You can decorate the top with piped whipped cream. Or try what Teighan did and make little pie crust cookies dusted with cinnamon sugar as cute ornaments on the top.
Tips for a Less Stressful Holiday
Whatever your holiday celebrations – large, small, community configured – remember to have fun. Hosts burden themselves with unrealistic expectations for the "perfect" gathering. I give you permission. Free yourself. Do what you like. Do what you enjoy! After all, I am a Mimi with so much history. Yes, I am an older Mimi so, I've learned the hard way. Rely on your family and friends to bring up the rear. Learn to delegate.

Have Tips or Tricks to Share?
I'd love to learn about your Thanksgiving success stories! What tips and tricks do you use for a less hectic holiday?