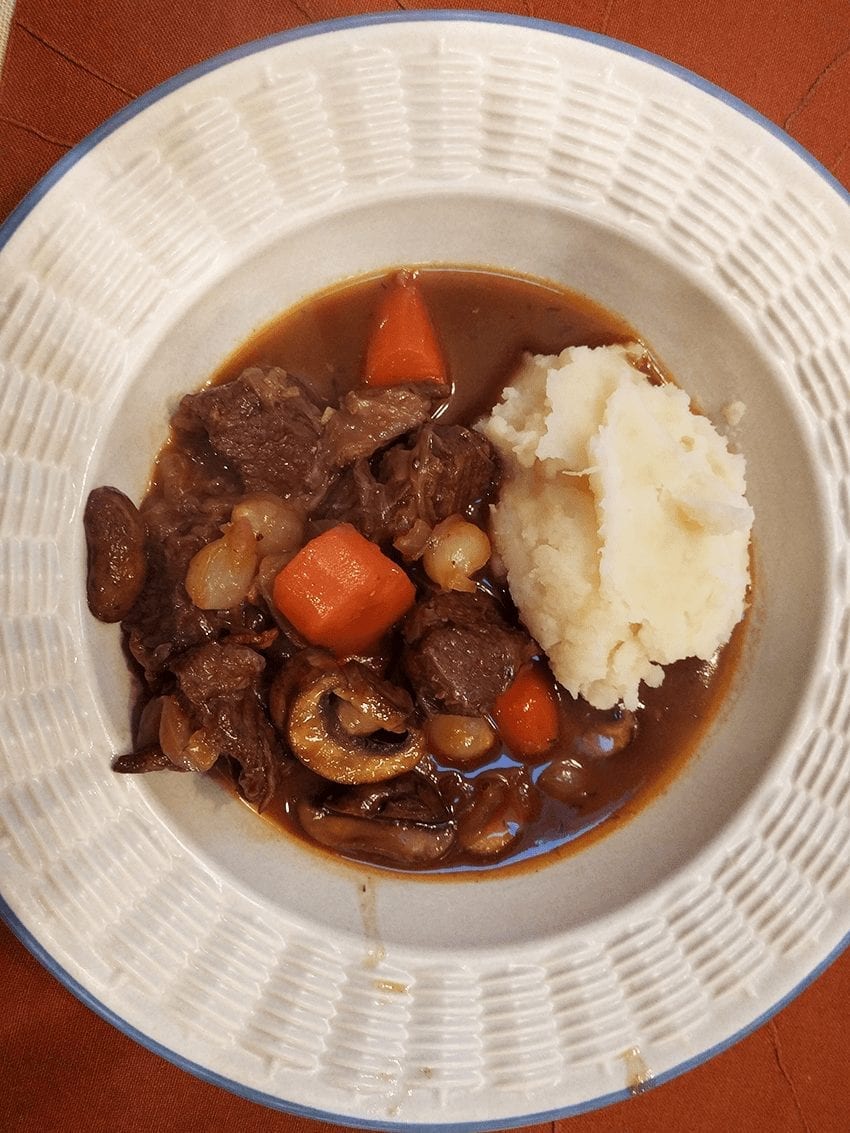 Starting with this recipe for Ina Garten's Beef Bourguignon, I decided to create a new category I call Bucketlist. Mimi's Bucketlist is a place for all the wonderful recipes I've collected over the years but never had the time or courage to try. This Mimi is retired so little time is no excuse. Now, I have to muster up the courage.
"This is my invariable advice to people: Learn how to cook- try new recipes, learn from your mistakes, be fearless, and above all have fun!"
Julia Child, "My Life in France"
Boeuf Bourguignon  If you've ever watched the Nora Ephron film "Julie & Julia" you'll remember the classic French stew that inspired Julie Powell to author her successful blog "The Julie/Julia Project: Nobody here but us servantless American cooks…" 
I remember attempting this recipe once when I was in high school. I was a member of the French Club and our sponsors took us to the Chez Paul restaurant in Chicago. Tres chic. I ordered Duck L'Orange. Turtle soup sounded disgusting. I don't remember what prompted me to try Beef Bourguignon in my mother's humble kitchen or who's recipe I used, but I do remember desperately wanting to try a dish that would reflect my newly acquired sophisticated side. And to cook with wine! It's beef stew, right? How hard could it be? Well, my father liked it. He loved me. My early dish was an early failure, but I grew to learn to appreciate technique and to follow a recipe. There's so much to learn from really good cooks. I know and have known several.
I carefully reviewed several recipes over time comparing them with Julia Child's recipe in Mastering the Art of French Cooking. I settled on Ina Garten's because it was easier. OMG, it was delicious! According to Julia, the stew only gets better a day later as the flavors mellow. Yep!
Ina flames her cooked vegetables with cognac before adding the meat. I'm sure it lends a great rich flavor. But when a pint of cognac was $35 at the grocery, I decided to skip that part.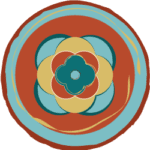 I've thought about doing this in a crockpot but am voting against it. I don't think the liquid will cook down and thicken as well. And I'm not sure about an Instsapot because I'm not an Instapot fan. But, if any of you try it and decide otherwise, I'd love to hear from you with your results.

Get out your Dutch oven and let's make some!
"Carefully done and perfectly flavored, it is certainly one of the most delicious beef dishes concocted by man." Julia Child, Mastering the Art of French Cooking. Couldn't agree more.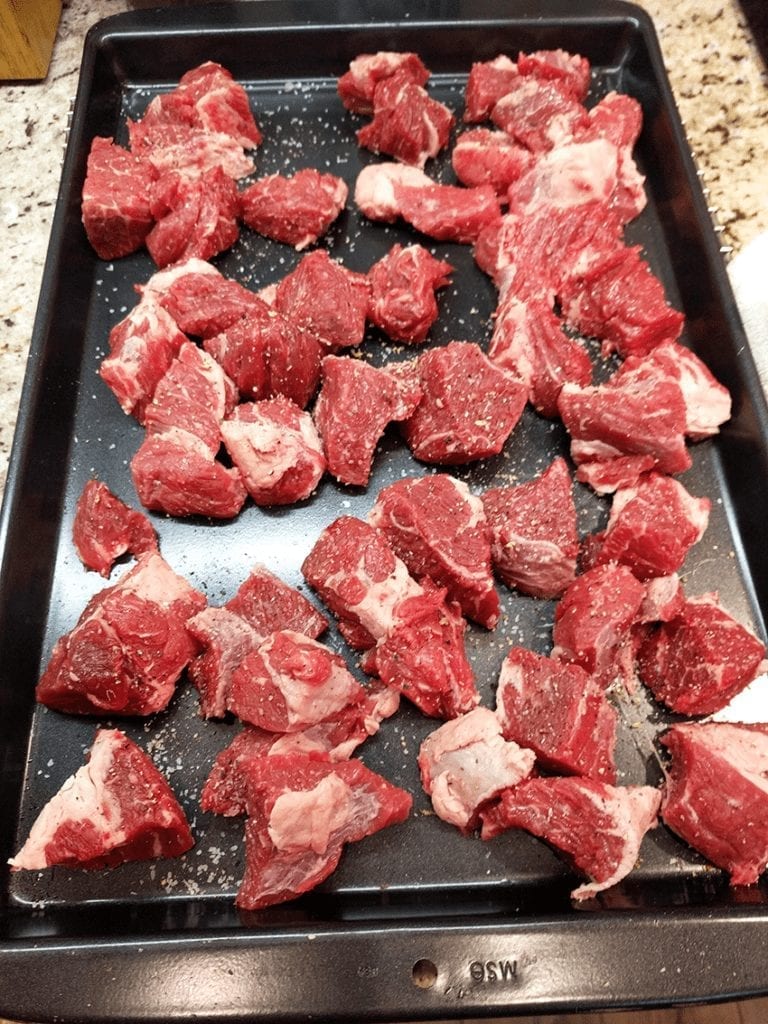 I bought a 2.5 lb chuck roast and cut it into cubes. I imagine you could use stew meat, but the chuck roast has more fat and renders down to tasty tender chunks while cooking in the oven. Pat the meat dry with paper towels and sprinkle with salt and pepper. Set aside.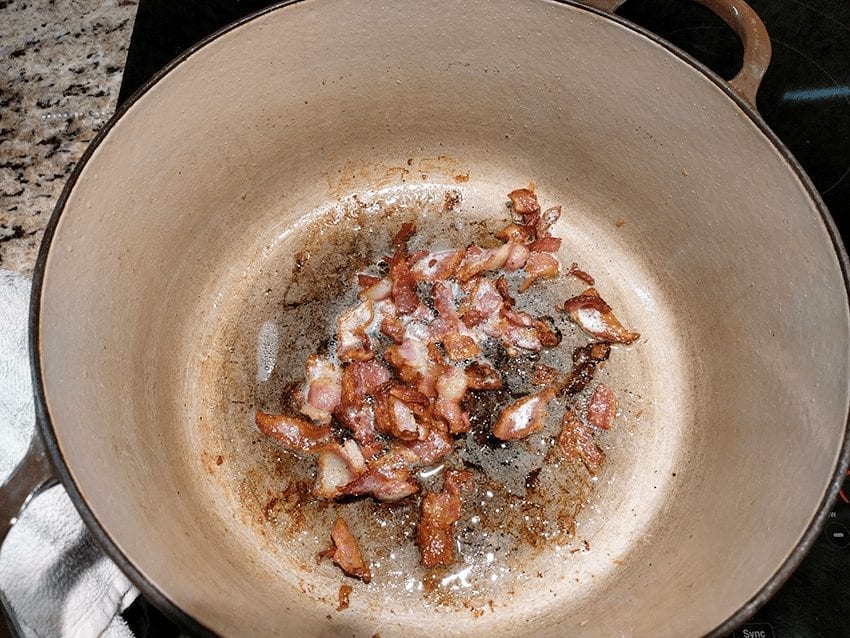 In a heavy 5-6 quart dutch oven over medium heat, brown the bacon until the fat renders and the bits are nicely browned. Remove with a slotted spoon to a plate. Set aside. I used three slices of bacon and added 2 Tablespoons olive oil to make sure there was enough fat to brown the beef. (Ina calls for 1/2 pound of bacon. Julia used a 6-ounce chunk of bacon that she cut into lardons and boiled. Hmmm) Add the beef cubes in a single layer to the pot. Once the cubes are browned on all sides, remove them to the plate with the bacon. Repeat with another batch of meat until it's all browned.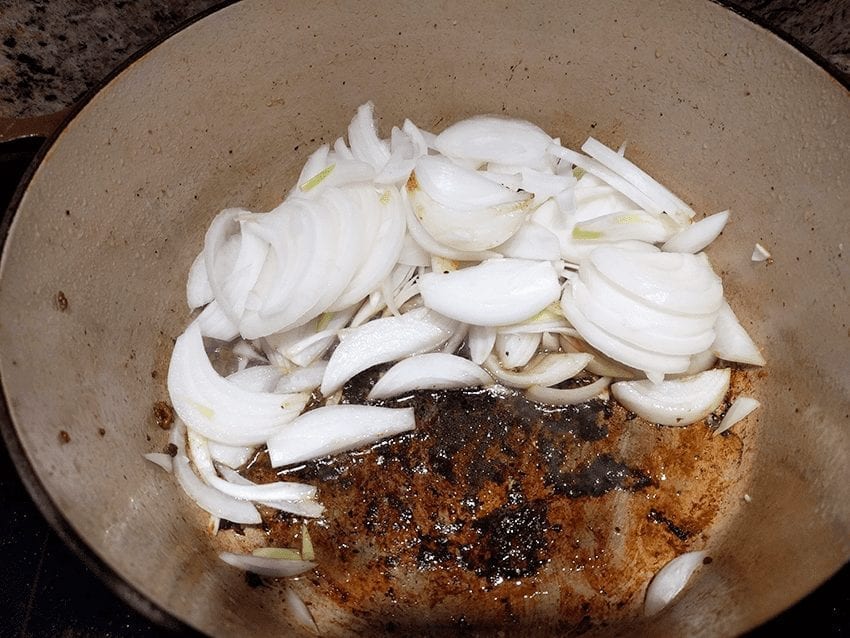 See all the beautiful brown bits in the bottom of the pot? Wow – that's serious flavor!
Add onions to the pot. Toss so they're covered with fat.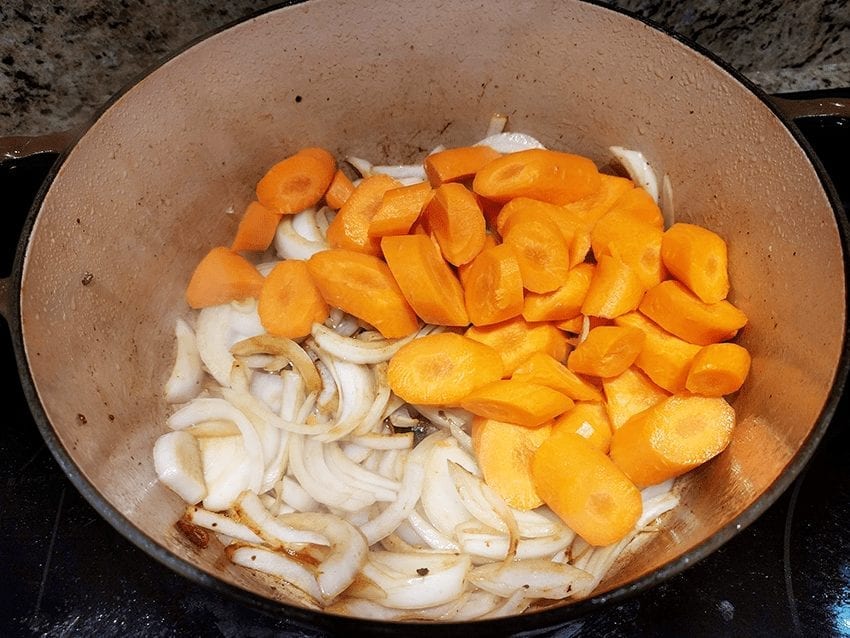 Add the carrots, 2 teaspoons salt and 1-2 teaspoons black pepper. Toss to distribute.
Cook over medium heat for 10-15 minutes until the onions are just browned.
Add garlic, stir, and cook for one minute longer or until the garlic becomes fragrant.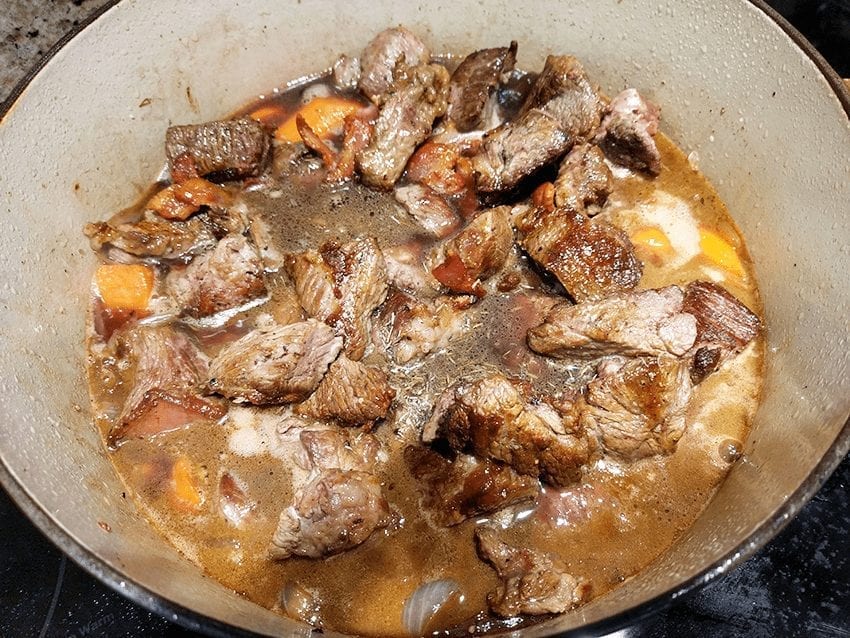 Add the meat, bacon and all the juices into the pot.
Add one bottle of red wine. I used pinot noir.
Add enough beef stock to just cover the meat.
Add thyme and/or a bay leaf.
Add 2 Tablespoons tomato paste.
Stir everything together and bring to a simmer.
Put on a tight-fitting lid. Place covered Dutch oven in a 250°F oven for 1 1/2 hours.
Enjoy the smells coming from the oven!
In the meantime . . . make a 
Beurre manié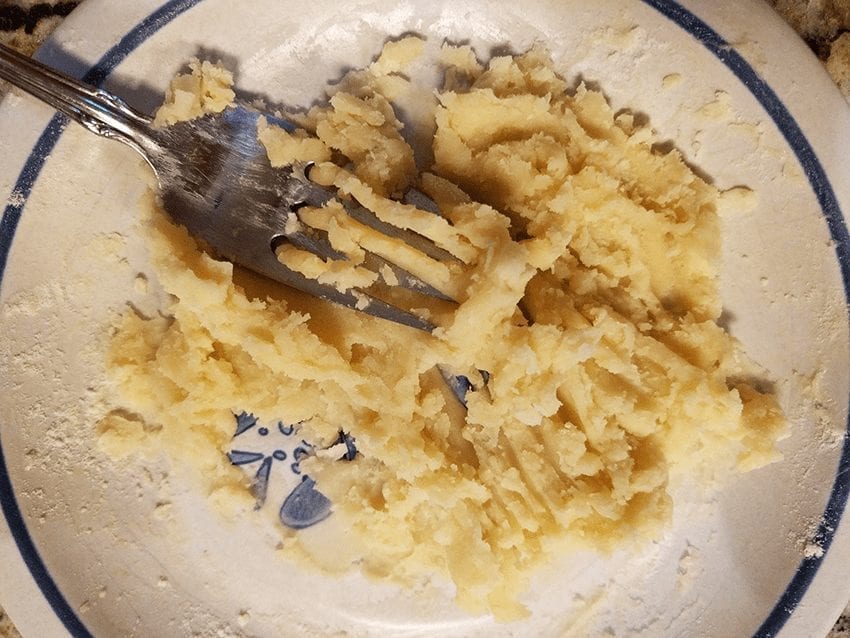 Beurre manié is a fancy French name for butter kneaded with flour to be used as a soup or stew thickener. I've used this for years in soups, stews, even sauerkraut, and it works pretty well. Mash room temperature butter with flour, one Tablespoon at a time, until you have this lovely paste. When the beef bourguignon comes out of the oven, add the beurre manié and stir to incorporate.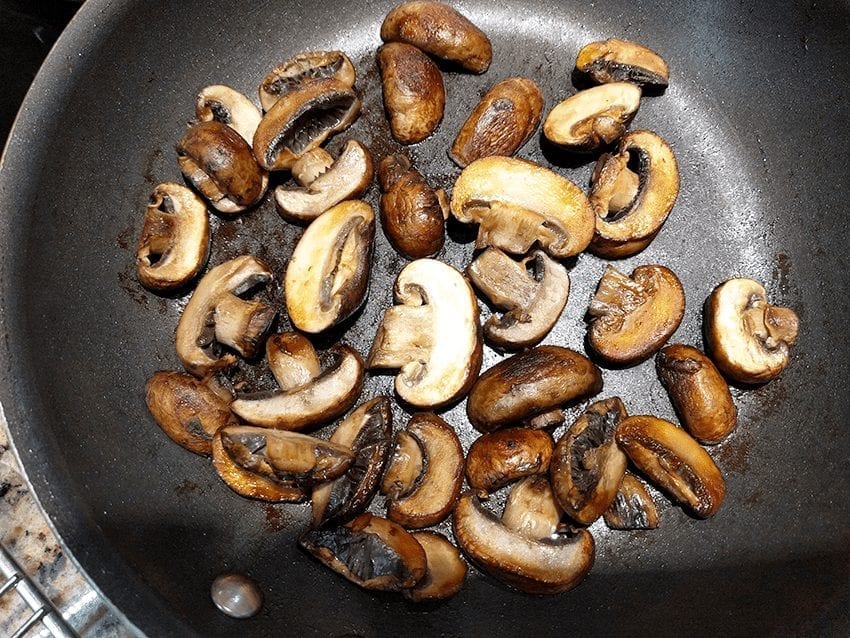 Also – brown mushrooms in butter. Set aside.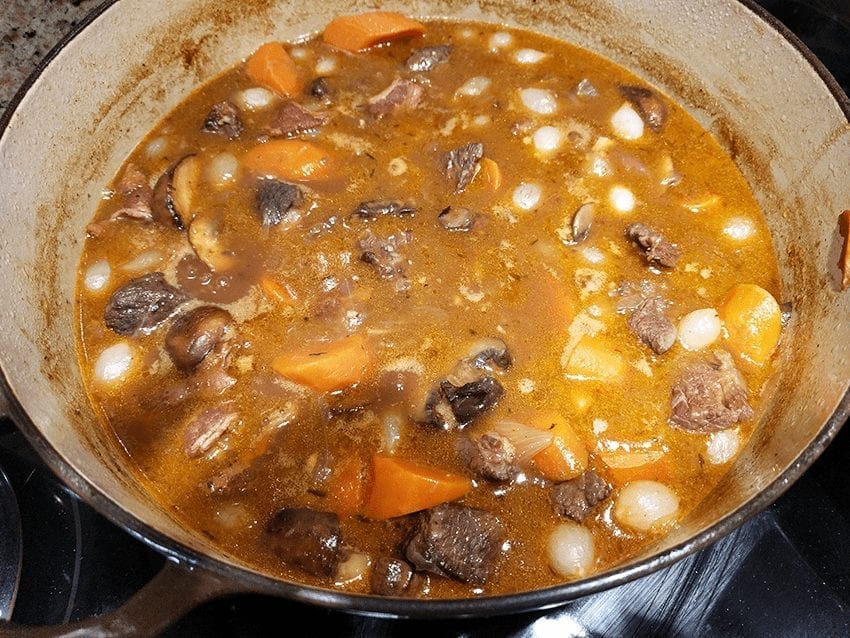 To Finish: Remove the pot from the oven to the stovetop. Take off the lid.
Add beurre manié. Stir to incorporate.
Add pearl onions and mushrooms to the pot. Stir.
Bring to a boil, reduce to simmer for 15 minutes. Serve!
I served mine alongside mashed potatoes, but you could substitute egg noodles or rice. Julia suggests boiled potatoes, buttered peas, or a green salad.
Ina serves hers on larges slices of toasted country or sourdough bread smeared with a fresh garlic clove. Kind of like a bruschetta.
I served warm thick slices of French bread for dunking. The sauce invites it.
Bon Appetit!
Beef Bourguignon
"Carefully done and perfectly flavored, it is one of the most delicious beef dishes concocted by man." Julia Child, Mastering the Art of French Cooking I agree!
Ingredients
¼ lb sliced bacon cut into strips
2 Tablespoons olive oil
2½ - 3 pounds chuck roast, but into 2" cubes
1 pound carrots, cut diagonally into 1-inch chunks
2 onions, sliced
2 cloves garlic, minced
1 750ml bottle full-bodied red wine, pinot noir or burgundy
2 cups beef broth
1 Tablespoon tomato paste
½ teaspoon dried thyme leaves
1 bay leaf (optional)
4 Tablespoons butter, room temperature
3 Tablespoons flour
12 oz package frozen onions
1 pound mushrooms thickly sliced or quartered
Instructions
Preheat oven to 250F degrees
Cut chuck roast into 2" chunks. Place on baking sheet, pat dry with paper towels, and sprinkle with salt and pepper. Set aside.
In a heavy 5-6 quart Dutch oven over medium heat, add 2 Tablespoons olive oil and bacon. Cook until fat is rendered and bacon is browned. Use a slotted spoon to remove crisp bacon to a plate.
Add 2 Tablespoons olive oil to the pot. In a single layer, add the beef cubes. Brown the meat on all sides. Cook in 2-3 batches until all the beef is cooked. Remove meat to the plate with bacon.
Add carrots and onions, one Tablespoon salt, and two teaspoons of black pepper to the pot. Stir and cook for 10-15 minutes until the onions are lightly browned.
Add garlic. Cook for one minute or until the garlic becomes fragrant
Put the beef, bacon and juices into the pot.
Add the bottle of red wine and beef stock.
Add the tomato paste and thyme and/or bay leaf.
Stir. Bring to a simmer. Place in oven for 1½ hours or until the meat and carrots are tender.
While the stew is cooking, mash 2 Tablespoons of butter together with 3 Tablespoons of flour - one Tablespoon at a time - to form a paste. Saute mushrooms in two Tablespoons butter until browned.
Remove stew from oven. Add butter/flour paste and mushrooms. Stir. Bring to a boil. Reduce to a simmer and continue to cook, uncovered, on the stovetop for 15 minutes.
Ladle into bowls. Sprinkle with chopped parsley, if desired.
Notes
Serve with mashed potatoes, buttered noodles, boiled potatoes, buttered peas or a green salad. Warm crusty Frech bread is also great to soak up all the stew juices. Ina Garten toasts country or sourdough bread, rubs a garlic clove over the warm toasts, and serves the stew ladled over the bread.