This is the best peanut butter cake I've ever baked.  Richard loves peanut butter, so I've made several attempts over the years for a successful recipe.  To me, there's never been enough peanut butter flavor, but this one did not disappoint.
It's a rich sheet cake with a yummy peanut butter frosting that you cook on the stove top in a jiffy and pour over the warm moist cake.  You get plenty of creamy fudge-like frosting with each piece.  The directions for this recipe are a little different for me.  You boil the peanut butter, butter, and water before added to the dry ingredients.  No creaming the butter and sugars.  Sure makes for a nice moist cake.
This recipe calls for a "jelly roll pan."  A little search on the Internet and I learned that a standard size is 15″ x 11″ x 1″, but I found others as large as 12″ x 17″ x 1″ basically a cookie sheet/jelly roll pan.  I was afraid the larger pan would make the cake layer too thin.  I've also tried sheet cake recipes where there was so much batter, the cake spilled over the sides of the pan as it began to bake, and dribbled on the oven floor.  I love sheet cakes – I hate to clean the oven.
I ventured out and found a 15″ x 11″ x 2.5″ Wilton sheet cake pan – Perfect!  The cake won't rise all the way to the top of the pan, but it doesn't have to.  I just didn't want to clean up a mess.  And I'll be using it for all my other sheet cake recipes.
Honestly, I can't stop eating this cake.  It's sitting on my kitchen butcher block, and I have to find something else to occupy me or I'll get a fork and whittle away right out of the pan.  Hope all you peanut butter lovers will give it a try.

Yield: 16
Best Ever Peanut Butter Sheet Cake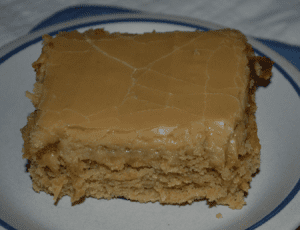 Rich and moist cake with fudge-like frosting and great peanut butter flavor
Ingredients
1/4 cup creamy peanut butter
1 cup water
1/2 cup unsalted butter, room temperature
1 cup granulated sugar
1 cup light brown sugar
2 cups flour
1 teaspoon salt
1 teaspoon baking soda
2 eggs
1/2 cup buttermilk
1 teaspoon vanilla
[u]For Frosting:[/u]
3/4 cup butter
6 Tbsp buttermilk
1/2 cup peanut butter
3 1/2 cups powdered sugar
1 Tbsp vanilla
Frosting Directions:
1. In a small pot bring the butter, buttermilk, and peanut butter to a boil.
2. Remove pan from the heat and add the powdered sugar and vanilla.
3. Pour frosting over the warm cake and spread evenly.
Instructions
To Prepare the Cake:
Preheat oven to 375 degrees. Spray 15" x 11" jelly roll pan.with cooking spray or grease with butter or shortening.
In a medium pot, add the peanut butter, water, and butter. Whisk together, bring to a boil, and remove from heat.
In a separate bowl, mix together the granulated sugar, brown sugar, flour, salt, and baking soda.
In a measuring cup or another bowl, whisk together the eggs, buttermilk, and vanilla.
Time to bring everything together: Add the peanut butter mixture to the flour mixture in the mixing bowl and stir for a minute or two until it comes together. (It's OK if the peanut butter mixture is slightly warm.) Add the eggs, buttermilk, and vanilla. Mix for another minute or two just until you have a nice smooth batter.
Pour batter into prepared pan and spread evenly. Bake for 15-20 minutes, or until a toothpick inserted in the middle comes out clean.
Notes
Easy and quick crowd pleasing recipe.