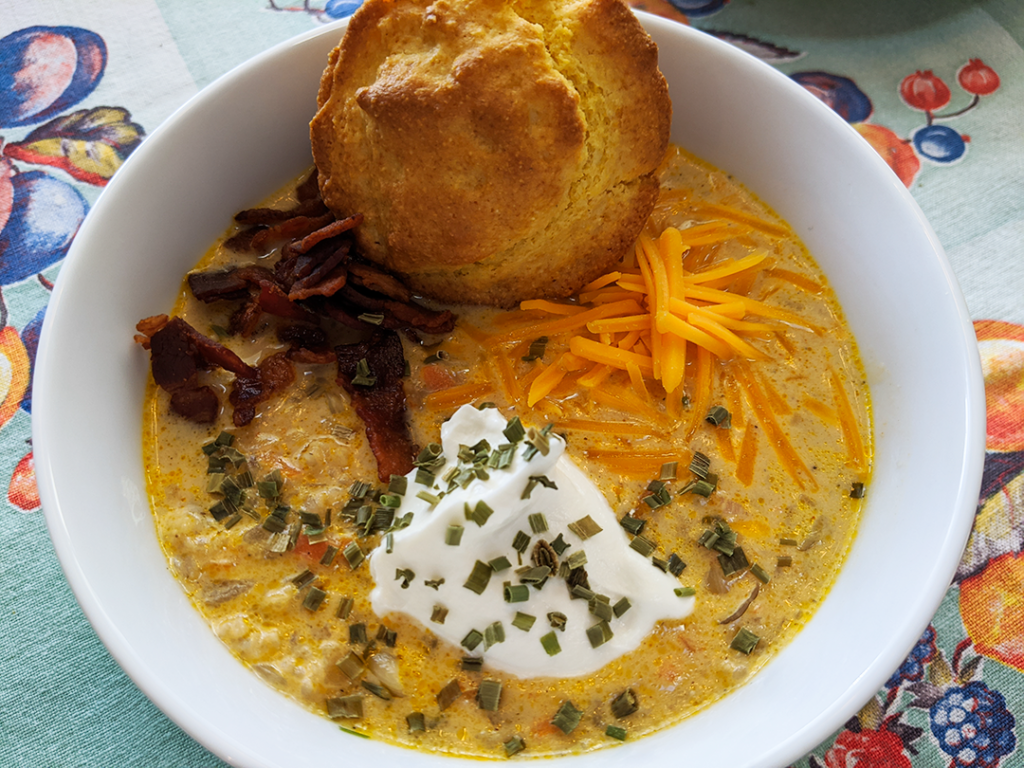 One day as I was looking over the produce section of the grocery and I found a 16-oz bag of riced cauliflower for 99 cents. Soup immediately came to mind but chowder sounded better. Truth be told, a reduced price bag of riced cauliflower doesn't look that great – a little aged around the edges. But the perfect ingredient for chowder. The only indulgence here is bacon and cheese. Remember, you're giving up starchy, carbohydrate-laden potatoes called for in traditional chowders.
I've always been a big cauliflower fan. Fresh and cut up for a crudité, it's crunchy and filling. Riced, it's also a good fresh ingredient in salads. My mother made it often because she usually found huge heads on sale at the grocery. She never incorporated cauliflower into other recipes, though. We ate it steamed with a healthy portion of Velvetta cream sauce. We all loved it and Mom was happy to see her picky children gobble it up.
Cauliflower is enjoying current culinary stardom. Look at the "VegNews" article titled "9 Unbelievably Awesome Uses for Cauliflower." There's the fashionable cauliflower crust pizza which everyone I'm around is raving about. Heck, they even use cauliflower in mac 'n cheese and chocolate cake. And why not? Cauliflower is low-fat, loaded with fiber, high in antioxidants, and a fabulous low-carb alternative for grains and legumes. Take a look at this recipe from Caio, Caio, Bambina: Cauliflower Cake with Pecorino and Basil.
Having said all that . . .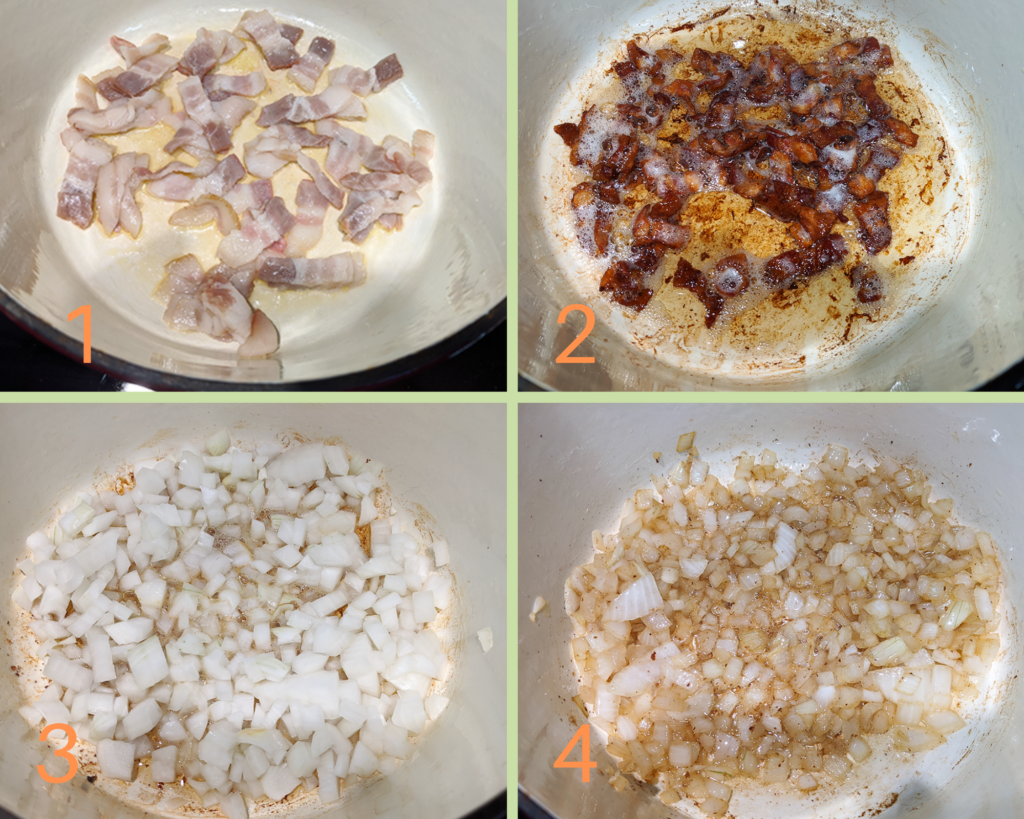 (1-2) Heat a dutch oven over medium heat. Add 1 Tablespoon olive oil. Cut 3-4 strips of bacon into lardons and brown. All those brown bits at the bottom will add amazing flavor to your chowder. Remove bacon onto a paper-towel-lined plate to drain and set aside. (3) Drain off some of the bacon fat. Return to stove and add 1 large onion, diced. (4) Cook until the onion is softened.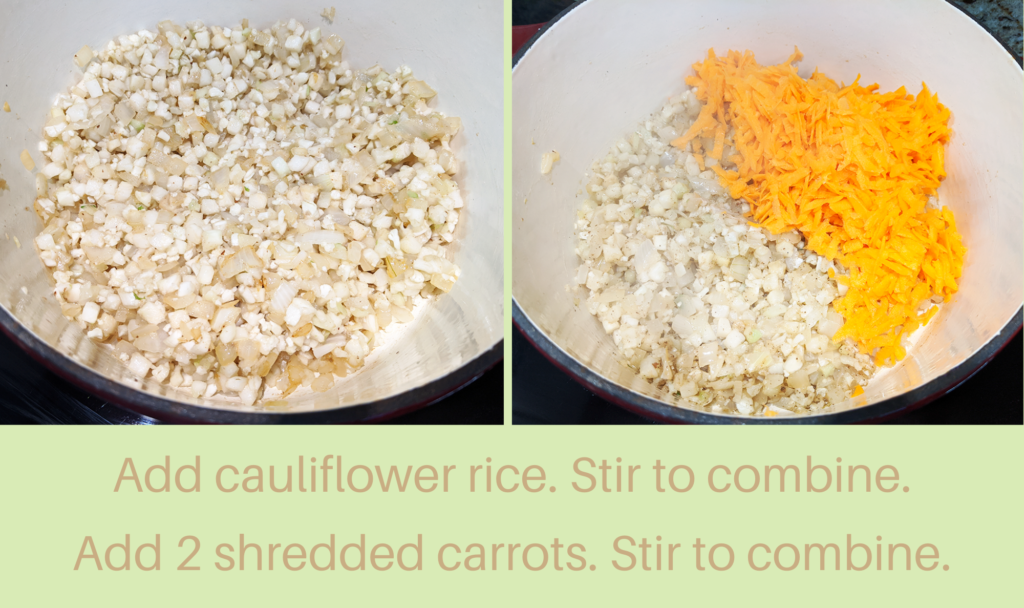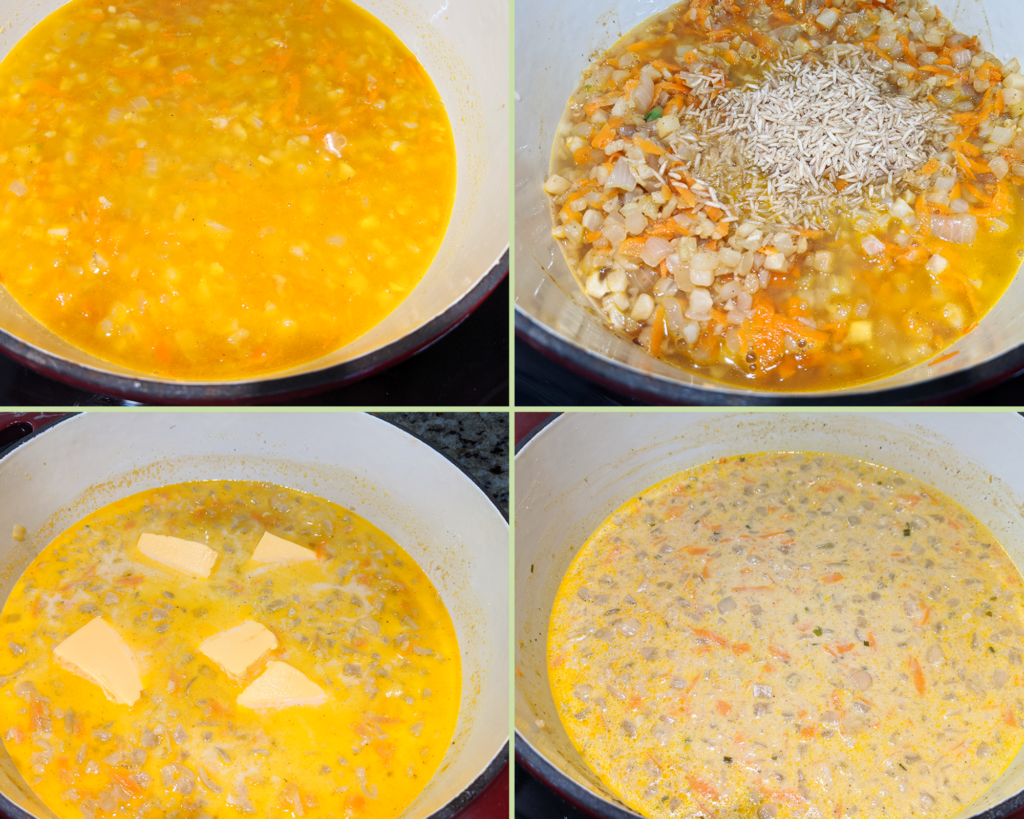 1) Add 4 cups of low-sodium chicken stock.
(2) Add 1/4 cup of brown rice. Stir to combine. Cover with a lid, reduce heat to simmer. Continue to cook for 30 minutes or until the rice is cooked through.
(3) Add 2-4 oz of processed cheese, like Velveeta, cut into chunks.
(4) Stir until all cheese is melted. Add more chicken stock or water if the chowder is too thick. Check for seasoning. Garnish with shredded cheddar cheese, sour cream, chopped chives, and reserved bacon bits. I served mine with fresh, hot corn muffins and honey.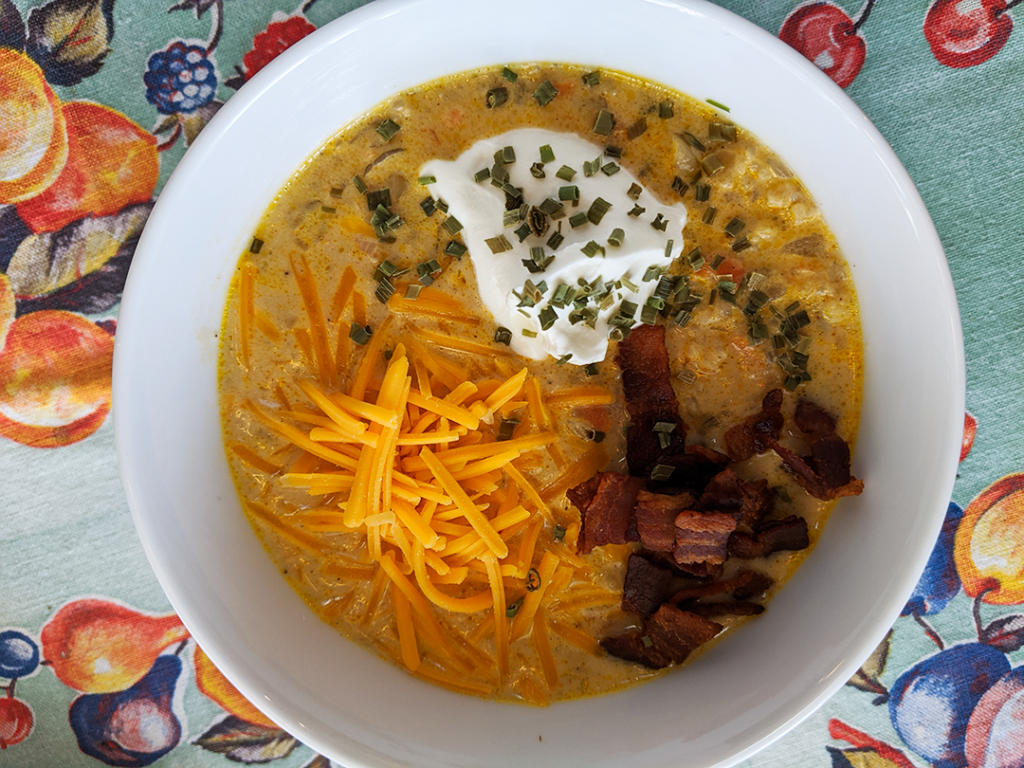 If you try this recipe, would you post a photo on my Instagram page? At Mimi's Table. Thanks!
Yield: 6 servings
Cauliflower Cheese Bacon Chowder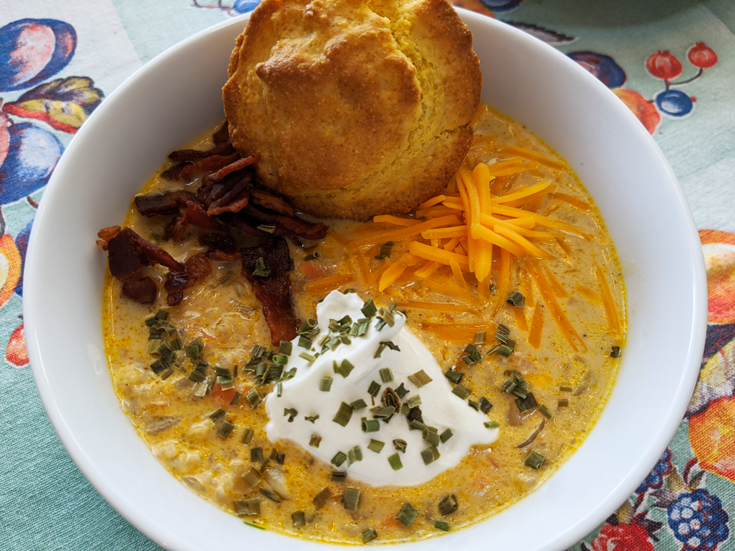 A bag of riced cauliflower is transformed into a delicious, healthy bowl of steamy chowder without the potatoes. Treat yourself to a bowl garnished with shredded cheese, a dollop of sour cream, and crispy bacon bits.
Ingredients
3-4 strips bacon, cut into lardons
1 Tablespoon olive oil
1 - 160z bag of riced cauliflower
1 large onion, diced
2 carrots, shredded
4 cups low-sodium chicken broth
1/4 - 1/2 cup brown rice
2-4 oz processed cheese, like Velveeta, cut into chunks
1/2 cup half 'n half or heavy cream, optional
Shredded cheddar cheese, low-fat sour cream, chopped fresh chives, crispy bacon - all for garnish
Instructions
Over medium heat, add one Tablespoon olive oil to a heavy-bottom pot or dutch oven. Add the bacon lardons. Stir occasionally and cook until the bacon has rendered its fat and is brown and crispy. Remove bacon to a plate lined with a paper towel to drain. Remove all but 1 Tablespoon bacon drippings.
Add chopped onions. Stir and cook until onions are softened. Add cauliflower. Stir and continue to cook for 5 minutes. Add shredded carrot. Stir and cook for 5 minutes.
Add chicken stock and brown rice. Stir until combined. Reduce heat to medium-low. Cover the pot and simmer for 30 minutes or until the rice is cooked through.
Remove lid. Add processed cheese chunks and half 'n half, if using. Stir until cheese is melted and the chowder is heated through.
Ladle into bowls. Garnish with shredded cheese, sour cream, chopped chives, and crispy bacon.
Notes
This recipe is almost like baked potato soup without using potatoes. Serve with hot corn muffins.