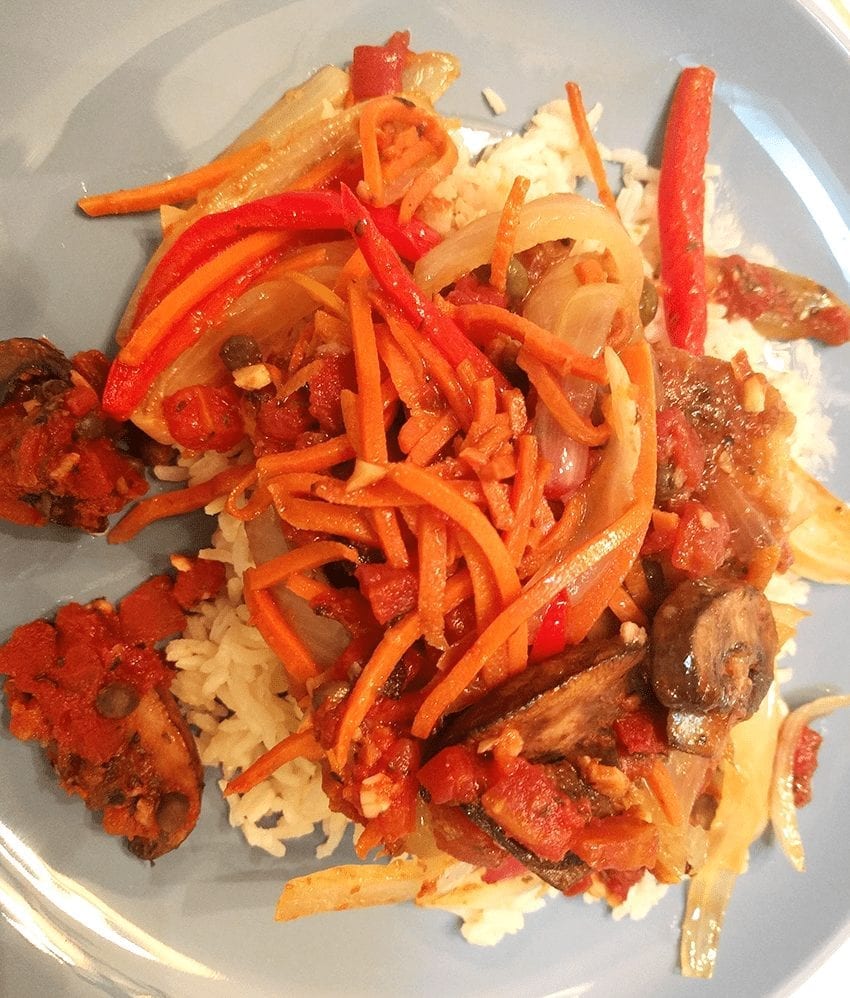 Pollo Contadino is an outstanding casserole of Italian comfort food. I've made this dish several times over many years. Each time I lift a forkful to my mouth, I wonder why I don't make it more often. Such an arousing smell of tender, juicy chicken thighs roasted with onions, carrots, sweet red bell peppers, tomatoes, mushrooms, capers, and rosemary served with its juices over a fluffy bed of hot rice.
Yep, Pollo Contadino is a perfect meal for cozy cold weather days. You know those rainy cold days that make you want to curl up under a blanket to get all snuggly and warm? And if you want to smell the casserole cooking all day, put the ingredients in a crockpot and let it simmer until you can't stand it anymore.
This recipe was published in "The Frugal Gourmet Cooks Italian" in 1993. I bought Jeff Smith's cookbook a few weeks ago just for this recipe. ($6 used from Amazon). Money well spent. I can't wait to sift through the pages for other Italian treats.
Here's how it works
Pollo Contadino takes a little time to put together but is well worth the effort. I used bone-in, skin-on chicken thighs because we like dark meat and skin helps to keep the meat moist. Drumsticks would be a good substitute. But it can also be made with boneless, skinless chicken breasts if that's what you prefer. There's no hard and fast rule.
Don't leave out any of the vegetables. They all play well together. And be sure to add the capers that add a nice vinegary taste and smell to the finished dish. I can't imagine the casserole without capers!
The last time I made Pollo Contadino, I didn't have rosemary in my spice pantry. So, I used a few shakes of pasta sprinkle which is a combination of rosemary, basil, parsley. It worked just fine!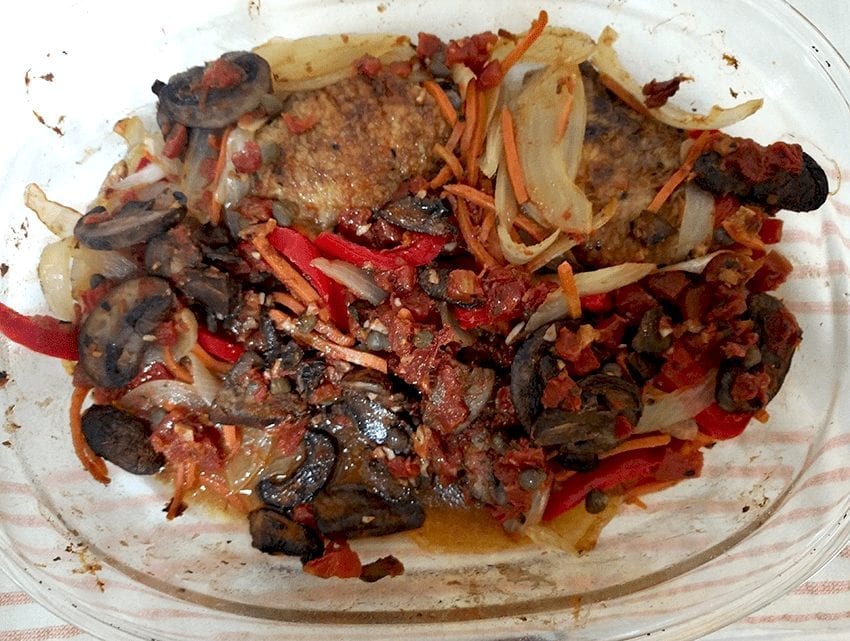 Let's make some, shall we?
Pollo Contadino, Italian Roasted Chicken Farmer Style
Tender and juicy chicken roasted with onions, carrots, tomatoes, and capers served over a bed of hot fluffy rice. Cibo di comodità - true Italian comfort food.
Author:
The Frugal Gourmet, Jeff Smith
Ingredients
4 large chicken thighs, skin-on, bone-in 1-1/2 pounds OR 4 boneless, skinless chicken breasts
½ cup all-purpose flour
½ cup extra virgin olive oil
2 medium carrots, peeled and julienned OR use 1 cup of julienned carrots from the store
1 - 2 large sweet red bell peppers, julienned
1 large yellow onion, peeled and julienned
2-3 cloves garlic, minced
6 large baby portobello mushrooms, cut into thick slices OR 1-8oz package of sliced mushrooms from the store
1-2 teaspoons capers
6 ripe plum tomatoes, diced, OR 1-15oz can petite diced tomatoes
1 Tablespoon fresh rosemary OR 1 teaspoon dried rosemary
¼ cup dry white wine
Instructions
Heat oven to 400F degrees.
Remove chicken pieces to paper towels and pat dry. Season lightly with salt and pepper.
Heat ¼ cup olive oil in a large skillet over medium-high heat.
Put flour in a medium-sized bowl. Dredge the chicken pieces one-at-a-time, shake off any excess flour and place in the oil in the skillet.
Brown the chicken on all sides. Remove to a 2-3 quart roasting pan, like Pyrex, a cast iron skillet, or an enameled cast iron pan or pot
Drain off the oil in the frying pan. Return to the stove. Add the remaining ¼ cup olive oil over medium-high heat.
Add the carrots and sautee for 3 minutes.
Add the red pepper and onion. Sautee until the onions are barely translucent.
Add the garlic, stir. Sautee just until you can smell garlic. Be sure not to let it burn.
Place the vegetables over the chicken in the roasting pan.
Return the frying pan to the stove. Over medium-high heat, add the mushrooms, capers and tomatoes, rosemary and wine. Bring to a simmer and cook gently for 5 minutes. Pour over the chicken and vegetables in the roasting pan.
Cover roasting pan with aluminum foil. Roast in the oven for 20 minutes.
Remove the foil and return to oven for 15 minutes.
Serve over fluffy hot cooked rice or spaghetti.
Notes
Pollo Contadino is a comfort food best served on colder days. You can also put ingredients, in order on the recipe, in a crockpot on low for 3-4 hours or high for 2-3 hours. You can use boneless, skinless chicken breasts, or drumsticks or any combination of chicken pieces.

Jeff Smith included 12 medium black Italian or Greek olives, and one green pepper and one red pepper to compliment the colors of the Italian flag. I changed it up just a wee bit.
---
Here's an image to PIN!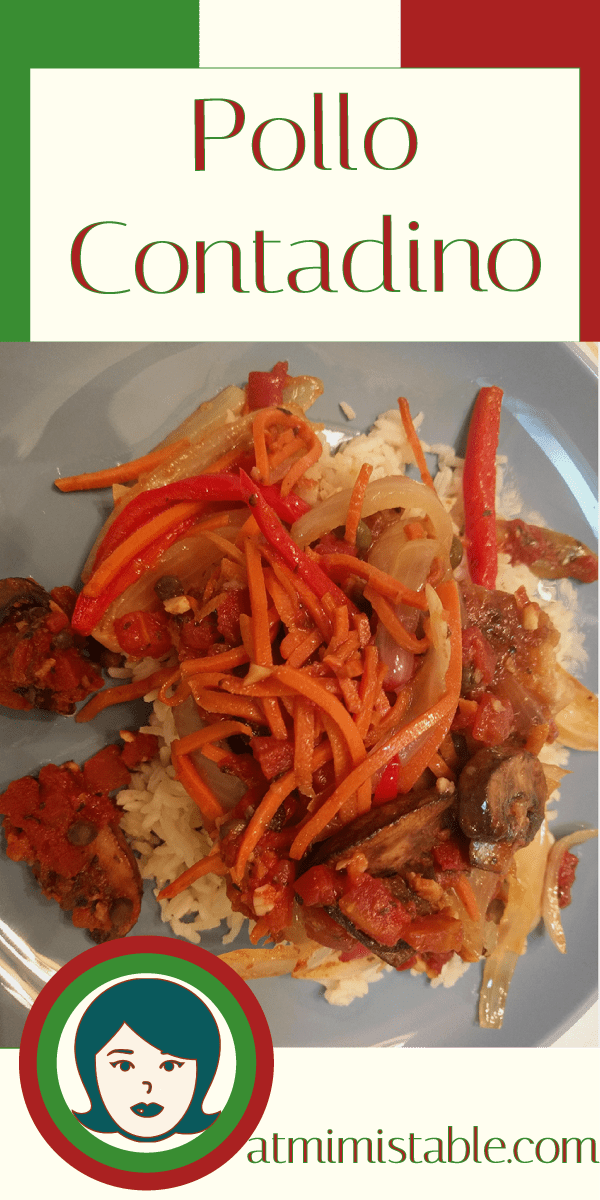 ---
Copyright, At Mimi's Table 2013-2018, All Rights Reserved