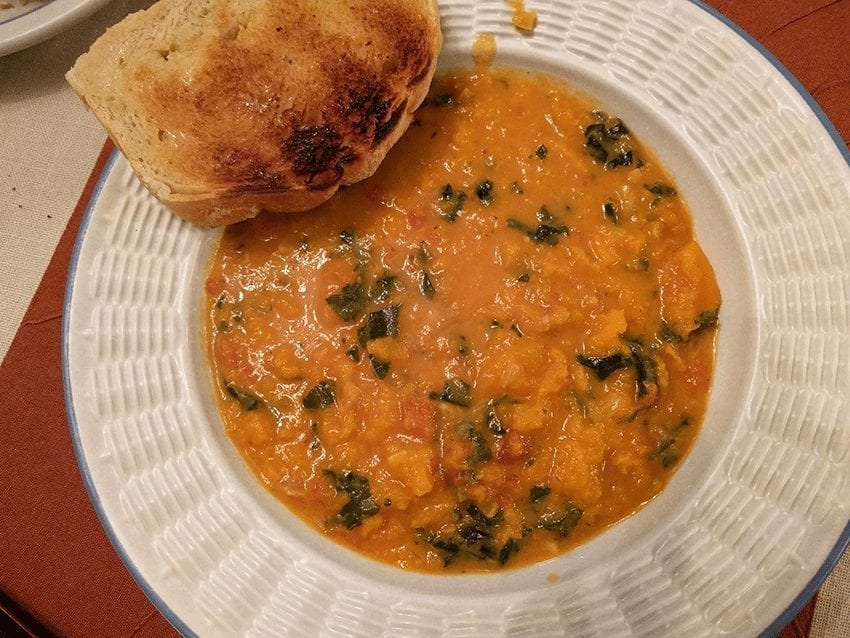 If you're like me, we scour the internet looking for delicious recipes that take us out of our comfort zone. Sometimes I get stuck in a rut of making the same dishes over and over again. It's not like the meals aren't delicious. But sometimes we just need to rock the boat a bit. I just love Pinterest and visit every day looking for inspiration. Pinterest is a great resource for me where I find great food bloggers and recipes of all sorts like this one:
I was looking around one afternoon and my eyes lit up when I landed on A Pinch of Yum and this wonderful recipe for Spicy Peanut Soup with Sweet Potato & Kale. Why don't I ever think about combinations like this? I'm in the Midwest. I don't think this way. Sweet potato simmered with sweet curry and turmeric in coconut milk and broth finished with kale – seriously flavorful. There are even chopped peanuts in the recipe that gives this soup a little crunch – awesome!
And healthy! Look at all the good stuff it's made from. Lindsay's soup is thickened with creamy peanut butter instead of the usual roux of butter, flour, and milk. I didn't miss it a bit. Many of us serve soup as a first course to a holiday meal and Spicy Sweet Potato Soup with Peanuts and Kale would be a stellar beginning.
And quick! Forty minutes from cutting board to table. I always have sweet potatoes on hand during fall and winter, so that was a cinch. I bought a package of frozen, chopped kale at the grocery to make prep even easier.
I didn't have jalapeno, so I substituted crushed red pepper flakes. Lindsay calls for two cups of water. I used chicken stock instead. She likes to leave her sweet potatoes in bite-sized chunks, and I mashed mine up a bit to make the soup thicker. Try it. You'll love it!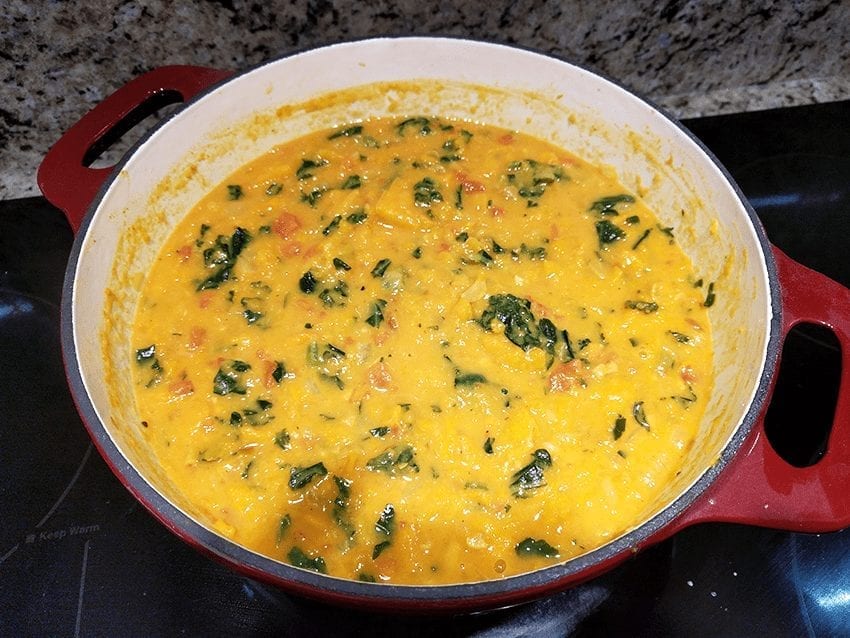 It's cold today in Indiana. Soup's on!
Spicy Sweet Potato Soup with Peanuts & Kale
This dish is a warm and comforting, healthy, gluten-free, bowl of happiness.
Lindsay at a Pinch of Yum
says she was inspired to make this soup based on a West African recipe for groundnut soup. It would be fabulous as a first course for a holiday meal.
Author:
A Pinch of Yum, Lindsay
Recipe type:
Soups & Stews
Ingredients
2 Tablespoons olive oil
1 small to medium onion, diced
½ teaspoon crushed red pepper flakes
2 cloves garlic, minced
3 large sweet potatoes, peeled and cubed
1-14 oz can fire roasted or petite diced tomatoes
1-14oz can light coconut milk
2 cups chicken stock
1 teaspoon salt
1 teaspoon sweet curry powder (I use Penzey's)
½ teaspoon turmeric
½ cup unsalted peanuts, chopped
¼ cup creamy peanut butter
1-10oz bag frozen chopped kale
Instructions
Put olive oil in a heavy soup pot over medium-high heat. Add onion and cook until lightly browned.
Add sweet potato cubes and stir until they become lightly browned - 3-5 minutes.
Add garlic, stir and cook until the garlic becomes fragrant - 1 minute.
Add the curry powder and turmeric to the sweet potatoes. Stir and cook until the spices are fragrant, a minute or so.
Add the tomatoes, coconut milk, chicken stock, salt, and chopped peanuts. Stir everything together.
Bring the soup to a simmer and continue to cook uncovered for 20 minutes or until the sweet potatoes are tender.
Add peanut butter and kale. Stir and continue to simmer until the soup is thick and creamy.