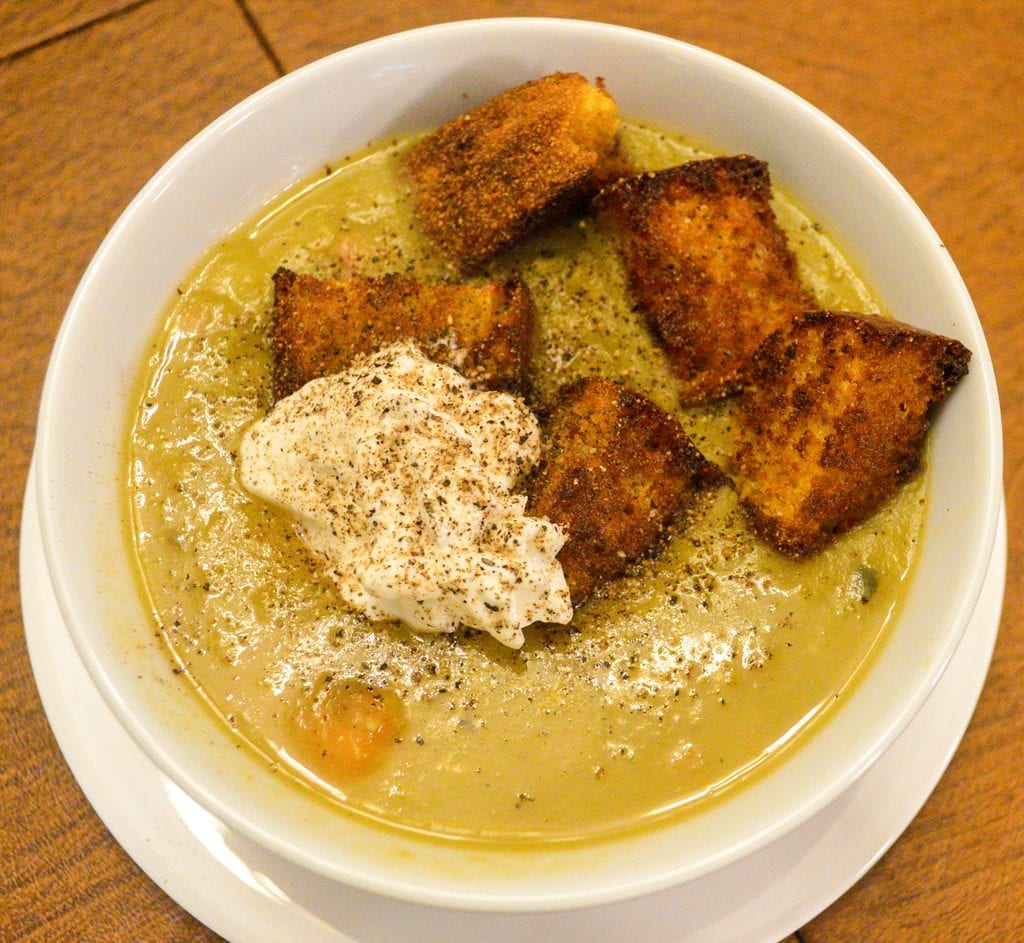 Doesn't this split pea soup look yummy?? Especially when it's finished off with crunchy cornbread croutons and a healthy dollop of sour cream. Very yummy!
I'll admit that I didn't grow up eating split pea soup. My mother and grandmothers never made it in my memory. My first experience with split pea soup was when my college roommates and I went to dinner at The Magic Pan, a restaurant housed inside the Glendale Town Center Mall at 61st and Keystone in Indianapolis. The Magic Pan was a popular creperie and Cindy, Beth and I loved frequent evening meals there. We ate our fair share of creamy chicken & mushroom crepes and their spinach souffle crepes – fabulous! Beth always ordered a bowl of split pea soup topped with either sour cream or sherry to begin her meal. I was curious. Honestly, I thought split pea soup looked rather disgusting, but one evening I gathered up the strength and tried it myself. OMG – my soup world was transformed! After our dinner outings came to an end and after The Magic Pan closed, I made this soup often and still do. It's a staple on our winter-time menu. Creamy, without any added cream or half-n-half, and steamy, this soup is perfectly flavored with hints of onion, garlic, and carrots. A delightful spoonful with a little silver of sour cream – perfect.
Are Split Peas and Split Pea Soup Healthy to Eat?
Yes! Seriously healthy! Split Peas are gluten-free – you can replace the cornbread croutons in this recipe for gluten-free ones if you like. Split peas are high in fiber, low in fat, and are protein powerhouses! Instead of a dollop of sour cream, how about a heaping tablespoonful of low-fat Greek yogurt? Split pea soup can be made with low-sodium chicken broth (homemade is great, if you have it on hand) or water, and a variety of diced or cubed healthy vegetables. Sweet potatoes, carrots, and/or celery is what I'd recommend. And there's no need to thicken the soup with flour and butter or with heavy cream. The peas thicken up enough that you may need to add additional broth or water to thin it out. One recipe I came across suggested squeezing a quarter lemon over a bowl and stirring it into the soup before eating. I contemplated that. I think it would brighten the flavors. And you don't have to use ham, if you prefer a vegetarian version.
According to the website Speedy Remedies: 7 Health Benefits of Split Peas, these sweet little legumes can help regulate blood sugar, lower cholesterol, reduce cancer risks, promote weight control, improve heart health, help to relieve symptoms of irritable bowel syndrome, and may be helpful in reducing hot flashes.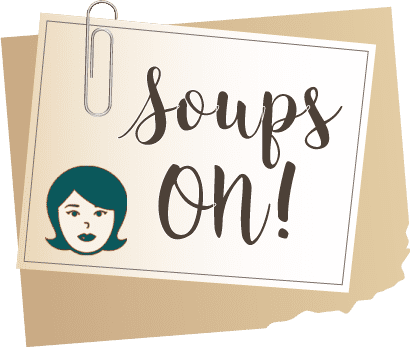 Get out your soup pot and let's make up a hearty and healthy batch!
Dice one large yellow onion and mince two cloves garlic. Warm a 5-quart, heavy-bottom dutch oven over medium-high heat. Add 2 Tablespoons extra virgin olive oil and bring to temp. Add the onion and garlic and saute until translucent and fragrant, 3-5 minutes. Add 1 teaspoon dried oregano.
Stir and saute for another minute. At this point, you can add three peeled and diced carrots and/or celery, if using. I'm using sweet potatoes this time (see below).
| | |
| --- | --- |
| | |
I used diced ham sold in packages at the grocery. But, this is an excellent time to use up leftover ham or you could substitute smoked ham hocks – one or two hocks or a smoked ham shank. If that's the route you choose, add them to the broth just before you bring everything up to a boil. I like to put diced ham in with the onions and garlic and saute the ham a bit until the meat becomes slightly caramelized to add flavor. And, for this pot, I cut the russet potatoes into large chunks to give the soup a different texture. You can dice the potatoes into smaller pieces or use a couple of cupsful of frozen diced potatoes.
OK – add the potatoes, stir, and then 1/2 pound split peas. Stir all the ingredients.
Add four cups of low-sodium chicken stock (or homemade) and two cups of water. I had a leftover baked sweet potato so I peeled it and cut it into big chunks. If you're using ham hocks or a shank instead of diced ham, now is the time to add those to the pot. Bring to a boil, reduce to simmer, and cook for 45 minutes. After the initial simmer, stir in the remaining split peas. Stir and continue to simmer for another 45 minutes or until the peas are soft. If using, remove ham hocks or ham shank, remove the meat from the bones, and add it back into the soup.
As the soup cooks, foam will rise to the surface. Just take a large spoon and skim off the foam. I've learned that the peas foam because of a water-soluble protein in the peas. It won't hurt anything of you stir it back into the pot and eliminate the skimming step.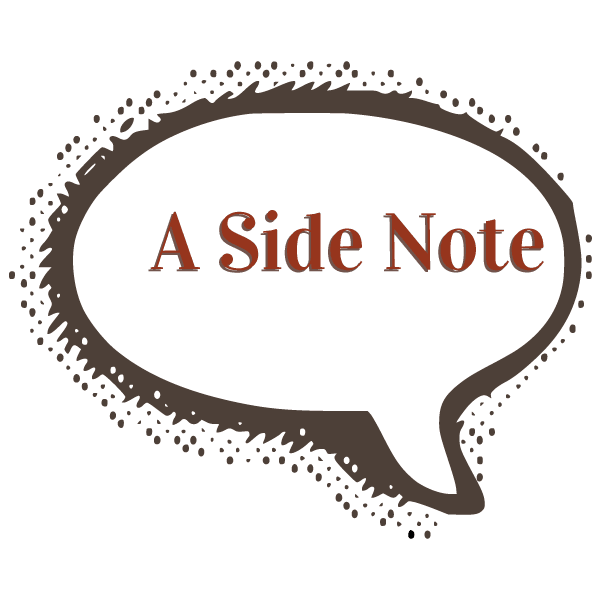 Really, there are no hard and fast rules for split pea soup. Once the cooking is complete, you can make the soup as thick (let it simmer a little longer) or as thin (add more broth/water) as you like. Use potato chunks like I've done here, or dice them. If you want a soup that looks homogeneous, mash the vegetables or use an immersion blender to break them down to make the soup smoother. You can add 1/2 – 1 cup of half-n-half to make the soup creamier.
While the soup is cooking, it's time to make the croutons. Croutons are better made with day-old crusty bread like a baguette. My cornbread was leftover from the day before and is perfect to transform into buttery, crunchy bites. Cut the cornbread into large chunks. In a heavy skillet over medium-high heat, melt 2 Tablespoons olive oil and 3 Tablespoons butter.
Add the cornbread cubes to the skillet and brown on all sides. Drain on a paper towel to absorb the excess fat.
Voilà! Your beautiful soup is all ready to serve. Top bowlsful with your gorgeous crunchy croutons and a nice dollop of sour cream or Greek yogurt and sprinkle with black pepper. Happy, Happy, Happy! Enjoy!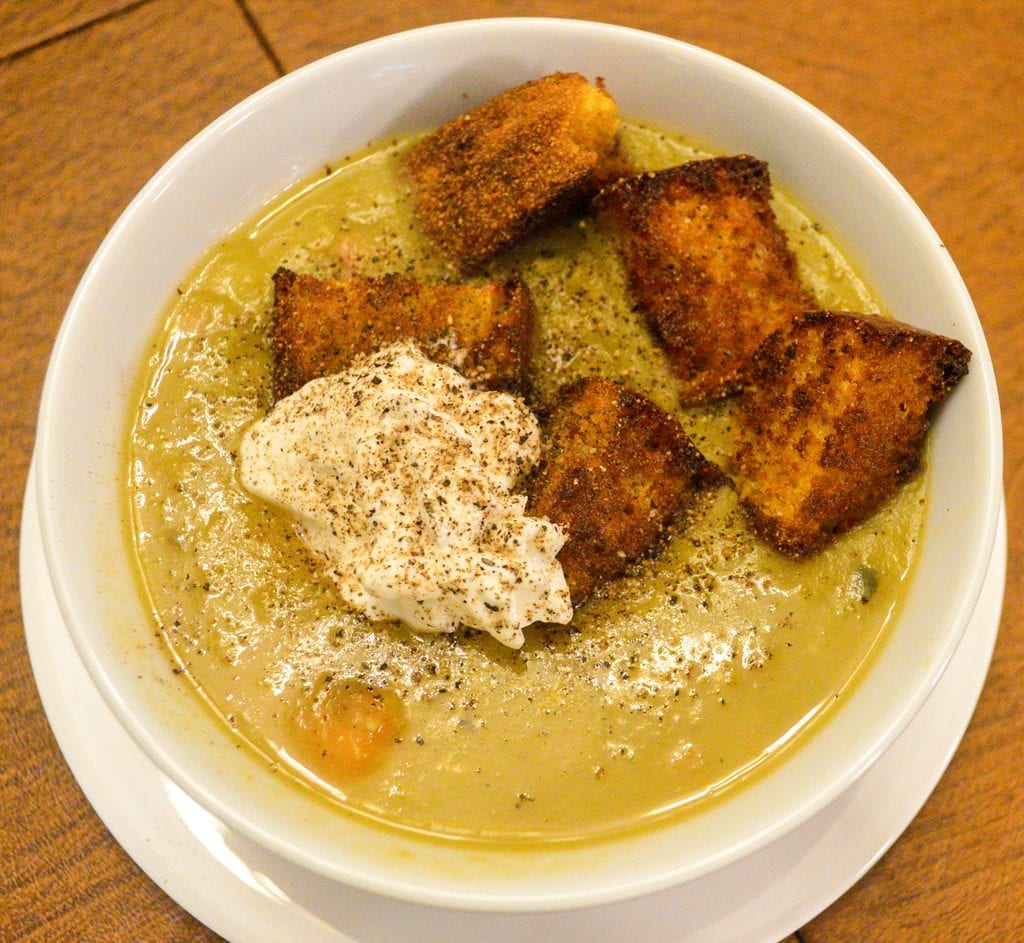 Hearty & Healthy Split Pea Soup with Ham and Cornbread Croutons
Mimi's Split Pea Soup with Cornbread Croutons is an old-timey and satisfying bowl of steamy comfort. This recipe is a good way to use up leftover ham. Add chunks of russet and sweet potatoes and top off the bowl with crunchy cornbread croutons for a filling wintry meal.
Recipe type:
Soups & Stews
Ingredients
2 Tablespoons olive oil
1 large yellow onion, diced
2 cloves garlic, minced
1-2 teaspoons dried oregano
2 stalks celery, diced (optional)
3 carrots, peeled & diced OR sweet potatoes peeled & cut into chunks or diced
2 medium to large russet potatoes, cut into chunks or diced
1 lb diced ham OR 2 smoked ham hocks or 1 large smoked ham shank
1 pound green or yellow dried split peas
6 cups any combination low-sodium chicken broth and water
½ - 1 cup half-n-half (optional)


Croutons
Day old cornbread cut into large cubes OR day old bauguette cut into large cubes crust on
2 Tablespoons olive oil
3 Tablespoons butter, salted or unsalted
Instructions
Over medium-high heat, add olive oil. Once hot add onions & garlic and celery & carrots (if using). Stir and saute until the onion is translucent. Add oregano. Stir. Add ham, stir, and saute until the meat just begins to brown on the edges.5-7 minutes.
Add potatoes, sweet potatoes (if using) and ½ pound of split peas. If you're using ham hocks or a ham shank in place of diced ham, add to the pot. Cover with chicken stock/water. Bring to a boil, reduce to simmer, and cook uncovered for 45 minutes. Skim off the foam that rises to the top of the soup or stir the foam back into the soup Stir the pot every once in a while to prevent vegetables from sticking to the bottom of the pot.
At the end of cooking time, add the remaining split peas. Stir and continue to simmer uncovered for another 45 minutes or until all the vegetables are soft.
Remove ham hocks or shank. Stir. If the soup is too thick, add more chicken broth/water. If it's too thin, continue to simmer longer to the desired thickness. Remove meat from the hocks or shank and add back to the soup.
Leave the potatoes in chunks or mash them with a potato masher or use an immersion blender to make a creamy soup. Add half-n-half if using. Stir. Check for seasoning.
Ladle soup into deep bowls. Add croutons, sour cream or Greek yogurt, and sprinkle with ground black pepper.


For Croutons
Heat olive oil and butter in a 10" skillet over medium, medium-high heat. Once the butter begins to brown, add the cornbread cubes and brown on all sides - less than 5 minutes total. Remove from skillet and drain on paper towels.