At Mimi's Table
         . . . lessons from an older and wiser girl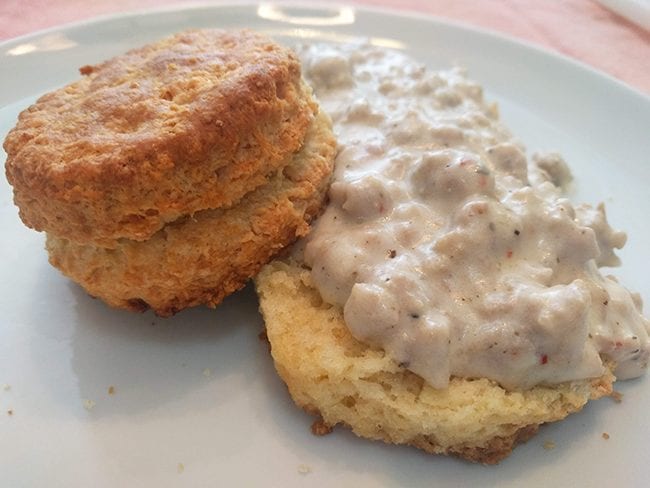 The cure for wet, wintery blues: Buttery Buttermilk Biscuits and Creamy Sausage Gravy!
We're still having some lingering wet winter weather here in central-Indiana even after Punxsutawney Phil did not see his shadow this year which forecasts an early Spring. Officially, Spring is just 11 days off and 10 days until the official vernal equinox on March 20th. FYI: Did you know that the Vernal Equinox always falls on March 19, 20, and 21? I did not – thanks Old Farmer's Almanac.
This is a roundabout way of saying that I enjoy making and eating biscuits and sausage gravy when it's chilly outside. There's nothing like the smell of freshly baked biscuits coming out of the oven on a cold morning just waiting to be smothered with creamy sausage gravy. It's a fabulous way to start a wintery day. Or any other day, for that matter. Biscuits and sausage gravy is also a great hangover food. Served with crispy hash brown potatoes and/or fried or scrambled eggs, you'll have your mojo back in a hurry. And don't forget the hot sauce. I like the Tobasco® brand's green jalapeno sauce. It's milder than their other sauces and I enjoy its flavor on this dish, an omelet, or plain old scrambled eggs with cheese.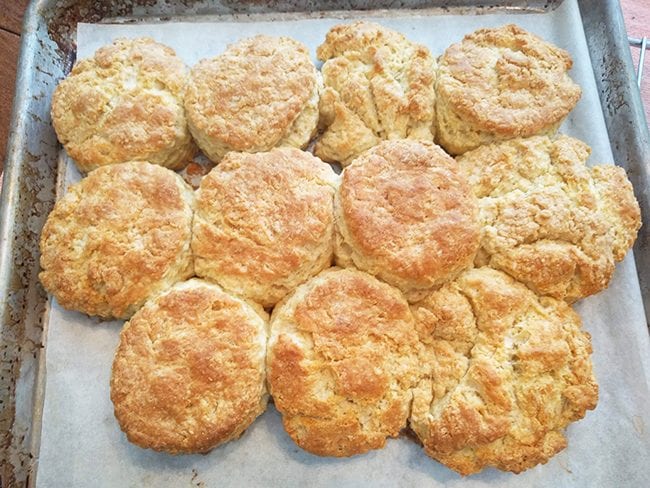 A Little About This Biscuit Recipe
My go-to biscuit recipe is one from the Fannie Farmer Baking Book for Baking Soda Biscuits. I've made this recipe for over 30 years. They're made with shortening rather than butter and have never failed. Crunchy outside, nice rise, and tender inside. Then I began experimenting with butter biscuits. My all-time favorite is from the Pine Street Bakery in Portland, Oregon. I used them in an earlier post for biscuits and gravy. And I included a great tutorial for how to properly bring the dough together. Hint: Folding and rolling the dough like you're making puff pastry is a fabulous technique for flaky biscuits!
Recently on Pinterest, I noticed several posts for Joanna Gaines' biscuit recipe from her new cookbook "Magnolia Table, A Collection of Recipes for Gathering." One blogger testified that these were the highest rising, tenderest, fluffiest, and buttery biscuits she's ever made. No wonder – the recipe calls for self-rising flour, and baking powder, and baking soda. And eggs – have not seen that before. Ever in search of a biscuit that rivals my tried-and-true Fannie Farmer's recipe, I just had to try it out.
 The Result
Right off the bat, I halved the recipe. The original makes 20 or so. Breakfast was just the two of us and I figured we could wolf down six and nibble on the rest throughout the day. Auggie, our beloved four-legged biscuit eater, loves the leftovers, too.
My biscuits didn't rise evenly. I had one that towered above the rest. I figured this was the anticipated rise. They are large biscuits. I cut them with a 2 3/4″ biscuit cutter. I'll probably use a smaller one in the future. (Hint: If you need to stretch the recipe to serve one or two more guests, a smaller cutter will add 2-4 more biscuits to the yield.)
Instructions said to place the unbaked rounds next to each other. I think if I'd spread them apart they would have risen better. Other than that, the finished product was as promised. Joanna's biscuits sported a crispy outside crust and a lovely fluffy inside and a rich buttery flavor. Richard and I were very happy biscuit eaters! Made full-sized, these would be fabulous made into a breakfast sandwich.
Creamy Sausage Gravy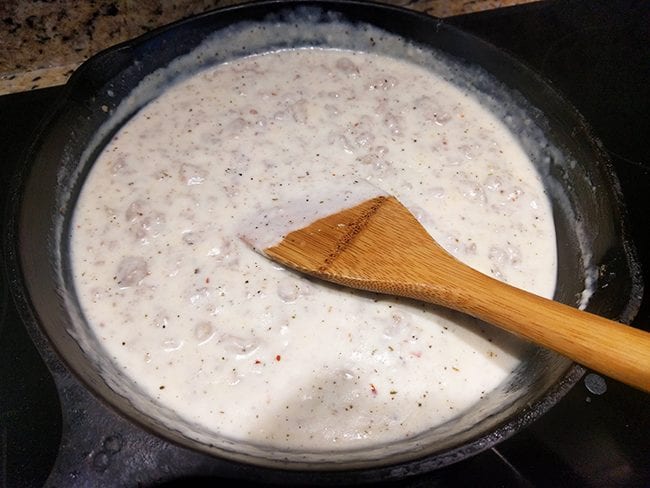 There are two recipes for sausage gravy on my blog. This one and my first one simply titled simply "Buttermilk Biscuits and Gravy." Another family favorite but the gravy turned out a little thin. So, this time I bulked up the mixture with one pound of sage seasoned breakfast pork sausage, 1/4 cup flour, and 2 cups whole milk – I halved the gravy recipe. Ah, that's better. I browned off the sausage, made the biscuits, and finished the sausage gravy while they were baking.
Looks fabulous – RIGHT! Let's make up a batch, shall we?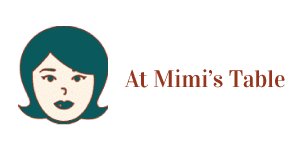 Buttery Buttermilk Biscuits and Creamy Sausage Gravy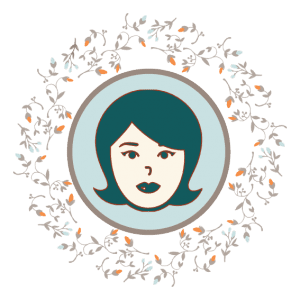 Biscuit and Gravy fans, gear up for one of the best buttery biscuit and creamy gravy recipes out there. Large buttermilk biscuits hot from the oven perfectly crunchy on the outside and steamy and fluffy on the inside begging to be smothered with perfectly seasoned sausage gravy.
Total Time
1 hour
10 minutes
Ingredients
For the Biscuits
4 cups self-rising flour (or make your own with 1 1/2 teaspoon baking powder and 1/2 teaspoon salt per cup)
2 Tablespoons baking powder
1 teaspoon baking soda
2-3 Tablespoons granulated sugar, optional
1 teaspoon salt
3./4 pound (3 sticks) unsalted butter cut into 1/2 inch cubes
2 large eggs, beaten
1 1/2 cups buttermilk (or make your own with 1 Tablespoon vinegar or lemon juice in 1 cup milk-let stand 5 minutes or one cup plain yogurt)
Creamy Sausage Gravy
2-3 pounds breakfast sausage, sage-seasoned preferred
1/2 cup all-purpose flour
3-4 cups whole milk, room temperature
Salt & Pepper to taste
Instructions
Remember: This recipe a whole lot of breakfast! Don't be afraid to half it for manageable servings. Unless you're feeding an army, then make it all!
Preheat oven to 400F degrees.
In a heavy skillet over medium-high heat, brown sausage until there is no longer any trace of pink. Tilt the pan and spoon off most of the accumulated fat leaving 1-2 Tablespoons. Set aside.
In a large mixing bowl, whisk together self-rising flour, baking powder, sugar, if using, and salt.
Add cubed cold butter to the bowl. Using a pastry blender, incorporate the butter into the flour mix until it is crumbly or resembles small peas. (Or use a food processor - put flour mix into work bowl, add cold butter, and pulse until the butter is incorporated. You should be able to see chunks of butter throughout. Pour into a large bowl and continue with the recipe.)
Measure buttermilk in a 2-cup measure. Add eggs and beat with a fork.
Make a well in the center of the flour in the bowl and add buttermilk/egg mix. Using a fork or a wooden spoon, lightly toss the flour into the liquid scrapping the sides until everything's mixed together.
If the dough is a little dry, add more buttermilk 1 Tablespoon at a time. If the dough is wet, add more flour 1/4 cup at a time.
Cover the bowl with plastic wrap and refrigerate for 30 minutes.
Dump the dough onto a floured work surface. Bring the dough together and knead up to 10 times. A bench scrapper comes in handy!
Pat the dough into a rectangle. Using a bench scrapper, lift and fold 1/3 of the dough onto itself from the short end. Repeat with the other short end. Gently pat or roll the dough into a rectangle and repeat the folding process 2 more times.
Flour a rolling pin and roll into 1/2 inch thickness.
Cut the dough into 2 3/4 inch rounds and place on a half-sheet pan lined with parchment paper 1/4 inch apart - not touching.. (To get a higher yield, use a smaller biscuit cutter.)
Beat an egg with 1 Tablespoon buttermilk and brush over tops.
Bake 15-20 minutes or until the tops are nicely browned.
While the Biscuits are Baking
Return skillet with sausage to the stovetop. Warm sausage over medium-high heat until it begins to sizzle. Sprinkle flour over the sausage and stir until no white is showing.
Lower heat to medium. Slowly add whole milk to the sausage and stir with a wooden spoon or flat whisk. The gravy will thicken as it cooks. If the gravy becomes too thick for your liking, add more milk 1/2 cup at a time until you reach desired consistency.
Notes
This recipe makes a lot of large biscuits - 20 or more. I would half the recipe if serving 4-6. You can also use a smaller biscuit cutter for a bigger yield.

This makes a lot of creamy sausage gravy. Feel free to half it, too!

Serve with alone, with a few shakes of jalapeno hot sauce, scrambled or fried eggs, or golden hash brown potatoes. Enjoy!!