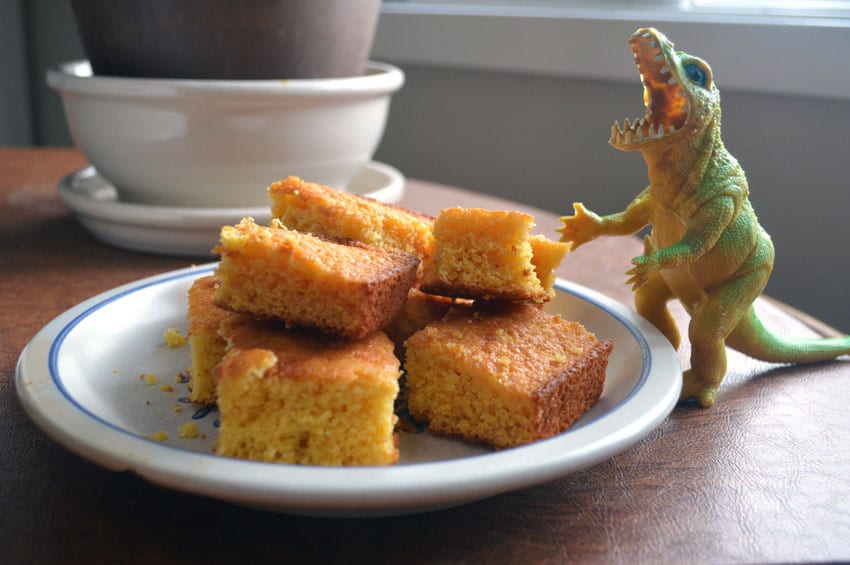 Before I dive into this post, I must tell you about this fabulous sheet cake pan I found at TJ Maxx. It's a high-sided Nordic Ware half-sheet pan fitted with a plastic lid. I just love it!
This aluminum baking pan is just the right size to bake my recipe for Giant Cornbread for a Crowd. It's the perfect size for a Texas chocolate sheet cake, or any sheet cake for that matter. And the handy snap-on, high-domed, sturdy, translucent lid makes the pan perfect for transport.
I've had great luck finding lidded Nordic Ware baking pans at TJ Maxx at very reasonable prices. I have another that's a quarter-sheet pan, and recently found that Nordic Ware makes a variety of sheet pans and muffin pans with the same lovely snap-on lids. (I have no affiliation with Nordic Ware or TJ Maxx – just love these pans and the store where I bought them. I've also found them online at Bed, Bath & Beyond and Amazon.)
Dimensions are 18″ x 13″ x 2″. The domed lid adds another inch or so. There's plenty of room for highly frosted and decorated cakes.
What do I do with this lovely baking pan? All kinds of sheet cakes, obviously. But it really came in handy when my daughter hosted her youngest son's 3rd birthday party. She invited a crowd of twenty or so, children and adults, and made pots of regular chili and white bean chili. Jessica asked me to bring cornbread.
My first thought went to muffins. But I didn't want to fill all the muffin cups. And what if some guests wanted two or more muffins? I wasn't into making three muffin pans. I opted to bake a Giant Cornbread for this crowd! So simple! So frugal! So delicious!
Now, for all you cornbread purists out there:  This is a sweet cornbread made with yellow cornmeal, sugar AND honey. Not a southern savory cornbread. I wanted the finished product to appeal to a gaggle of hungry toddlers. The result was everything you'd expect from a good cornbread. It was crispy outside, moist inside, and sweet with the perfect crumb.
Next time you need a bread side for a crowd, whip up a batch!
Giant Cornbread for a Crowd
Sweet and rich, this giant cornbread recipe is scaled to feed a crowd!
Ingredients
2½ cups all-purpose flour
2½ cups yellow or white cornmeal
¾ cup sugar
3 tablespoon baking powder
1½ teaspoon salt
2½ cups half and half or milk
¾ cup (1½ sticks) butter, melted
½ cup honey
5 large eggs, slightly beaten
Instructions
Heat oven to 400°F.
Spray ½ sheet baking pan with cooking spray, or grease with butter.
Combine flour, cornmeal, sugar, baking powder and salt in a bowl.
Stir in all remaining ingredients just until moistened.
Pour mixture into prepared baking pan.
Bake 18-22 minutes or until toothpick inserted in center comes out clean.
Notes
This recipe yields 45 2" squares of cornbread.